With events being canceled or postponed due to the coronavirus daily, we wanted to take a look at the potential impact this will have on the secondary ticket market for the 2020 Major League Baseball season.
The estimates are based on secondary market value x the number of games canceled. Attendance for those games is based on the 2019 season averages for each team. This is not a precise measure, but it's the simplest way to benchmark magnitude of losses, by team and across the entire league.
It was originally announced that Opening Day would be delayed at least two weeks. However, with last week's CDC recommendation that organizers cancel or postpone events with 50 people or more for 8 weeks, that delay will likely be a lot longer. Due to that uncertainty, we've broken out the data to reflect three scenarios: games postponed through April, games postponed through the All-Star break, and a loss of the entire season (we don't expect the latter to occur).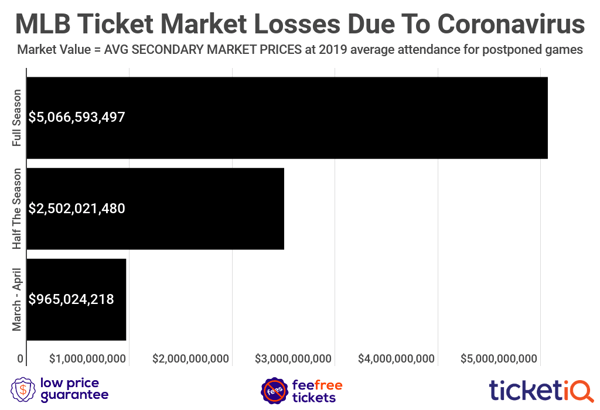 By our estimates, the lost ticket revenue for the MLB is approximately $1 Billion just for March and April. That number jumps to $2.5 Billion if half the season is lost and just under $5.1 Billion if the entire season is canceled. Here's a tracking sheet for value lost for each team in the MLB, NBA, NHL and each round of March Madness.
Below is a look the biggest ticket market losses by team.
Postponed Games Through April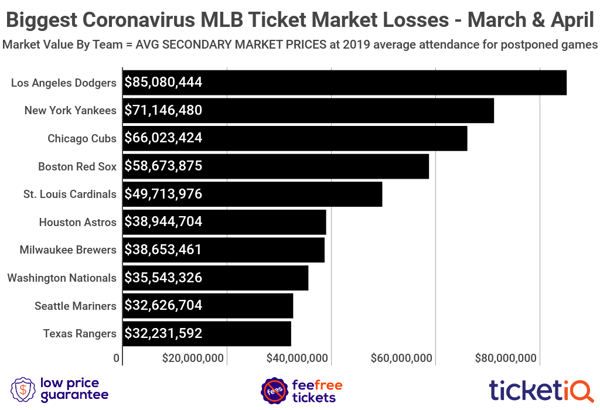 Postponed Games Through the All Star Break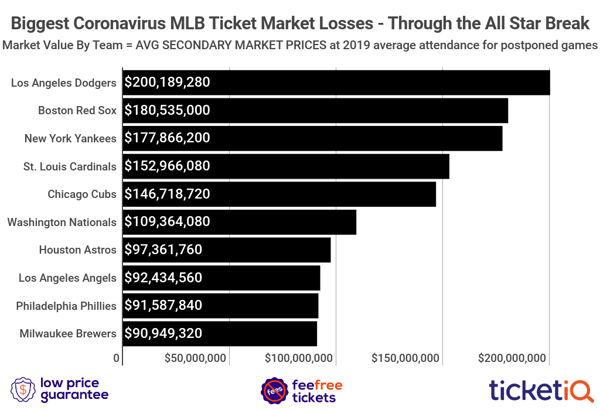 Full Season Canceled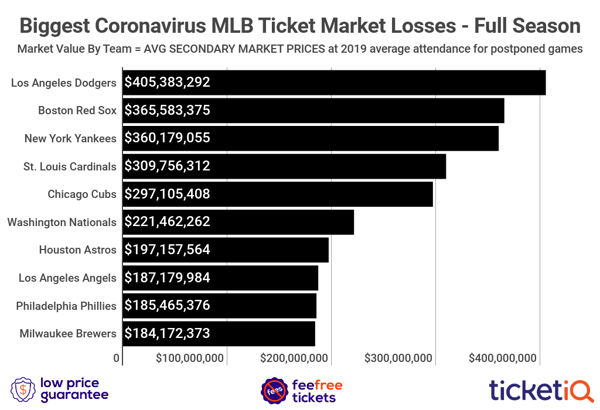 We also wanted to take a look at just the impact of Opening Day games for each team. For that, we took the secondary market average price for Opening Day at 100% capacity: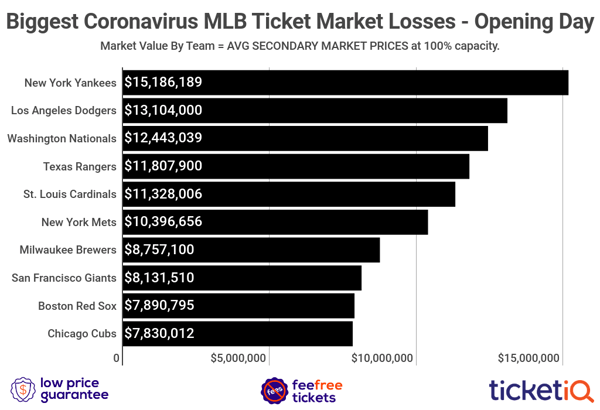 If you did purchase MLB tickets for the upcoming season and the game is canceled, here is some important refund information:
If you purchased tickets on

TicketIQ.com

for an upcoming event that has been canceled, for any reason including the coronavirus, you will receive

a full refund

of the purchase price.
If your event has recently been canceled and hasn't received notification of a refund please email

support@ticketiq.com

.
Refunds are processed and credited within a week or two of the cancelation.
If an event is postponed for a later date, your tickets are most likely still valid for the event. If you're unable to make a rescheduled date, please contact us and we'll do our best to accommodate. Currently, teams are making the decision on how and if to issue refunds for postponed events, and TicketIQ is following team policy. The situation in evolving by the day, as you can read about in this article from OregonLive.com.
Below is our raw data for a half season:
Half Season Postponed
Team
Average Price
2019 Avg Attendance
Games Postponed
Gross
Los Angeles Dodgers
$102
49,066
40
$200,189,280
Boston Red Sox
$125
36,107
40
$180,535,000
New York Yankees
$109
40,795
40
$177,866,200
St. Louis Cardinals
$89
42,968
40
$152,966,080
Chicago Cubs
$96
38,208
40
$146,718,720
Washington Nationals
$98
27,899
40
$109,364,080
Houston Astros
$69
35,276
40
$97,361,760
Los Angeles Angels
$62
37,272
40
$92,434,560
Philadelphia Phillies
$68
33,672
40
$91,587,840
Milwaukee Brewers
$63
36,091
40
$90,949,320
Seattle Mariners
$61
33,429
40
$81,566,760
New York Mets
$65
30,155
40
$78,403,000
Cleveland Indians
$90
21,465
40
$77,274,000
Minnesota Twins
$67
28,323
40
$75,905,640
Atlanta Braves
$56
32,779
40
$73,424,960
Texas Rangers
$68
26,333
40
$71,625,760
San Diego Padres
$57
29,585
40
$67,453,800
Colorado Rockies
$45
36,954
40
$66,517,200
Arizona Diamondbacks
$60
26,364
40
$63,273,600
Chicago White Sox
$76
20,622
40
$62,690,880
Oakland Athletics
$72
20,521
40
$59,100,480
Cincinnati Reds
$65
22,329
40
$58,055,400
San Francisco Giants
$64
22,120
40
$56,627,200
Kansas City Royals
$72
18,267
40
$52,608,960
Toronto Blue Jays
$59
21,607
40
$50,992,520
Pittsburgh Pirates
$58
18,413
40
$42,718,160
Detroit Tigers
$49
18,536
40
$36,330,560
Tampa Bay Rays
$56
14,552
40
$32,596,480
Baltimore Orioles
$49
16,146
40
$31,646,160
Miami Marlins
$58
10,016
40
$23,237,120
Total
$2,502,021,480
---
TicketIQ is committed to Transparent Ticketing, and we make much less on 'sold out' tickets compared to other major marketplaces like StubHub and Vivid. That means ticket buyers save from as much as 25% on TicketIQ for sports, music and theater tickets. We're able to do this because we also work with festival directly to help them sell tickets at face price, directly to consumers like you, through Ticketmaster, Frontgate, Eventbrite and others ticketing platforms.