Ticket Prices For Raptors Bucks Game 6 at Scotiabank Soar, Cheapest Tickets Above $450
After Game five win in the 2019 Eastern Conference finals of the NBA playoffs, the Toronto Raptors are one win from defeating Milwaukee Bucks and advancing to their first-ever NBA Finals. As a result prices on the secondary market are up 31% to witness the biggest night in Canadian basketball history, live at Scotiabank Arena in Toronto. For fans looking to be there Saturday night at 8:30 when the game tips off, the cheapest tickets are going for $452 as of this writing, up 5% since 9am this morning. It's likely that prices will continue to climb, with moderate amounts inventory available.
TicketIQ has Low Price Guarantees on Game 6 Raptors Bucks tickets. If you find the same ticket for less, we'll give you 200% of the difference in ticket credit. TicketIQ is also the leading source of ticket market data used by major news outlets, like CNBC, Business Insider, Fox and others. Enjoy the TicketIQ blog for most in-depth coverage of the NBA ticket market and use TicketIQ.com to save 15% compared to other major tickets sellers.
Download the TicketIQ app for $20 off your first ticket purchase 📲 🎟️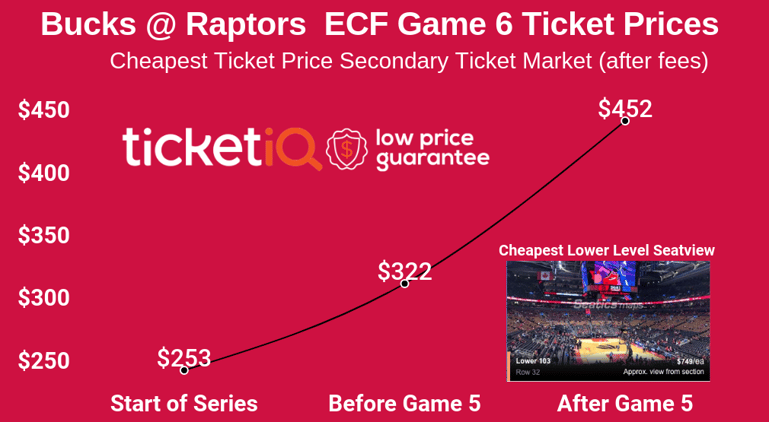 The Raptors box score from Game 5 shows that the team won all facets on the game, including Free Throws (25>13); 3-Point Shots (18>10),Offensive rebounds (10>8) and turnovers (6<11). They also shot 36.9 per cent from the floor. If they do the same thing Saturday night, fans will be looking ahead to Prices for NBA Finals tickets. For fans looking to peek ahead, the cheapest NBA Finals tickets are going for around $1,000 for the Game 1 on May 31st. Over the last decade, the next highest 'get-in' prices was $665 for the 2016 Warriors. Even if prices come down as the result of more inventory hitting the market, it's likely that the Raptors would have the most expensive NBA finals tickets this decade. Regardless, it's worth checking Ticketmaster.ca to see if there are any tickets become available for sale.