Where To Buy 2021 Tennessee Titans Tickets & When Do Tickets Go On Sale
Primary market face-value tickets generally go on sale shortly after the NFL schedule is released. This year, the schedule is being released on Wednesday, May 12th. When they do go on sale they will be available via Ticketmaster.
On the secondary market, TicketIQ has Fee-Free Tennessee Titans tickets which also include a Refund Guarantee. Our Refund Guarantee states that if an event is canceled or deemed unfit for fans to attend, TicketIQ will refund ticket buyers in as soon as 15 days. That means that you can buy from TicketIQ worry-free. Customers on TicketIQ save between 15%-25% compared to other secondary market ticketing sites.
Tennessee Titans 2021 Attendance Policy
Information regarding the Tennessee Titans updated 2021 attendance policy and potential capacity limits has not been released. This information is expected to be released closer to the start of the 2021 regular season.
Tennessee Titans 2021 Opponents
Home: Houston Texans, Indianapolis Colts, Jacksonville Jaguars, Arizona Cardinals, Buffalo Bills, Kansas City Chiefs, Miami Dolphins, New Orleans Saints, San Francisco 49ers.
Away: Houston Texans, Indianapolis Colts, Jacksonville Jaguars, Los Angeles Rams, New England Patriots, New York Jets, Pittsburgh Steelers, Seattle Seahawks.
Tennessee Titans 2021 Season Tickets
Season tickets are available, and fans can place a $100 deposit to get the process started. Lower Level, Club Level or 300 Level seating is available.
Fans should bring their season ticket card to each game for entry into the stadium. Fans also get discounted food and non-alcoholic beverages with their season ticket card. Season ticket Club Members also get pre-sale access as well as exclusive events, such as the NFL Draft Party, TitanUp Flag Ceremony, Training Camp VIP Night, and Family Movie Night.
The Titans offer the 2020 Fireball Fast Pass mini plan. The mobile-only ticket plan is a cost of $30 per game. The limit is four Fast Passes per person, and these tickets are non-transferable and cannot be re-sold. The upper-level tickets, which are different for each game, will be placed in each fan's online account 48 hours prior to kickoff.
Nissan Stadium Club & Premium Seating Options
Nissan Stadium has the following premium seating ticket options: Club Seats, Luxury Suites, and Party Suites.
Club Seats are climate-controlled and include a lounge that has new high-definition television walls. The Club Seats are larger than the regular Nissan Stadium seats, and the midfield Club Seats have padded cushions as well. Club Seat holders can enter the stadium two hours before kickoff through a special entrance and enjoy live pregame music. Club Seat Members also have the option to purchase reserved parking in the VIP lots.
The Luxury Suites have multiple purchase options. Fans can purchase two to 22 seats for a single-game suite or can purchase a full-season suite. The suites include VIP parking passes, catering, in-seat food and beverage service, and complimentary gameday programs.
There is also the Party Suite option, which can accommodate either 48 or 96 people. Party Suites start at $9,000 per game. Fans get to experience extra-wide seating, complimentary game programs, high-definition televisions, and the NFL DirecTV package for all NFL games. There are three Party Suites in the stadium, and they sell out quickly.
Nissan Stadium Health and Safety Protocols
Although nothing official has been announced regarding the 2021 NFL season, here are the current health and safety protocols at Nissan Stadium:
Limited Capacity
Stadium capacity will be limited and seating charts adjusted to reflect best social distancing practices.
Mobile Ticketing & Parking
Mobile tickets and parking passes offer fans convenience and safety by reducing contact at all points of entry.
Concessions
Food, utensils and condiments will be individually wrapped. Tables, chairs, counters and other surfaces will be regularly sanitized.
Employee Screenings
All Nissan Stadium employees will wear PPE and receive health screenings as they report to work.
Bag Policy
Clear bags will be permitted, though fans are encouraged to not bring bags when possible.
Touchless Experience
From ticket-scanning turnstiles to sensor-activated bathroom fixtures, Nissan Stadium is committed to a more touchless experience at games.
Cleanliness
Over 300 hand sanitizing stations are available throughout the stadium, along with the implementation of a frequent cleaning plan of all areas.
Face Coverings
Masks are required at all times except when actively eating or drinking.
Cashless Payment
All points of sale are cashless. Gift cards are available for purchase with cash near Sections 108, 309 and 338.
For additional information, visit the Titans website.
Tennessee Titans Mobile Ticketing
To manage your Titans tickets, the team has a mobile app available on the App Store and Google Play. The app is also used for mobile entry into the venue. Similar to the Fireball Fast Pass, the Titans require ticket holders to use mobile tickets to enter Nissan Stadium, and it is suggested to add the ticket to your phone's mobile wallet to avoid slow WIFI or cellular signal while entering the stadium.

How Much Are 2021 Titans Playoff Tickets
With reduced capacity, inventory for the game is very low. Currently there are just under 300 tickets available on the secondary market. The current average secondary market list price is $656, with a get-in price of $315
300 level seats range from $315 to $1758. 200 level seats start at just under $800 and go as high as $3,529. Prices on the 100 level start at $557 in the end zone, $598 in the corners, and $797 on the sidelines. The most expensive seats are lower level sideline seats at midfield and those are currently priced at $3,522 per ticket.
Below is an infographic showing how this year's wild card round games compare to last season's.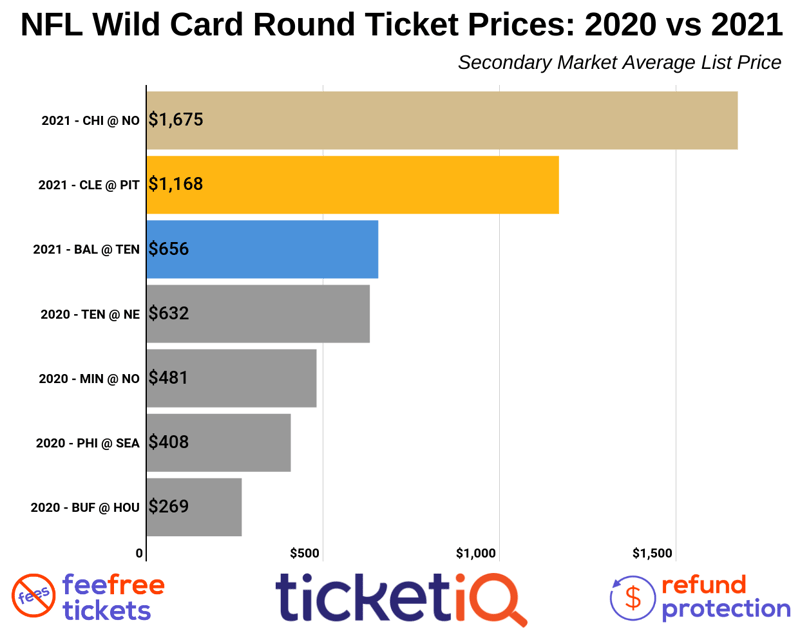 ---
Tennessee Titans 2020 Attendance Policy
On August 18th the Titans announced that they would not be allowing fans at Nissan Stadium for at least games in September. It was also stated that the team has been working with local health experts "to build the Titans Safe Stadium plan to provide the safest experience for fans attending games should local authorities permit."
How Much Are 2020 Tennessee Titans Tickets
On the primary market, the Titans single-game ticket website page includes Ticketmaster links to each game, and tickets start at $42 at Nissan Stadium. The cheapest seats are upper-level tickets on December 20 against the Detroit Lions. The get-in price for this contest on the secondary market is $170.
TicketIQ has seats available for all Tennessee Titans home games. The average ticket price on TicketIQ is $277, which ranks among the lowest in the NFL. However, the secondary market price for Titans tickets has increased 55 percent since last year.
---
TicketIQ is committed to the cheapest tickets possible, and we make much less on sold out tickets compared to other major marketplaces like StubHub and Vivid. That means ticket buyers save from up to 25% on TicketIQ on sports, music and theater. We're able to do this because we also work with teams, venues, and other ticket owners, to help them sell tickets at face price, directly to consumers like you, through Ticketmaster and Seatgeek. For an overview of the 2020 NFL Ticket Buying landscape, and details on the cheapest way to get tickets for every team, visit the TicketIQ Blog.
---
Where To Buy 2019 Titans Tickets
Primary market tickets for Titans home games are available through Ticketmaster. There are also multiple choices of season ticket packages available, which start at $400, on the Titans website.
How Much Are 2019 Titans Tickets
For the third consecutive year, the Titans finished with a 9-7 record. However, Tennessee made the playoffs in just one of those three years: 2017. Last season, the main reason for missing the playoffs was going 0-3 combined against the Indianapolis Colts and Baltimore Ravens.

Tickets for Titans home games on the secondary market are averaging $207, which is the 22nd most in the NFL. The average ticket price has increased 18% over one year and 57% over five years.
Ticket Prices For All Titans Home Games On The 2019 Schedule
September 15 vs. Indianapolis Colts
Secondary market average asking price: $222
Secondary market cheapest ticket: $64
Early in the season, the Titans will be looking for revenge after being blown out by the Colts twice last season. Tennessee will be hoping for results similar to 2017 when the Titans swept the series from Indianapolis. Unfortunately, recent history is on the Colts' side: they have won 13 of the last 15 meetings against Tennessee.
October 6 vs. Buffalo Bills
Secondary market average asking price: $278
Secondary market cheapest ticket: $59
The Titans take on the Bills for the second consecutive year. Last year at New Era Field in Orchard Park, New York, Marcus Mariota was unable to score a touchdown, as he went 14-for-26 for 129 yards in Tennessee's 13-12 loss at Buffalo.
October 20 vs. Los Angeles Chargers
Secondary market average asking price: $201
Secondary market cheapest ticket: $38
The Titans also face the Chargers for the second straight year. Just like with the meeting with the Bills in 2018, the Titans fell to the Chargers by one point. The 2018 meeting was played in London, and Philip Rivers went for 306 yards and two touchdowns in the victory. Dion Lewis led the Titans in rushing with 91 yards. Derrick Henry scored the only rushing touchdown in the 20-19 Titans loss.
October 27 vs. Tampa Bay Buccaneers
Secondary market average asking price: $201
Secondary market cheapest ticket: $33
The Titans have dominated the all-time series against the Buccaneers, and the most recent meeting came in 2015. Marcus Mariota had one of his highest-scoring performances on September 13, 2015 when the Titans scored five touchdowns, four which came from his arm, and won 42-14.
November 10 vs. Kansas City Chiefs
Secondary market average asking price: $328
Secondary market cheapest ticket: $89
The most expensive game at Nissan Stadium this season is the contest against the best of the AFC West. The two teams last faced each other in the wild card round two postseasons ago. Mariota and Henry led the Titans to a 22-21 victory over Alex Smith and company. Nashville will get to see reigning NFL MVP Patrick Mahomes for the first time when the Chiefs head to Tennessee in November.
November 24 vs. Jacksonville Jaguars
Secondary market average asking price: $175
Secondary market cheapest ticket: $32
Surprisingly, the contest against the divisional rival Jaguars is the least expensive home contest for the Titans this season. The Titans have swept the season series each of the last two years. The most recent contest was a 30-9 blowout of Jacksonville at Nissan Stadium last December.
December 15 vs. Houston Texans
Secondary market average asking price: $191
Secondary market cheapest ticket: $40
Although the Titans have not had that much success against the Texans over the past decade, Tennessee has won three of the last five meetings. The last contest between these two squads in Tennessee was won by Ryan Succop's foot; he scored the last six points of the game. Succop, who agreed to a five-year contract extension with the Titans in 2018, is entering his sixth year with the team.
December 22 vs. New Orleans Saints
Secondary market average asking price: $234
Secondary market cheapest ticket: $58
The explosive offensive unit from New Orleans heads to Tennessee for the Titans' home season finale. When Tennessee last faced the Saints, Mariota won in New Orleans on a five-yard touchdown pass to Anthony Fasano, who last played with the Titans in 2016.
---
Titans 2018 Ticket Market Overview:
The Tennessee Titans open at home Sunday against the Houston Texans, in a game that pits Houston's former team against its current team. Below is how Titans tickets prices stack up on the secondary market across the league. As you can see below, 2018 Tennessee Titans tickets are up about 15% compared to last season, and are the most expensive since 2011, when secondary ticket marketplace TicketIQ.com began tracking data. Tennessee is coming off its first post-season appearance since 2008. It finished last season 9-7, and second in the AFC South.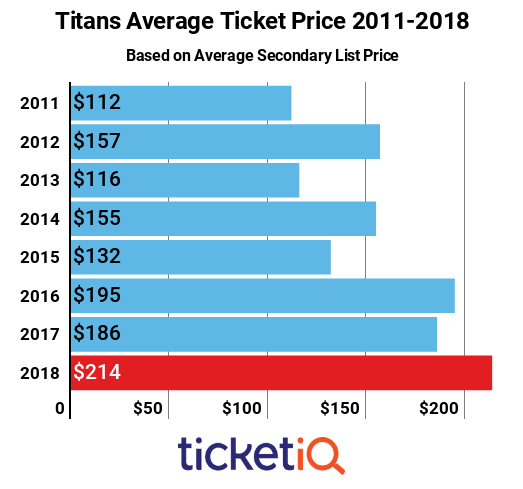 Where to Buy Tickets:
With a $213 average asking price on the secondary market, Titans tickets are ranked No. 15 in terms of price across the NFL. The New England Patriots are ranked No. 1, with a $501 average asking price. Titans season tickets can be purchased directly through the team, and fans can get priority to purchase playoff tickets as well as club-level parking along with their tickets. Single-game tickets are available on the primary market through Ticketmaster, for every home date except the November 11 New England Patriots game. On the primary market, all other games have a get-in price of $57 while on the secondary market, the get-in price ranges from $36-$195. Secondary ticket marketplace TicketIQ.com has great seats available in lower bowl for every game, though some upper-level sections for the biggest games are already sold out.
Prices For Each Game on 2018 Titans Schedule:
After being knocked out of the post season by the Patriots for the second time in 15 years, it's not surprising that the New England game is far and away the most expensive at Nissan Stadium. While the primary market is sold out, the average asking price to see New England is $502. The Titans will also host the defending Super Bowl champion Philadelphia Eagles, and that September 30 game is the second most expensive in Nashville this season, with an average asking price of $412.