Titans 2018 Ticket Market Overview:
The Tennessee Titans open at home Sunday against the Houston Texans, in a game that pits Houston's former team against its current team. Below is how Titans tickets prices stack up on the secondary market across the league. As you can see below, 2018 TennesseeTitans tickets are up about 15% compared to last season, and are the most expensive since 2011, when secondary ticket marketplace TicketIQ.com began tracking data. Tennessee is coming off its first post-season appearance since 2008. It finished last season 9-7, and second in the AFC South.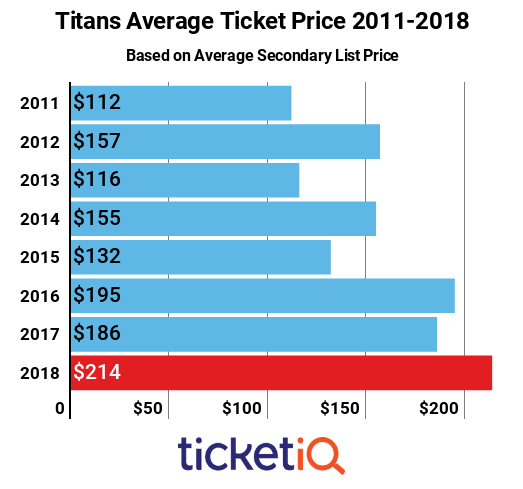 Where to Buy Tickets:
With a $213 average asking price on the secondary market, Titans tickets are ranked No. 15 in terms of price across the NFL. The New England Patriots are ranked No. 1, with a $501 average asking price. Titans season tickets can be purchased directly through the team, and fans can get priority to purchase playoff tickets as well as club-level parking along with their tickets. Single-game tickets are available on the primary market through Ticketmaster, for every home date except the November 11 New England Patriots game. On the primary market, all other games have a get-in price of $57 while on the secondary market, the get-in price ranges from $36-$195. Secondary ticket marketplace TicketIQ.com has great seats available in lower bowl for every game, though some upper-level sections for the biggest games are already sold out.
Prices For Each Game on 2018 Titans Schedule:
After being knocked out of the post season by the Patriots for the second time in 15 years, it's not surprising that the New England game is far and away the most expensive at Nissan Stadium. While the primary market is sold out, the average asking price to see New England is $502. The Titans will also host the defending Super Bowl champion Philadelphia Eagles, and that September 30 game is the second most expensive in Nashville this season, with an average asking price of $412.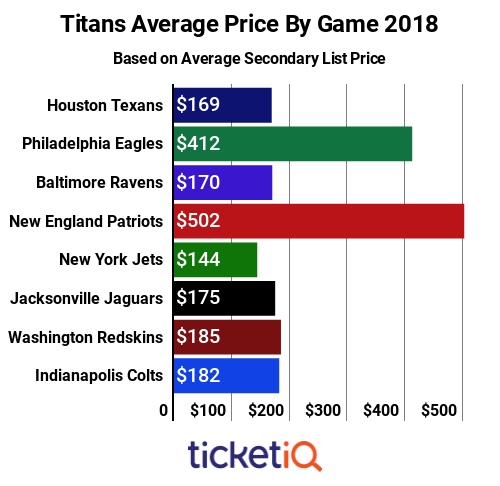 Real-Time Ticket Data and Listings: