Reaching back to the 1980s for inspiration, the stage show "Tootsie" opened at Broadway's Marquis Theater on April 23, after premiering at Chicago's Cadillac Palace Theater in September 2018.
The show has been nominated for 11 Tony Awards, including Best Musical. The 11 nominations are the third most of any show at this year's awards behind only Hadestown with 14 nominations, and Ain't Too Proud with 12. The Tony Awards are set for June 9.
Where To Buy Tootsie Tickets
Primary market tickets are available through Ticketmaster and start at $79 for weekday tickets and $99 for weekend tickets in May. The cheapest Tootsie tickets On TicketIQ.com line up pretty closely with the primary market face price, with $79 tickets available for most weekday shows in May, with the weekend shows starting around $99.
How Much Are Tootsie Tickets
For weekday shows, face price tickets for Orchestra starts at $129, from row T to Z, and bumps up $149 from row S to A, as the below seating chart for the 1,611-seat theater Marquis lay out. The first three rows of the Mezzanine, which start above row M in the Orchestra, also start at $149 on the primary market. For Weekend shows, those first three rows jump to $169 on the primary market. A select number of row A mezzanine center seats are going for $249, which appears to be a little more than the market is interested in paying, with tickets starting from $219 on the secondary market.
While prices on Ticketmaster and TicketIQ are comparable for many shows, as the above example shows it's important to shop around. A spot-check for last-minute deals to today's (May 2nd) performance shows five Orchestra seats listed for below the $129 face price, which means that shoppers should check for deals before buying tickets.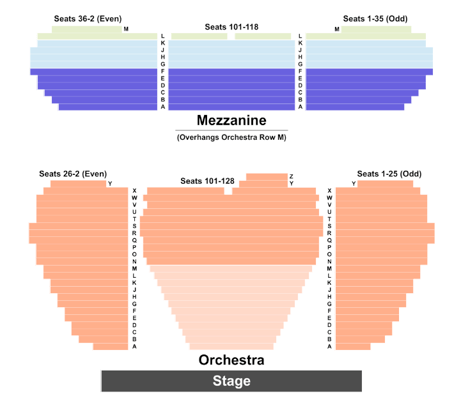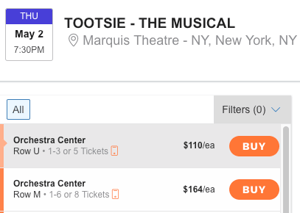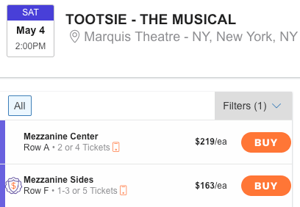 As anyone who was alive in the 8ps will remember, "Tootsie" the musical tells the story of a talented but sometimes troublesome actor whose reputation for being difficult forces him to adopt the persona of woman in the hopes of finding a job. In the original film, Dustin Hoffman pulled off the role of Dorothy Michaels landing a spot on a soap opera. Tony award nominee Santino Fontana is Broadway's "Tootsie," and "she" had landed a new gig in theater production.
The original film was nominated for 10 Academy Awards, including Best Picture, but only Jessica Lange won for Best Supporting Actress. Famed reviewer Roget Ebert gave it four out of four stars and said the film wasn't afraid to mix "absurdity with seriousness, social comment with face, and a little heartfelt tenderness."
Early reviews of the Broadway version have been favorable. Variety magazine called it "old-fashioned and proud of it – and it's a sure-fire crowd pleaser."