Toyota Center Seating Chart + Rows, Seat Numbers and Club Seats
For sold out seats, TicketIQ has Fee Free tickets for all events at Toyota Center for the Houston Rockets as well as Concerts. TicketIQ customers save up to 25% compared to other secondary sites. TicketIQ also provides access to unsold face-value tickets for all events at Toyota Center via Ticketmaster.
Toyota Center Seating Chart - Basketball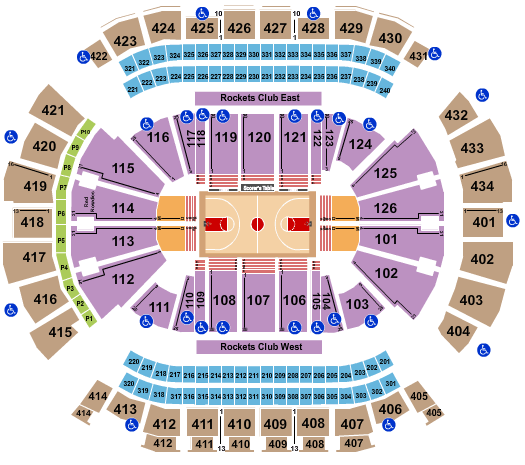 Floor Courtside sections, rows and seats at Toyota Center
The sideline sections at Toyota Center consists of courtside seats are numbered from rows A-D with club access, lounge access. Rows AA and A in baseline sections are courtside seats with club access, lounge access and other amenities. The floor level in Toyota Center consists of Section A, Section B and Section C having rows numbered from 1 to 20. The 100 level consists of rows B-D, 1-25 except section 121 with rows B-D, 3-25.
100-level sections, rows and seats at

Toyota Center
The 100 Level at the Toyota Center encompasses sections 101-126. 100-level center sections are 117-121, 105-110 and 100-level end sections are 112-115, 102, 101, 125, 126.
400-level sections, rows and seats at

Toyota Center
The 400 Level encompasses sections 401-434. 400-level center sections are 425-430, 407-412. 400-level end sections include 415-421, 404-401 and 432, 433 and 434.
Club, VIP, Box Seats and Suites at

Toyota Center
Three types of suites level are found in Toyota Center. Row 1 of Sections 205, 206 and 209 are designated as suites sections. Red and White Wine Bistro is located in the lower suites and feature many great benefits like hardwood floors and a display kitchen. Club tickets are located between the baselines in sections 105-109 and sections 118-122, and offer lots of legroom and wider seating. The Houston Rockets Club offers great seats to its members. The club is located along the sidelines of the arena's lower bowl. Section 114 is made up of a fanatical group of Rockets fans known as the Red Rowdies. The Courtside Suites are in the west lower bowl, and offer world class entertainment to its members. The Woodforest suites are on the floor level, and include a unique martini bar. Sideline suites are located both on the 200 and 300 levels. There are also Party suites and Penthouse suites that are great for parties or large groups.
Rockets Bench- The Rockets players sit in front of Section 119
Visitor Bench- The visiting team sits in front of Section 121
CONCERT SEATING CHART AT TOYOTA CENTER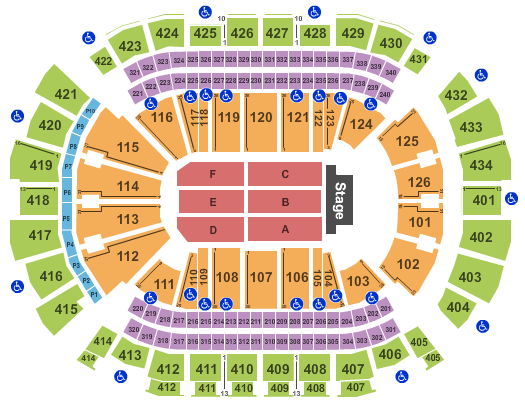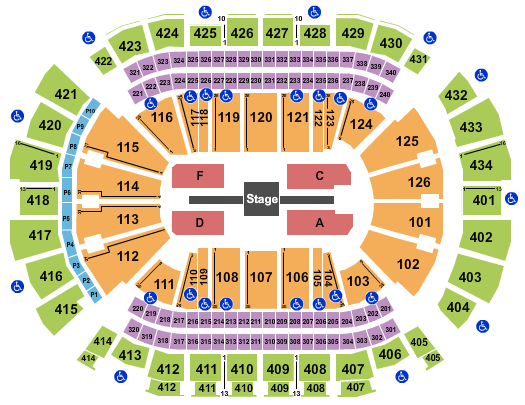 🎟️ SHOP LOW PRICE GUARANTEES FOR ALL SOLD OUT CONCERTS AT TOYOTA CENTER
📲 Download the TicketIQ app for $20 off your first ticket purchase
Floor seating at Toyota Center of as many as 6 sections, numbered A through F, with sections A,B and C closest to the stage and D,E and F farther from the stage. Behind the stage, sections include 101, 102, 125, 126, 432-434, 401-404.
WHERE CAN I FIND CHEAPEST TICKETS FOR TOYOTA CENTER
The Rockets has unsold face-value tickets available for most games, which can be purchased directly through Ticketmaster. Prices may be above or below prices on the secondary ticket market. Many Concerts also have unsold tickets. For Sold Out Seats and Events, TicketIQ has Fee Free tickets for all events at Toyota Center.
WHAT IS MOBILE TICKET POLICY AT TOYOTA CENTER
Tickets may be purchased at the Toyota Center Box Office, through the Toyota Center web site or by calling 1-866-4HOUTIX. Ticketmaster outlets are also one of the designated centers for collection of Toyota Center tickets. Information regarding season ticket purchases may be obtained at the information table located on the Main Concourse during Rockets games, or by calling 713-758-7200.
HANDICAPPED & ADA SEATING AT TOYOTA CENTER
Toyota Center offers other convenient services including wheelchair assistance, lost and found and wheelchair check in. For guests who wish to transfer to a seat from their wheelchair, Toyota Center will store the wheelchair at Guest Services. Real-time captioning will only be provided when requested. To make arrangements for closed-captioning, please contact a guest services representative at least 48 hours in advance of attending an event at Toyota Center by calling 713-758-7230.