How To Find The Cheapest U2 Tickets For The Joshua Tree World Tour, Onsale News & More
Fans can't seem to get enough of U2's "Joshua Tree," and the band is more than happy to continue giving. Thirty-two years after the release of the original "Joshua Tree" album, the iconic Irish band has announced a third tour based on it. This leg of the latest world tour is set to start November 8 in Auckland, New Zealand, and includes dates in Australia and Japan before wrapping up in Seoul, Korea on December 8.
Presale tickets for the tour go on sale via U2's website beginning June 4. According to the site, presale tickets for the New Zealand, Australia and Japan shows begin as early at 9 a.m. local time on June 4 and run through 5 p.m. June 6.
Presales for the Seoul show go on sale June 10 at noon local time and will be available until June 11 at 6 p.m. local time.
If the previous "Joshua Tree" tour is any indication, demand will be high. On secondary ticket marketplace TicketIQ.com, the 2017 "Joshua Tree" tour had an average asking price of $502 on the secondary market, as compared to $304 in 2018 for the "Experience + Innocence" tour and $294 for the 2015 "Innocence + Experience" tour.
TicketIQ has Low Price Guarantees on all Summer 2019 concert tickets on the secondary market. TicketIQ also offers a Low Price Guarantee on music, sports and theater tickets on the secondary market, which means that if you find a secondary market ticket for less on a site like Stubhub or Seatgeek, we'll give you 200% of the difference in ticket credit. TicketIQ customers save an average of 5%-20%. You can also download the TicketIQ app for $20 off your first ticket purchase 📲 🎟️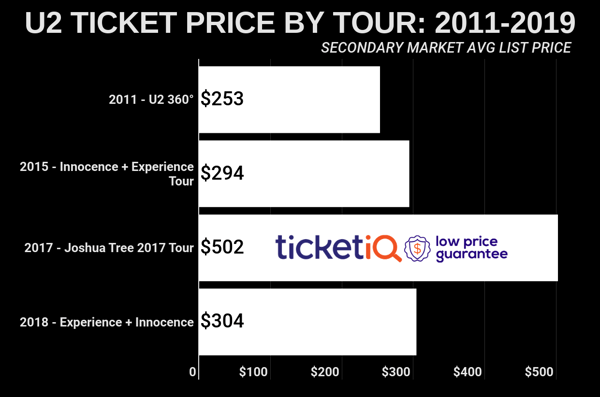 Founded in 1976, U2 has been active for more than 40 years and during that time has sold up to 170 million records worldwide, making it among the top-selling music artists in history. The "Joshua Tree" album sold 10 million copies in the U.S. and 25 million worldwide, making it one of the best-selling albums in history. The album also netted U2 its first Grammy, and over time the band has won 22 Grammy's and been nominated 47 times.
The band wrapped its "Experience + Innocence" tour November 13, 2018 in Berlin.
NEW ZEALAND/AUSTRALIA/JAPAN/SOUTH KOREA 2019 TOUR DATES
November 8 - Auckland, NZ Mt. Smart Stadium
November 12 - Brisbane, AU SunCorp Stadium
November 15 - Melbourne, AU Marvel Stadium
November 19 - Adelaide, AU Adelaide Oval
November 22 - Sydney, AU Sydney Cricket Ground
November 27 - Perth, AU Optus Stadium
December 4 - Tokyo, JP Saitama Super Arena
December 5 - Tokyo, JP Saitama Super Arena
December 8 - Seoul, KR Gocheok Sky Dome
---
Market Report: U2's Experience + Innocence Tour Tickets
U2 had planned to release its Experience + Innocence album prior to the 2017 tour, but delayed it for political reasons, including Brexit and the U.S. presidential election. The album was released in December 2017, and is the basis for the current tour.
U2's fourth tour of the decade is generating enough hype to make demand the second highest of the decade. According to TicketIQ.com, the current average asking price for the Experience + Innocence Tour tickets, which includes 28 arenas in North America and Europe, is $304. That secondary market price is second only to last year's 19-stadium Joshua Tree Tour, for which fans paid an average of $502. The average capacity for the arenas for the current tour is 31,778 vs. 69,588 for the stadiums U2 played in last year.
The 2017 tour was the first time that U2 reprieved a vintage album on tour – it played the entire "Joshua Tree" album at each tour stop. The tour was a massive success, grossing $316 million, according to Wikipedia, which made it the highest grossing tour of the year. That show is No. 8 in gross revenue for the decade. U2's 2009-11 U2 360° Tour, which grossed $736,421,584 is No. 1. The Innocence + Experience Tour in 2015 grossed $152,200.
Tickets for the current tour are still available via Ticketmaster.com on the primary market and start as low as $74 for Section 121, Row 7 at the June 29 show in Newark, NJ. The most expensive tickets on the primary market are $1,499 in Row 6, Section 107 at Madison Square Garden on June 25.
There is currently a moderate price difference for buying tickets on the primary market vs. the secondary market. Looking at current prices on both primary seller Ticketmaster.com and secondary marketplace TicketIQ.com, there is about a $40 gap in prices between the primary and secondary markets for the July 1 Madison Square Garden. A ticket in Section 103, Row 16 on Ticketmaster costs $369 vs. $407 for a seat in the same row on TicketIQ.com. Fans looking for tickets can look at TicketIQ.com's Low Price Guarantee Listings, where tickets to that show are available for as little as $101 in Section 323, Row 1.
The second leg of the Experience + Innocence Tour began at TD Garden in Boston Thursday. The band will play seven dates on the East Coast before heading Europe for dates in Germany, France, Portugal, Spain, Denmark, The Netherlands, Italy, and the United Kingdom. The tour wraps up in Dublin on Nov. 10.
The politically conscious band calls Dublin home and has released 14 albums dating back to 1980. The current tour is U2's 16th since 1979.