For the 2019 college football season, there is more diversity in ticket selling strategies for power conference teams than ever before. Historically, teams have not focused on selling single-game tickets to fans at face price, and instead focused on filling seats through season ticket membership, that require fans to pay for their season ticket in addition to a school donation. Over the last two years, college football attendance has dropped to historically low levels. In 2019, college football is facing more competition than ever, not only from TV and phones, but also from an event marketplace that's more crowded than ever. Add to that the loss of tax benefits for ticket-related 'donations', and athletic directors have no choice but to get more creative to fill seats on Saturday.
For 2019, that creativity is showing up in the form of more 'unsold' tickets available for sale at face price than ever before. While some schools, like Florida, have adopted an on-sale model that more closely resembles the NFL, other teams, like Alabama, are focused on making tickets to the best games available as part of mini-plans. As the below team-profiles show, fans looking to get the the cheapest tickets to see football on Saturdays, it's more important than ever to check all options from the team as well as the secondary 'sold-out' seats and games.
TicketIQ has Low Price Guarantees on all sold-out College Football tickets for games throughout the 2019 season.
As for prices of college football tickets on the secondary ticket market, for the second consecutive year, Georgia has the most expensive average price, largely as the result of Notre Dame's first-ever visit Athens. The 8th-ranked Bulldogs have an average asking price of $487 for games at Sanford Stadium, which is over $100 more expensive than Ohio State, the team with the second-highest average.
Despite being ranked No. 1 in the nation by USA Today, Clemson has the 11th-most expensive ticket in the nation. Alabama, ranked No. 2, has the fifth-highest average asking price on the secondary market. After Georgia and Ohio State, the the midwest dominates in terms of price, as Michigan and Notre Dame round out the Top 5.
In addition to college football tickets, TicketIQ also has Low Price Guarantees on all sports tickets, which means that if you find a secondary market ticket for less we'll give you 200% of the difference in ticket credit. TicketIQ customers save an average of 5%-20% compared to Stubhub and Vivid Seats. Download the TicketIQ app for $20 off your first ticket purchase 📲 🎟️
Below is a look at ticket availability on the primary and secondary markets for the top 25 teams as well an infographic with prices for the 10 most expensive teams for the 2019 season.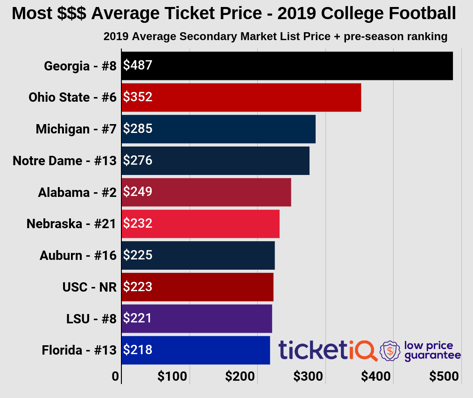 1. Georgia
2. Ohio State
3. Michigan
4. Notre Dame
5. Alabama
6. Nebraska
7. Auburn
8. USC
9. LSU
10. Florida
11. Clemson
12. Texas
13. Texas A&M
14. Oklahoma
15. Stanford
16. Washington
17. Penn State
18. South Carolina
19. TCU
20. UCLA
21. Oklahoma State
22. West Virginia
23. Baylor
24. Wisconsin
25. Arkansas
TicketIQ is committed to the cheapest tickets possible, and we make much less on sold out tickets compared to other major marketplaces like StubHub and Vivid. That means ticket buyers save from up to 25% on TicketIQ on sports, music and theater. We're able to do this because we also work with teams, venues, and other ticket owners, to help them sell tickets at face price, directly to consumers like you, through Ticketmaster, Seatgeek and Paciolan.
---
🎟️🏈🎓
For 2018, UGA Leads Nation As Most Expensive College Football Ticket For First Time
With the kickoff of college football this weekend, the 3-month race for the college football playoffs will be underway. Based on pre-season rankings, it's Alabama's to lose. While they have the top pre-season ranking, when it comes to ticket prices, they're only the 7th most expensive home average this season. At an average price of $323, the 2017 runner-up Georgia Bulldogs have the most expensive college football ticket in the nation. Perhaps the biggest surprise in the top 25 is LSU, which are the fourth most expensive tickets in the country. That's less the result of their 25th pre-season ranking than it is the fact that both UGA makes their way to death valley for the first time in ten years. That, in addition to an Alabama visit, puts LSU in the top five for the first time since 2011.
Compared to last year, the average price of all top 25 teams in the TicketIQ dropped 15.5%. Whether this is a one year blip are part of the larger cyclical price correct across college sports remains to be seen. The Wall Street Journal did a piece on the growth of unsold college football tickets this week, and it's possible the 2018 drop is correlated to that trend.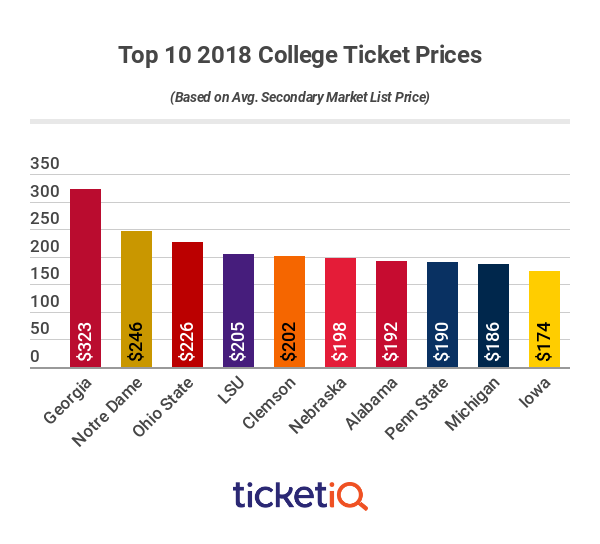 Biggest Ticket Price Drops from 2017
Despite their scandal-ridden offseason, Ohio State football tickets have the third most expensive tickets in the nation at an average price of $226. Prices for Ohio State tickets, however, are down 32%, which marks the fourth-biggest price drop from 2017 for any team, behind Florida State and Tennessee and Alabama, which has prices down 53% compared to last year. Other notable drops this season include Michigan football tickets, which are down 31% after another year of unfulfilled expectations in Ann Arbor under Jim Harbaugh. While not in the top five, Notre Dame tickets also had a major price drop from 2017, falling 26%.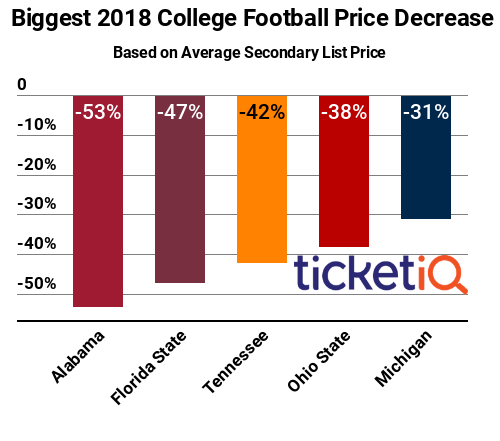 Biggest Ticket Price Increases from 2017
Coming within one play of the national championship last year, Bulldog fans seem to have gotten over the painful loss in Atlanta by driving up ticket prices 25% from last season. That's only good for the 4th-largest increase this season, and trails TCU's 51% increase. With a pre-season ranking of 16th in the nation, TCU fans are excited about their prospects, and are being helped by Oklahoma's October 20th visit, which is the most expensive game of the season. While Nebraska isn't showing up in the pre-season rankings, they do have the third-highest price increase compared to last year, largely as the result of new coach Scott Frost, who led UCF to a perfect season last year. That increase is good to move them Nebraska Football tickets the the 6th most expensive in the country this season.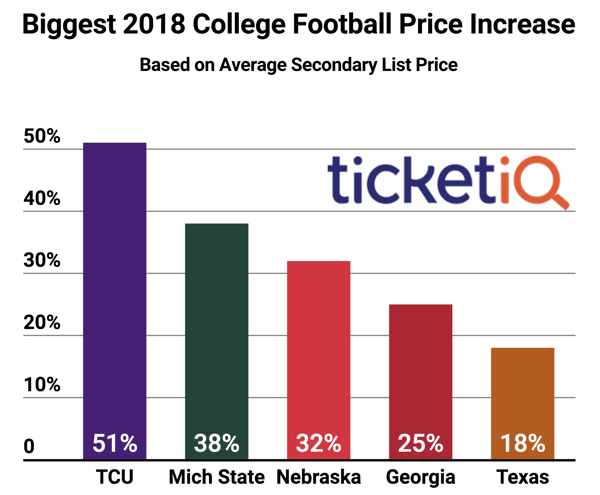 Full Top 25
While the final game last year pitted SEC versus SEC, the SEC also leads the list of the top 25 most expensive home averages for 2018. In total, nine SEC teams rank amongst the top 25 most expensive tickets in the country. The next most represented conference is the Big10, with five teams listed in the top 25, followed by the Big 12, which has four teams in the top 25. Clemson and Florida State are the lone members of the ACC to crack the top 25.