Vikings 2018 Ticket Market Overview:
The Minnesota Vikings open the season at home Sunday against the San Francisco 49ers, and demand for 2018 Minnesota Vikings tickets is slightly down this season. Below is how Vikings tickets prices stack up on the secondary market across the league. As you can see below, Vikings tickets are down 6% compared to last season, but they are still the third most expensive since 2011, when TicketIQ.com began tracking data. The most expensive ticket of the decade was in 2016, a year after the Vikings won the North with an 11-5 record. Minnesota was 13-3 and got the NFC Championship last season.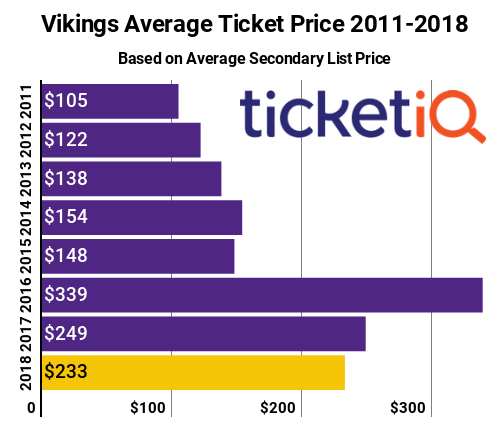 Where to Buy Tickets:
Despite the slight drop in ticket prices, a ticket to a Vikings game is the 11th most expensive across the NFL this season. Season tickets are not available, but fans can get on the waiting list, which started in 2013, by visiting the Vikings website. Single-game tickets are available through the Vikings primary market partner Ticketmaster, and are available for every game, though there is limited availability for the biggest games, including the November 25 Green Bay Packers and December 30 Chicago Bears games. On the secondary market, seats all over the stadium are available, including many through secondary ticket marketplace TicketIQ.com, with the company's Low Price Guarantee.
Prices For Each Game on 2018 Vikings Schedule:
The priciest game of the season is the Packers game, which is trending at $355, well above the secondary market season average of $233. The Packers-Vikings rivalry is one of the most heated and storied in the NFL, and the teams play at Green Bay during Week 2 before a rematch at Minnesota in November. The Packers hold a 60-53-2 series advantage. Should either team be in position to make the playoffs – and it's highly likely both will be in the mix – ticket prices will surely rise.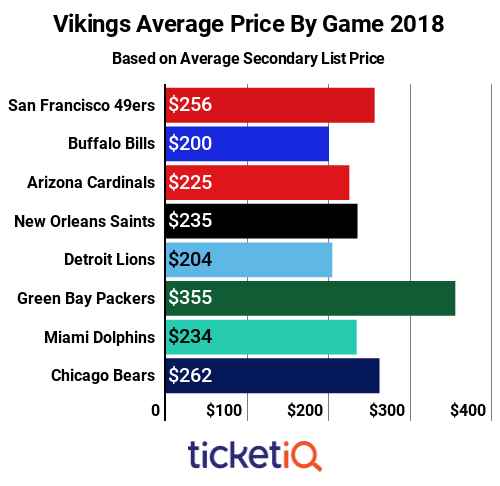 Real-Time Ticket Date and Listings: