Where To Buy 2021 Washington Football Team Tickets
Primary market face-value tickets are available via Ticketmaster.
On the secondary market, TicketIQ has Fee-Free Washington Football Team tickets which also include a Refund Guarantee. Our Refund Guarantee states that if an event is canceled or deemed unfit for fans to attend, TicketIQ will refund ticket buyers in as soon as 15 days. That means that you can buy from TicketIQ worry-free. Customers on TicketIQ save between 15%-25% compared to other secondary market ticketing sites.
How Much Are 2021-22 Washington Football Team Tickets
At the Week 14 point in the season, Washington is 6-6 and 2nd in the NFC East. The team's attendance rate has been at 62.8% of capacity so far, a league low. The average price for Washington tickets is $346 and is an increase of 120.6% from 2019. The least expensive remaining game at FedexField this season is the January 2nd matchup against the Eagles. For this one, tickets start at $78. The most expensive remaining game of the season is the December 12th game against the Cowboys. For that game, the cheapest ticket starts at $161 for SRO, with the cheapest lower level ticket being $410 for a ticket in section 132.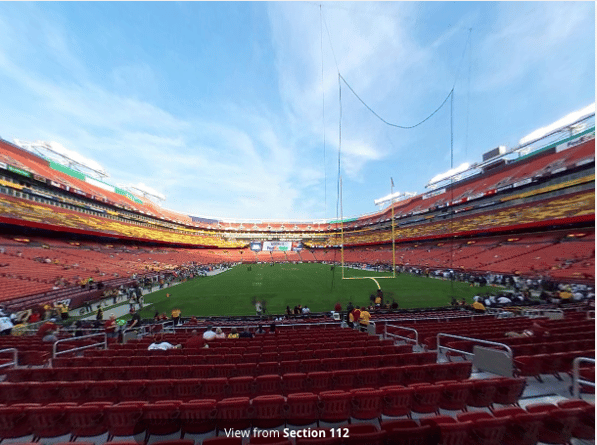 Washington Football Team 2021 Attendance Policy
Information regarding the Washington Football Team updated 2021 attendance policy and potential capacity limits has not been released. However, i

t was also

reported recently

that

30 of the 32 NFL teams already have approval for full capacity at stadiums at the start of the 2021 preseason. The Denver Broncos and Indianapolis Colts have yet to get approval, but both teams are reportedly "on track".
Washington Football Team 2021 Schedule
Week 1: Sunday, September 12th 1:00pm (CBS) vs Los Angeles Chargers
Week 2: Thursday, September 16th 8:20pm (NFLN) vs New York Giants
Week 3: Sunday, September 26th 1:00 pm (FOX) @ Buffalo Bills
Week 4: Sunday, October 3rd 1:00pm (FOX) @ Atlanta Falcons
Week 5: Sunday, October 10th 1:00pm (CBS) vs New Orleans Saints
Week 6: Sunday, October 17th 1:00pm (CBS) vs Kansas City Chiefs
Week 7: Sunday, October 24th 1:00pm (FOX) @ Green Bay Packers
Week 8: Sunday, October 31st 4:25pm (FOX) @ Denver Broncos
Week 9: BYE
Week 10: Sunday, November 14th 1:00pm (FOX) vs Tampa Bay Buccaneers
Week 11: Sunday, November 21st 1:00pm (FOX) @ Carolina Panthers
Week 12: Monday, November 29th 8:15pm (ESPN) vs Seattle Seahawks
Week 13: Sunday, December 5th 4:05pm (FOX) @ Las Vegas Raiders
Week 14: Sunday, December 12th 1:00pm (FOX) vs Dallas Cowboys
Week 15: Saturday/Sunday, December 18th/19th TBD @ Philadelphia Eagles
Week 16: Sunday, December 26th 8:20pm (NBC) @ Dallas Cowboys
Week 17: Sunday, January 2nd 1:00pm (FOX) vs Philadelphia Eagles
Week 18: Sunday, January 9th 1:00pm (FOX) @ New York Giants
Washington Football Team Club and Premium Seating Options
The Football Team have three types of Premium or Club Options available for the 2020 season:
Dream Seats: Located in the first three rows of the stadium, the Dream Seats put fans at the heart of the action.
Merrill Lynch Touchdown Club: Tickets holders get prime lower-level seating at midfield as well as access to high-end hospitality, pregame field passes and one away game trip per season.
Club Level: Ticket holders get great views in these seats as well as access to the Club Level Concourse, which has many premium dining options.
Washington Football Team 2021 Season Tickets
"Football Team Gold" is the official season-ticket program for Washington and are available via Ticketmaster. All Football Team Gold members received a Football Team Gold card for use at FedEx Field, discounts on concessions and merchandise, fast-lane entry into FedEx Field, and other benefits.
Full season tickets are available starting at $499 for seats in Upper End Zone and up to $1,199 for seats in Lower Sideline. All season ticket holders also get a discount against single-game ticket prices.
FedExField COVID-19 Health and Safety Protocols
Wear Your Mask
Face coverings must be worn at all times, including in the parking lot, except when actively eating or drinking. Persons without masks will not be allowed to enter the stadium. This includes children over the age of 2 years old.
Keep Your Distance
Maintain physical distance of at least six (6) feet at all times, including in the parking lots. Tailgating is not permitted.Tailgating is defined loitering in the parking lot for any period of time. Once you exit your car you must enter the stadium.
Run Your Route
Follow all posted signage to help maintain physical distancing. Be smart and continue to abide by physical distancing markers that appear in elevators and on escalators.
Wash Your Hands
Frequently wash your hands and use hand sanitizer stations located throughout the stadium.
Stay In Formation
Sit only in your assigned / ticketed seat. Groups ticketed together will be seated together in groups of no more than 4 people.
Keep the Team Safe
Do not gather near or visit the Player entrance or parking area.
Use Cashless Payment Methods
FedExField is now a cashless venue. Payment via credit/debit cards with scan/chip and mobile devices (ex: Apple Pay) at all points of sale will be accepted.
Head Straight Into The Stadium
Tailgating is not permitted. Tailgating is defined as loitering in the parking lot for any period of time. Once you exit your car you must enter the stadium.
Have Your Mobile Ticket Ready
Make sure to have your mobile ticket ready when you approach the entrance gates. You can access and download your mobile tickets via the Washington Football Team Mobile App.
For additional information visit the Washington Football Team website.
Washington Football Team Mobile Ticketing
Fans can download the Football Team app at the App Store or Google Play and use the app for access to FedEx Field, to purchase, sell or transfer tickets, and to get up-to-date game information.

2020 Washington Football Team Attendance Policy
(UPDATE 8/12) The Washington Football Team announced today that games at FedExField will be played without fans during the 2020 season. Here's some more info from the announcement:
The franchise has reached out to season ticket members with financial alternatives for their ticket plans. Similarly, the customer service team will be prepared to answer questions from those who have purchased single-game tickets for the 2020 season and information will be available on the tickets section of WashingtonFootball.com.
Fans will be able to learn more about ways to cheer on the Washington Football Team virtually prior to the Week 1 matchup against the Philadelphia Eagles on September 13th via the team's website or by following @WashingtonNFL on Facebook, Twitter and Instagram.
---
On July 29th, Washington announced several new ticket and attendance policy updates in a letter to season ticket holders.
Season ticket holders have the option to defer their 2020 season tickets to the 2021 season. They can also request a full refund or a credit to their account.
They also announced new safety and secures measures which can be found here. These include mandatory face coverings for fans attending games.
All tickets this year will be mobile entry only.
More details are expected to be announced soon.
How Much Are 2020 Washington Football Team Tickets
According to TicketIQ, the secondary market average for a Washington Football Team ticket is $320, up 104% over the 2019 season. Since then, the Football Team hired new head coach Ron Rivera and drafted defensive end Chase Young with the No. 2 pick. The average asking price ranks No. 21 across the league. The cheapest ticket is $142 to see the Detroit Lions and priciest is $1,098 to see the Raiders.
---
TicketIQ is committed to the cheapest tickets possible, and we make much less on sold out tickets compared to other major marketplaces like StubHub and Vivid. That means ticket buyers save from up to 25% on TicketIQ on sports, music and theater. We're able to do this because we also work with teams, venues, and other ticket owners, to help them sell tickets at face price, directly to consumers like you, through Ticketmaster and Seatgeek. For an overview of the 2020 NFL Ticket Buying landscape, and details on the cheapest way to get tickets for every team, visit the TicketIQ Blog.
---
How Much Are 2019 Football Team Tickets
The two most expensive tickets to see the 2019 Football Team are the home opener against the Cowboys and three weeks later against the defending Super Bowl champion New England Patriots. The average asking prices for those games is $261 for the Cowboys game and $263 for the Patriots.
Face value tickets are available for all home games through Ticketmaster. Tickets for the Cowboys game start at $155, $90 for the Bears game, $191 for the Patriots game, $71 for the 49ers, Jets, Giants and Lions game and $90 for the Eagles game.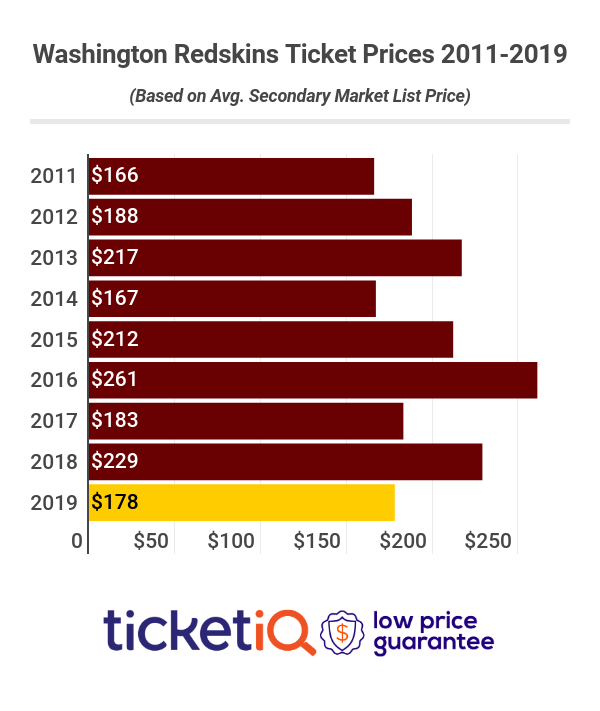 ---
With new technology, the Football Team and other NFL teams are selling more tickets directly to fans than ever
With the NFL kickoff here, the post-waitlist era of Football Team ticket buying also arrives . With less than two weeks until the home opener, not only are season tickets available for sale, but so are single game tickets for every game, from the home opener against the Colts to the highest-demand games like the Cowboys.
The new approach to ticket selling--specifically actually having tickets to sell--is also impacting the secondary market. According to data from TicketIQ.com, Football Team tickets on the secondary market have an average asking price of $229. That's up 24 percent from last year's price and the second-highest price in the last eight years. With so many more tickets available for sale directly from the team, there's less supply on secondary, which sends up prices.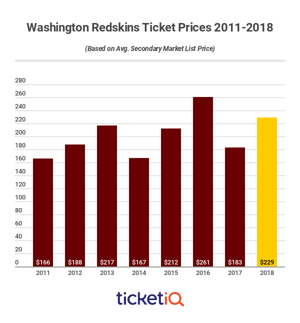 One important thing to consider this season is that all tickets to get into FedExField are eTickets, so you'll need to have the Ticketmaster app or the ticket saved on your phone to actually get in.

The Football Team are not completely ready to move away from the season tickets, however. In fact, they're using high secondary market prices to show how much money fans save if they buy season tickets directly from the team.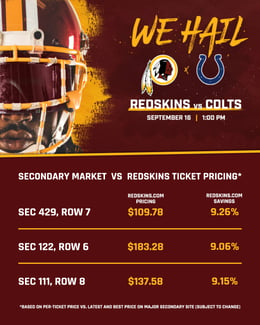 For the Football Team, who until earlier this year claimed a 20-year waitlist, this is a new and relatively brave model, and likely what the NFL envisions for the future of ticketing. While 2018 will likely mark the year the NFL jump into the single-game ticket selling business. It's a model that more and more teams are testing as well. Most notable of these was the Golden State Warriors in the 2018 NBA finals who did not sell out at the start of the game, as Darren Rovell also tweeted.
Like the Warriors last season, the Football Team this season have realized that they need to be selling when fans are buying. In 2018, that often means in the days and hours before a game. After playing catch-up with the secondary market for almost 20 years, teams are now even in actively playing in last-minute ticket-buy world that Stubhub, Gametime and other secondary sites created and perfected. Underlying the shift is the new Ticketmaster-NFL deal that gives all NFL teams the ability to sell inventory directly on partner sites, including Stubhub.
For the full 2018 NFL ticket report, visit the TicketIQ blog.