2020 Washington Football Team Attendance Policy
(UPDATE 8/12) The Washington Football Team announced today that games at FedExField will be played without fans during the 2020 season. Here's some more info from the announcement:
The franchise has reached out to season ticket members with financial alternatives for their ticket plans. Similarly, the customer service team will be prepared to answer questions from those who have purchased single-game tickets for the 2020 season and information will be available on the tickets section of WashingtonFootball.com.
Fans will be able to learn more about ways to cheer on the Washington Football Team virtually prior to the Week 1 matchup against the Philadelphia Eagles on September 13th via the team's website or by following @WashingtonNFL on Facebook, Twitter and Instagram.
---
On July 29th, Washington announced several new ticket and attendance policy updates in a letter to season ticket holders.
Season ticket holders have the option to defer their 2020 season tickets to the 2021 season. They can also request a full refund or a credit to their account.
They also announced new safety and secures measures which can be found here. These include mandatory face coverings for fans attending games.
All tickets this year will be mobile entry only.
More details are expected to be announced soon.
Where to Buy 2020 Washington Football Team Tickets
Washington Redskins tickets are available for sale on the secondary market as of the 2020 schedule release.
TicketIQ has
Fee-Free tickets
with a
Low Price Guarantee
and
Refund Guarantee
, which states that in the event an event is cancelled or deem unfit for fans to attend, TicketIQ will refund ticket buyers within 15 days. That means that you can buy from TicketIQ worry-free.
Potential Covid-19 Impact On 2020 NFL Schedule
While the schedule release is a much-needed dose of exciting news for all football fans, there are some major questions marks heading into the 2020 season due to the Coronavirus pandemic. While teams know what teams they'll play, that's about all they know. Whether or not the games happen and if fans are able to attend will depend on how the virus is managed over the next 2-3 months. The league has already canceled all of its International Series games, and the league is rightly considering all possible scenarios.
Based on the varying levels of infection in each NFL city and state, it's possible that some teams may be able to host fans at a reduced capacity while others may not. The Dolphins announced a preliminary plan last week, with a 25% of capacity goal. Based on the below NFL Covid-19 Safety Index, the Dolphins fall within the low-risk category, just barely.
To create the Safety Index, we compared the active cases in each city or state to the national average and then discounted that product by Rt. Rt is a measure of how fast the virus is spreading in each city and state, most easily tracked through Rt.live.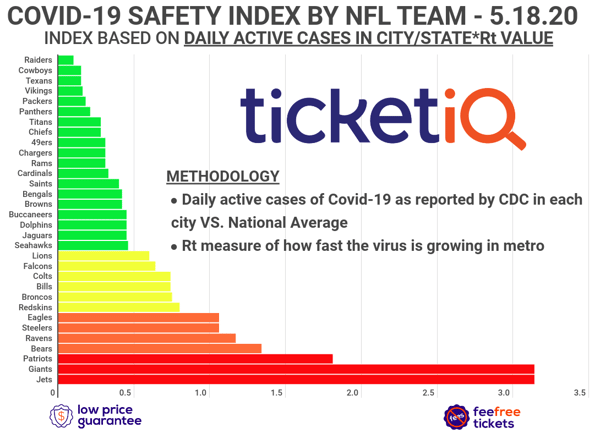 You can also view the FedExField Seating Chart for the most in-depth reporting sections, rows, seats and tips on the best places to catch the action in Washington.
How Much Are 2020 Washington Football Team Tickets
According to TicketIQ, the secondary market average for a Washington Redskins ticket is $320, up 104% over the 2019 season. Since then, the Redskins hired new head coach Ron Rivera and drafted defensive end Chase Young with the No. 2 pick. The average asking price ranks No. 21 across the league. The cheapest ticket is $142 to see the Detroit Lions and priciest is $1,098 to see the Raiders.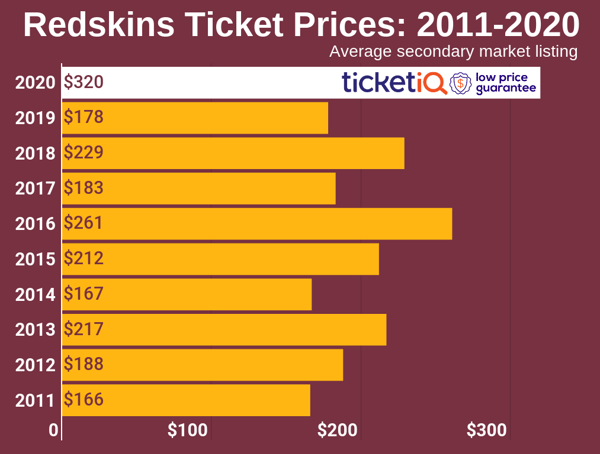 Season Ticket and Mini Plan Options
"Redskins Gold" is the official season-ticket program for Washington, and all Redskins Gold members received a Redskins Gold card for use at FedEx Field, discounts on concessions and merchandise, fast-lane entry into FedEx Field, and other benefits.
Full season tickets are available starting at $759 for seats in Upper End Zone and up to $1,309 for seats in Lower Sideline. Season tickets are currently available through Ticketmaster. All season ticket holders also get a discount against single-game ticket prices.
Club Seating and Premium Options
The Redskins have three types of Premium or Club Options available for the 2020 season:
Dream Seats: Located in the first three rows of the stadium, the Dream Seats put fans at the heart of the action.
Merrill Lynch Touchdown Club: Tickets holders get prime lower-level seating at midfield as well as access to high-end hospitality, pregame field passes and one away game trip per season.
Club Level: Ticket holders get great views in these seats as well as access to the Club Level Concourse, which has many premium dining options.
Mobile Ticket Policy
Fans can download the Redskins app at the App Store or Google Play and use the app for access to FedEx Field, to purchase, sell or transfer tickets, and to get up-to-date game information.
What Can You Bring Into FedEx Field
Items Allowed in the Stadium:
Bags that are clear plastic, vinyl or PVC and do not exceed 12" x 6" x 12.", small clutch bags that are approximately 4.5" x 6.5" in size, a one-gallon clear plastic freezer bag.
Prohibited Items:
Coolers, backpacks, briefcases, purses larger than a clutch bag, fanny packs, cinch bags, non-approved seat cushions, luggage of any kind, computer bags and camera bags or any bag larger than the permissible size listed above. Other prohibited items include, weapons, firearms, illegal drugs, whistles, horns and other noise makers, food and beverages, umbrellas bottles, jugs, thermoses, cans, animals (except for certified guide dogs), folding chairs and strollers, and LED lights and battery powered clothing.
---
TicketIQ is committed to the cheapest tickets possible, and we make much less on sold out tickets compared to other major marketplaces like StubHub and Vivid. That means ticket buyers save from up to 25% on TicketIQ on sports, music and theater. We're able to do this because we also work with teams, venues, and other ticket owners, to help them sell tickets at face price, directly to consumers like you, through Ticketmaster and Seatgeek. For an overview of the 2020 NFL Ticket Buying landscape, and details on the cheapest way to get tickets for every team, visit the TicketIQ Blog.
---
How Much Are 2019 Redskins Tickets
The two most expensive tickets to see the 2019 Redskins are the home opener against the Cowboys and three weeks later against the defending Super Bowl champion New England Patriots. The average asking prices for those games is $261 for the Cowboys game and $263 for the Patriots.
Face value tickets are available for all home games through Ticketmaster. Tickets for the Cowboys game start at $155, $90 for the Bears game, $191 for the Patriots game, $71 for the 49ers, Jets, Giants and Lions game and $90 for the Eagles game.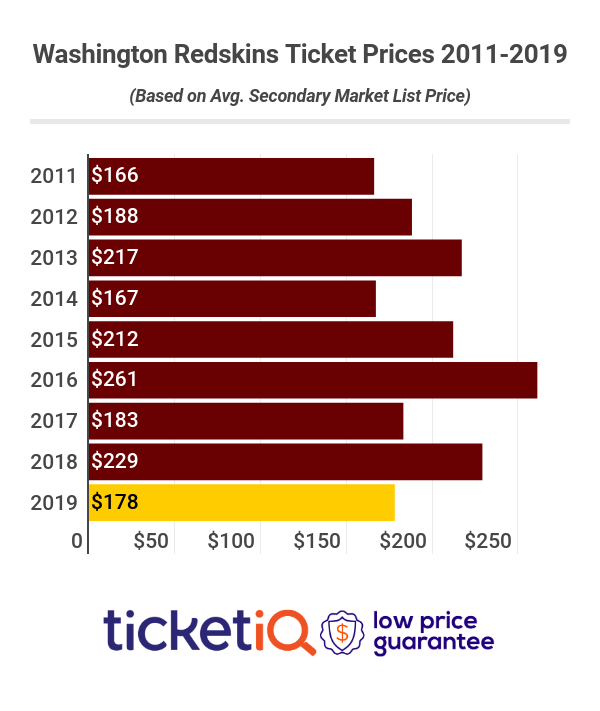 ---
With new technology, the Redskins and other NFL teams are selling more tickets directly to fans than ever
With the NFL kickoff here, the post-waitlist era of Redskins ticket buying also arrives . With less than two weeks until the home opener, not only are season tickets available for sale, but so are single game tickets for every game, from the home opener against the Colts to the highest-demand games like the Cowboys.
The new approach to ticket selling--specifically actually having tickets to sell--is also impacting the secondary market. According to data from TicketIQ.com, Redskins tickets on the secondary market have an average asking price of $229. That's up 24 percent from last year's price and the second-highest price in the last eight years. With so many more tickets available for sale directly from the team, there's less supply on secondary, which sends up prices.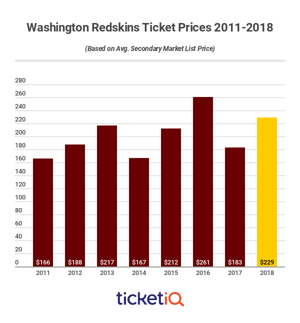 One important thing to consider this season is that all tickets to get into FedExField are eTickets, so you'll need to have the Ticketmaster app or the ticket saved on your phone to actually get in.

The Redskins are not completely ready to move away from the season tickets, however. In fact, they're using high secondary market prices to show how much money fans save if they buy season tickets directly from the team.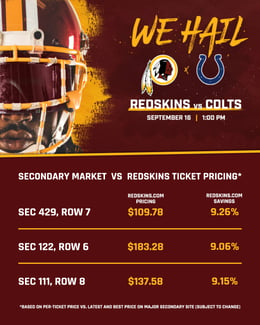 For the Redskins, who until earlier this year claimed a 20-year waitlist, this is a new and relatively brave model, and likely what the NFL envisions for the future of ticketing. While 2018 will likely mark the year the NFL jump into the single-game ticket selling business. It's a model that more and more teams are testing as well. Most notable of these was the Golden State Warriors in the 2018 NBA finals who did not sell out at the start of the game, as Darren Rovell also tweeted.
Like the Warriors last season, the Redskins this season have realized that they need to be selling when fans are buying. In 2018, that often means in the days and hours before a game. After playing catch-up with the secondary market for almost 20 years, teams are now even in actively playing in last-minute ticket-buy world that Stubhub, Gametime and other secondary sites created and perfected. Underlying the shift is the new Ticketmaster-NFL deal that gives all NFL teams the ability to sell inventory directly on partner sites, including Stubhub.
For the full 2018 NFL ticket report, visit the TicketIQ blog.