Where to Buy Tickets:
Washington Redskins tickets are available on the team's website. Fans can request information about season tickets, which come with several benefits, including preferred food pricing, access to the West End Hospitality Zone, and more. Single-game tickets are available for all games via Ticketmaster. On the secondary market, TicketIQ has seats for all games, and the average asking price for the season is $178.
TicketIQ also has a Low Price Guarantee on Redskins tickets for all games on their 2019 schedule, in addition to Low Price Guarantees on all NFL tickets, which means that if you find the same seats on for less on another secondary market site like Stubhub or Seatgeek, we'll give you 200% of the difference towards your purchase. TicketIQ customers save an average of 5%-20% compared to Stubhub and Seatgeek.
Download the TicketIQ app for $20 off your first ticket purchase 📲 🎟️
How Much Are Redskins Tickets:
The Washington Redskins waste no time before facing stiff competition, as they open at home on September 15 against archival Dallas — and three weeks later host the defending Super Bowl champion New England Patriots. Those two games have the highest average asking prices for home games — $261 for the Cowboys game and $263 for the Patriots — on the secondary market. Below is how Redskins tickets stack up on the secondary market across the league. As you can see, Washington tickets are down from an average of $189 last season to $178 this year. That average asking price is the second cheapest since 2012, when TicketIQ began tracking data. The highest average on the secondary market was $261 in 2016, a year after the Redskins most recent visit to the playoffs.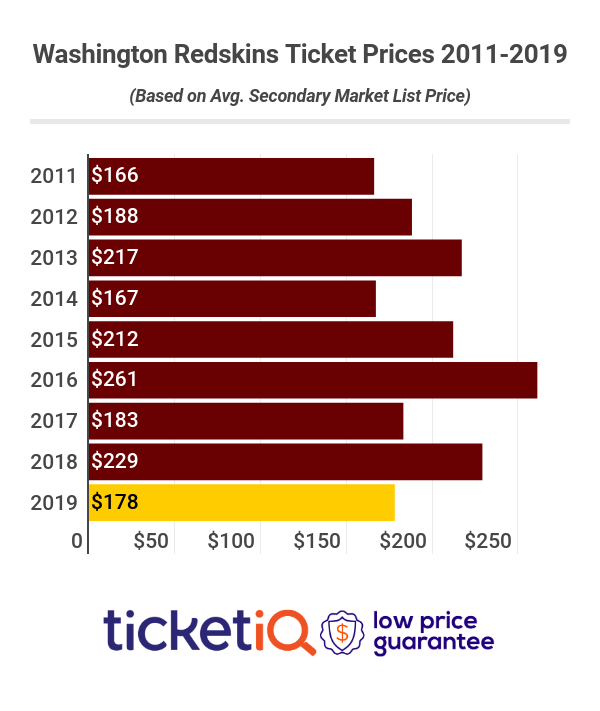 Prices for Each Game of the 2019 Redskins Schedule:
On the secondary market, the only two games that are trending at more than $200 are the home opener against Dallas and the October 6 game against New England. Besides that, fans should plan on paying an average of about $149 for the other six home games this season, but can get in for as little as $37, which is the cheapest ticket for the November 17 New York Jets game. The Redskins have only gotten to playoffs twice in the last 10 years. If the Redskins survive the gauntlet that is their first five weeks — Eagles, Cowboys, Bengals, Giants, Patriots — with even a .500 record, fans should expect ticket prices to edge up later in the season.
What Can You Bring Into FedEx Field:
Items Allowed in the Stadium:
Bags that are clear plastic, vinyl or PVC and do not exceed 12" x 6" x 12.", small clutch bags that are approximately 4.5" x 6.5" in size, a one-gallon clear plastic freezer bag.
Prohibited Items:
Coolers, backpacks, briefcases, purses larger than a clutch bag, fanny packs, cinch bags, non-approved seat cushions, luggage of any kind, computer bags and camera bags or any bag larger than the permissible size listed above. Other prohibited items include, weapons, firearms, illegal drugs, whistles, horns and other noise makers, food and beverages, umbrellas bottles, jugs, thermoses, cans, animals (except for certified guide dogs), folding chairs and strollers, and LED lights and battery powered clothing.
TicketIQ is committed to the cheapest tickets possible, and we make much less on sold out tickets compared to other major marketplaces like StubHub and Vivid. That means ticket buyers save from up to 25% on TicketIQ on sports, music and theater. We're able to do this because we also work with teams, venues, and other ticket owners, to help them sell face value tickets, directly to consumers like you, through Ticketmaster, Seatgeek and other primary ticketing platforms.
---
With new technology, the Redskins and other NFL teams are selling more tickets directly to fans than ever
With the NFL kickoff here, the post-waitlist era of Redskins ticket buying also arrives . With less than two weeks until the home opener, not only are season tickets available for sale, but so are single game tickets for every game, from the home opener against the Colts to the highest-demand games like the Cowboys.
The new approach to ticket selling--specifically actually having tickets to sell--is also impacting the secondary market. According to data from TicketIQ.com, Redskins tickets on the secondary market have an average asking price of $229. That's up 24 percent from last year's price and the second-highest price in the last eight years. With so many more tickets available for sale directly from the team, there's less supply on secondary, which sends up prices.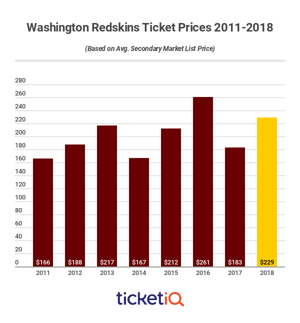 One important thing to consider this season is that all tickets to get into FedExField are eTickets, so you'll need to have the Ticketmaster app or the ticket saved on your phone to actually get in.

The Redskins are not completely ready to move away from the season tickets, however. In fact, they're using high secondary market prices to show how much money fans save if they buy season tickets directly from the team.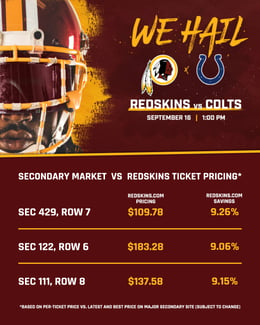 For the Redskins, who until earlier this year claimed a 20-year waitlist, this is a new and relatively brave model, and likely what the NFL envisions for the future of ticketing. While 2018 will likely mark the year the NFL jump into the single-game ticket selling business. It's a model that more and more teams are testing as well. Most notable of these was the Golden State Warriors in the 2018 NBA finals who did not sell out at the start of the game, as Darren Rovell also tweeted.
Like the Warriors last season, the Redskins this season have realized that they need to be selling when fans are buying. In 2018, that often means in the days and hours before a game. After playing catch-up with the secondary market for almost 20 years, teams are now even in actively playing in last-minute ticket-buy world that Stubhub, Gametime and other secondary sites created and perfected. Underlying the shift is the new Ticketmaster-NFL deal that gives all NFL teams the ability to sell inventory directly on partner sites, including Stubhub.
For the full 2018 NFL ticket report, visit the TicketIQ blog.