Together, Alabama and Auburn account for 33 SEC titles, 25 with Alabama and eight with Auburn. Regardless of whether an SEC title game is on the line, the 2019 Iron Bowl is a title game all to itself. While Alabama leads 46–36–1, Auburn will be looking to notch another win at home in the 84th meeting, which will take place on November 30th at Jordan Hare Stadium.
WHERE TO BUY IRON BOWL TICKETS
As is often the case Iron Bowl tickets are not easy to come by. For 2019, however, there's more than one option. In addition to the secondary ticket market, Auburn has Iron Bowl tickets available as part of a three-game mini-plan with the option for an Iron Bowl ticket against rival Alabama in section 60 costs $270. On the secondary ticket market in the same section for the Iron Bowl alone are listed at $325. Not only does the mini-plan get you a 15% discount for one of the biggest games on the college football schedule, it also gets you two games for free, including a game against either Ole Miss or Mississippi State.
On the secondary market TicketIQ has Low Price Guarantees on Auburn football tickets for all games on the 2019 schedule, in addition to Low Price Guarantees on all college football tickets, which means that if you find a secondary market ticket for less on a site like Stubhub or Vivid Seats, we'll give you 200% of the difference in ticket credit. TicketIQ customers save up to 25%.
🎟VISIT TICKETIQ FOR LOW PRICE GUARANTEES ON IRON BOWL TICKETS 🎟
HOW MUCH ARE IRON BOWL TICKETS FOR AUBURN VS. ALABAMA
As is the case almost every year, it's the most expensive game on the 2019 Auburn schedule, with tickets on the secindart market starting at $221, 51% more than the next most expensive game against Georgia.
Tickets on the Auburn side of the field start at $307 for a pair of tickets in section 47. Upper level tickets on the Auburn sideline start at $337. Lower level tickets on the 40 to 50-yard line of the Auburn side start at $595. Lower level endzone tickets start at $311 for a pair of tickets in row 53 of section 16 to $364 for a pair of tickets in the 3rd row of section 40.
The cheapest seats on the 50 yard line on the Alabama side of the field start at $276 for a pair of tickets in the 33rd row of section 106.
Club Nelson tickets start at $1,556 and includes seats with backs that are fully covered and in the shade. Fans in these seats have access to the VIP Club lounge and are treated to all-inclusive food and drink. Below is a seating chart for Jordan Hare Stadium with prices by zone, including the Student section, which doesn't have tickets available on the secondary market.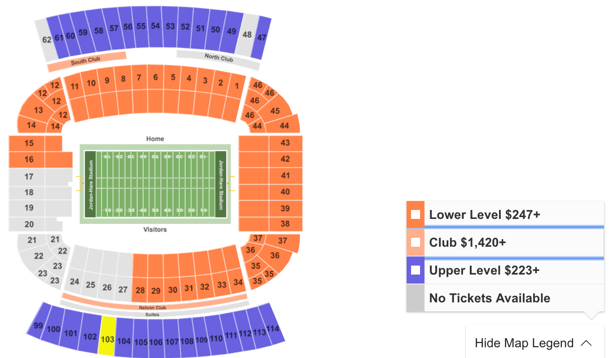 🎟VISIT TICKETIQ FOR LOW PRICE GUARANTEES ON IRON BOWL TICKETS 🎟
---
TicketIQ is committed to the cheapest tickets possible, and we make much less on sold out tickets compared to other major marketplaces like StubHub and Vivid. That means ticket buyers save from up to 25% on TicketIQ on sports, music and theater. We're able to do this because we also work with teams, venues, and other ticket owners, to help them sell tickets at face price, directly to consumers like you, through Ticketmaster and Paciolan. For an overview of the 2019 College Football Ticket Buying landscape, and details on the cheapest way to get tickets for every pre-season top 25 team, visit the TicketIQ Blog.