Where To Find Footprint Center Premium Seating and Club Options
On the secondary market, TicketIQ has Fee-Free tickets for all events at Footprint Center, which also include a Refund Guarantee. Our Refund Guarantee states that if an event is canceled or deemed unfit for fans to attend, TicketIQ will refund ticket buyers in as soon as 15 days. That means that you can buy from TicketIQ worry-free. Customers on TicketIQ save between 15%-25% compared to other secondary market ticketing sites. Footprint Center is the home of the Phoenix Suns and Phoenix Mercury.
Footprint Center PREMIUM SEATING + CLUB OPTIONS
Footprint Center Premium & Club Seating Locations
Dos Equis Beer Garden (Sections 101-103, 113-115 Rows 7-15 Have Access)
North Club/Jim Beam Barrel Bar (Sections 119-121 Rows 21C-26C)
North Lounge (Sections NL1-NL16)
Suites (Wrap Around The Suite Level)
Theater Boxes (Right Behind Sections 107-109)
Ultra Club/Club Gila River (UC: Sections 111-117 Rows 1-5, CGR: 101-105/123-124 Rows 1-5)
VIP Courtside Seats (Sections 101F-123F)
Dos Equis Beer Garden
The Dos Equis Beer Garden at Footprint Center is an outside hangout spot specifically reserved for certain Suns fans. Those with access can assemble before or during the game and enjoy free Dos Equis beer, as well as complimentary food from a local food truck setup. There are tons of tables and couches for you and your group to congregate and chat, making this one of the more relaxing spaces you can find at the arena. While access is usually only granted to season ticket holders, single game ticket buyers in relevant seats have the option to add a Beer Garden Pass on to their purchase. We do have some available inventory on TicketIQ, but we'd recommend going through the venue directly to get the best deals on these specific seats.
North Club/Jim Beam Barrel Bar
The North Club/Jim Beam Barrel Bar at Footprint Center is immaculate. Accessible to fans in particular lower level sections, the Club is massive and full of seating right by the hallmark Barrel Bar. Perks include: complimentary food/beer/wine/soft drinks, in-seat wait service, and more! Designed to give open views of the game, you'll also never feel too far from the action. Plus, the seats themselves are some of the most comfortable you'll find in all of sports. Cushioned and spacious, these seats also all contain personal tables for you to place concessions, charge your phone, etc. This space is a fan favorite that maximizes your personal space while watching the game. And we do have available inventory on TicketIQ.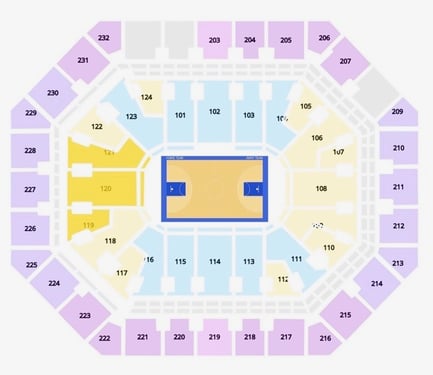 North Lounge
North Lounge seating at Footprint Center is directly above the North Club seating and has the same access to the Barrel Bar space, the only difference being that lounge ticket holders have purchased private couches for their group to watch the game from. All these lounge "sections" are marked as Row 1, as there is available barstool seating directly behind that is all labeled as Row 3. These couch spaces are some of the most comfortable places to sit at Footprint and even offer small TV's as well. They are perfect for small groups of 4-6 people. To look at packages you must go directly through the venue.
Suites
There are many different types of Suites at Footprint Center. All located on the Suite Level that is right behind the Lower Bowl, the vantage points for all these seating locations are excellent. Ring of Honor Suites are in the corners and can fit up to 60 people, Lofts are on the sidelines and can fit 8-12, and Standard Suites are by the Baseline and can fit up to 22. Catering options depend on the type of Suite that you choose, and there are all-inclusive packages that many opt for. Additionally, the number of parking passes offered depends on the type of Suite as well. Find more information HERE, where you can also inquire about purchasing a Suite for your desired game.
Theater Boxes
Theater Boxes at Footprint Center are also another great way to see the game, and are located right below the Suite Level directly behind sections 107-109. With just four oversized seats, these boxes are perfect for small groups looking to have a private experience at the game. Ticket holders will also have access to the 1stBank Terrace Club, which has a bar space, additional seating, private restrooms, and an outdoor patio with views of downtown Phoenix. Here's a Video showing the layout of the Terrace Club. Theater Box seating is all-inclusive, meaning that food, beer, and wine are free! Further, guests will have their own private table to dine and hangout at, in addition to a personal host. To purchase a Theater Box, you must go directly through the venue.
Ultra Club/Club Gila River
Down on the sidelines in the lower level is some of the best premium seating that can be found at Footprint Center. Ultra Club and Club Gila River seating can be found in the first few rows of the lower level, with perfect views of the court. Fans in these sections + court-side have access to one of two clubs depending on the sideline you're sitting on, the Ultra Club and Club Gila River. They are almost identical and both come with some of the finest amenities. These include: a private lounge, top-shelf bar, decadent furniture, huge tables, and more! These clubs are court-side and have all-inclusive food, beer, and wine for all respective ticket holders. Inventory is limited on TicketIQ, so we'd recommend going through the primary market for this premium seating space. Also, make sure your single game ticket specifies club access before buying. Most do, but there are a few that do not.
VIP Courtside Floor
VIP Courtside seating at Footprint Center brings with it just about as many luxury amenities as one could dream of. With each section only containing 3-4 rows, you'll literally be as close to the court as possible. Fans in the first row of section 114F and the first 2 rows (A & B) of all other floor sections will not just receive access to the Ultra Club/Club Gila River, but will also have access to the Annexus Social Club. This is no doubt the most elite club at the venue. There's tons of comfortable seating, all-inclusive food & drink, a high-end bar, a huge monitor showing the game, and more within the Social Club. This just touches the surface of everything you'll experience within this club, which is perfect for impressing guests or living the life of the rich and famous for a night. Inventory is very limited on TicketIQ, so we'd recommend going directly through the venue for this premium seating space.
Footprint Center SEATING CHART - Basketball

Footprint Center Seating Chart - Concerts