Where To Find Golden 1 Center Premium Seating and Club Options
On the secondary market, TicketIQ has Fee-Free tickets for all events at Golden 1 Center, which also include a Refund Guarantee. Our Refund Guarantee states that if an event is canceled or deemed unfit for fans to attend, TicketIQ will refund ticket buyers in as soon as 15 days. That means that you can buy from TicketIQ worry-free. Customers on TicketIQ save between 15%-25% compared to other secondary market ticketing sites. Golden 1 Center is the home of the Sacramento Kings.
Golden 1 Center PREMIUM SEATING + CLUB OPTIONS
Golden 1 Center Premium & Club Seating Locations
Courtside Seats and The Row One Club (Plaza Level: Courtside Floor Sections 1-9)

Luxury Suites (Suite Level: Suites 1A-34B)

Lofts and Bridge Lofts (Loft Level: Lofts 1-42 and Bridge Lofts 43-48)

The Club (Suite Level: Sections 1-12)

Courtside Seats and The Row One Club
Experience the ultimate VIP treatment as a member of the exclusive Row One Club. With courtside seats just inches away from the action, complimentary VIP parking, and in-seat food and beverage service, you will feel like you are part of the game. The Row One Club also offers an all-inclusive dining experience featuring seasonal fare, access to the exclusive Lexus Lounge, and invitation-only opportunities like team road trips. The meticulously designed 4,000-square foot lounge has an elegant bar, custom-made furnishings, and an immaculate 4K Daktronics LED display. As a member, you will enjoy first-row courtside seats for every game, presale access to select events, and complimentary premium food and beverages. For access to the Row One Club, you can check the Golden 1 Center website. And we do have available courtside seat inventory on TicketIQ.
Luxury Suites
The Luxury Suites at Golden 1 Center are designed to seemingly cater to your every need. With full concierge service, a fully-stocked kitchen, and cutting-edge technological services, you can enjoy every event exactly as you want to. Your suite is available to you 365 days a year, providing you with the flexibility to extend your boardroom or entertainment space whenever you need extra room. Theater-style seating, a spacious communal table, bar seating, and 65-inch televisions ensure that all your guests are comfortable and engaged. Suite members also receive all-access passes to the most exclusive amenities, including premium parking, a VIP entrance, and access to private bars. Create your own premium experience with flexible seating for up to 54 guests, farm-to-fork dining options, best-in-class technology, and exclusive parking and entrances. For access to the suites at the stadium, you can check the Golden 1 Center website.

Lofts and Bridge Lofts
Experience the ultimate in luxury with The Lofts, which boast premium features and comfortably accommodates up to 10 guests. Enjoy personalized concierge service, customizable catering options, lounge seating, a communal bar table, and 42-inch televisions. Plus, take advantage of premium amenities including VIP parking, access to exclusive clubs, and a VIP entrance. For a change of scenery, head to Cask & Alchemy, which offers spectacular views of K and L streets and a stunning art installation, making Cask & Alchemy perfect for intimate gatherings. If you are looking for a rustic farmhouse gathering, look no further than Croft by Cintron. Featuring an unobstructed view of the arena bowl, this is the perfect spot for casual drinks and delicious farm-to-fork fare. Do not miss the iconic vintage neon storefront sign art installation either. For access to the lofts at the stadium, you can check the Golden 1 Center website.
The Club
Upgrade your basketball and concert experience with club seats that come with exclusive access to either the RUSH or ASSEMBLY by Crown Royal club lounges. Take advantage of the private 360-degree central bar during intermission and enjoy a refreshing local micro-brew or a hand-crafted cocktail. Indulge in wider seats with taller backs, complimentary farm-to-fork cuisine, and premium amenities available exclusively for Club Seat Members. Arrive in style with preferred parking in the West Garage, and enjoy access to exclusive clubs reserved just for premium members. Have your seasonal food or beverage delivered directly to your lap while you take in all the action from spacious, comfortable seats in the center sections. For access to The Club at the stadium, you can check the Golden 1 Center website.
Golden 1 Center Seating Chart - Basketball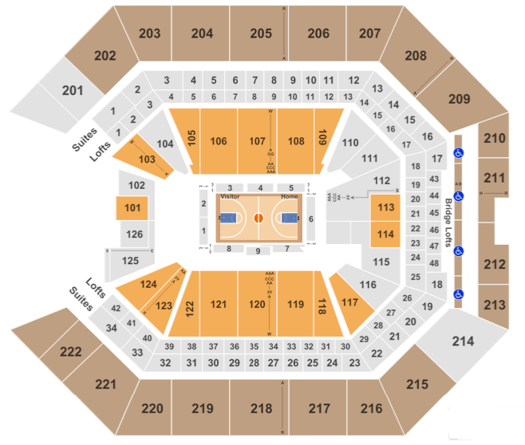 Golden 1 Center Seating Chart - Concerts