Where To Find PNC Arena Premium Seating and Club Options
On the secondary market, TicketIQ has Fee-Free tickets for all events at PNC Arena, which also include a Refund Guarantee. Our Refund Guarantee states that if an event is canceled or deemed unfit for fans to attend, TicketIQ will refund ticket buyers in as soon as 15 days. That means that you can buy from TicketIQ worry-free. Customers on TicketIQ save between 15%-25% compared to other secondary market ticketing sites. PNC Arena is the home of the Carolina Hurricanes.
PNC Arena PREMIUM SEATING + CLUB OPTIONS
PNC Arena Premium & Club Seating Locations
Center Ice Club (Sections 103-105, 118-120)

Lexus Champions Club (Sections 210-214)

Ledge Lounge (Sections 226-228)

Club Seats (Sections 201-209, 215-225, 229-230)

Center Ice Club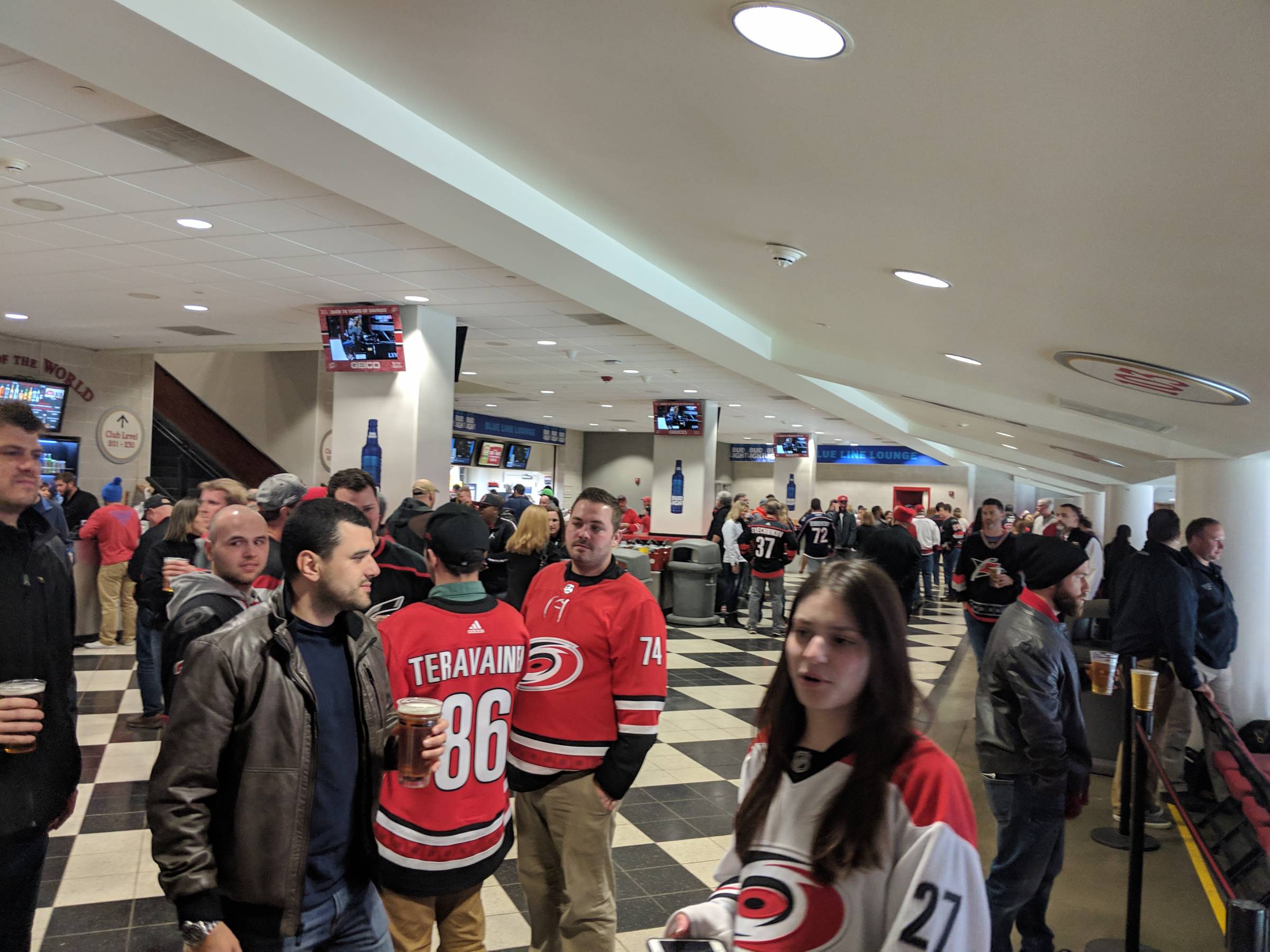 (Source: https://www.rateyourseats.com/pnc-arena/seating/center-ice-club)
The Center Ice Club comprises sections 103 to 105 and 118 to 120. Located behind the team benches, you will be right in the heart of the action to see the Hurricanes on the PNC Arena rink. With separate club concourses for each side, getting to your amenities has never been easier. Take a break from the game and indulge in gourmet food and drinks at the Arena Club, an upscale restaurant that caters to your culinary desires. You can also head out to the deck, where you can enjoy the game while taking in the stunning views from above. You can sit in sections 103 to 105, right behind the Hurricanes' bench; alternatively, sections 118 to 120 are in front of the visitors' bench. Either way, you will be surrounded by the energy and excitement of the game. Get up close and personal with the players and feel the thrill of every slap shot and body check as you cheer on your team from the Center Ice Club. And we do have available Center Ice Club seating inventory on TicketIQ.
Lexus Champions Club
(Source: https://www.pncarena.com/premium-seating/lexus-champions-club)
Get the most luxurious experience with the Lexus Champions Club at PNC Arena, located on the Club Level between sections 210 and 214. With ideal sight lines from the second level, you will have a perfect view of the action on the arena floor, though you might find yourself wishing the Hurricanes attacked twice at the near net. As a Lexus Champions Club ticket holder, you will have exclusive access to this private setting where you can enjoy food stations that are all you can eat as well as a full-service bar and a private lounge area. Arrive one hour before the game and stay until postgame, immersing yourself in the excitement and entertainment of the Champions Club. Accessible through the East or West Entrance of PNC Arena, the Champions Club offers premium amenities, including more expansive padded seating, small tables, and lounge areas for socializing before, after, and during intermissions. Sections 210 to 214 are the largest, with rows A to F, while sections 211 to 213 are one row smaller, going from rows A to E. For Hurricanes games, each person over the age of 21 receives four alcoholic drink vouchers, making your experience even more fantastic. And we do have available Champions Club seating inventory on TicketIQ.
Ledge Lounge



(Source: https://www.pncarena.com/plan-your-visit/food-beverage/ledge-lounge)
Get ready for the ultimate in premium seating at the Ledge Lounge, located on the south end of the Club Level between sections 226 and 228 at PNC Arena. With a full-service bar, three flat-screen televisions, and a spectacular view of the arena bowl, the Ledge Lounge is the perfect place to mingle during the game or at intermission. Enjoy delicious carved sandwiches and sides from the Carvery Carts, available during select events. Ledge Lounge ticket holders can enjoy the whole scene while they receive a carvery sandwich and beverage vouchers. Access to the Ledge Lounge is exclusive to Carolina Hurricanes premium season ticket holders and Wolfpack Club members with Lifetime Rights, with different access times depending on the game. Celebrate after the game with your favorite drinks, as all fans are welcome. The seating at the Ledge Lounge offers premium amenities, including extra-padded swivel chairs and ledge-like tables for food and drinks. Appreciate excellent sight lines of the game from the second seating tier, where you can witness the Hurricanes in action as they shoot twice from this side. And we do have tickets available to the Ledge Lounge on TicketIQ.
Club Seats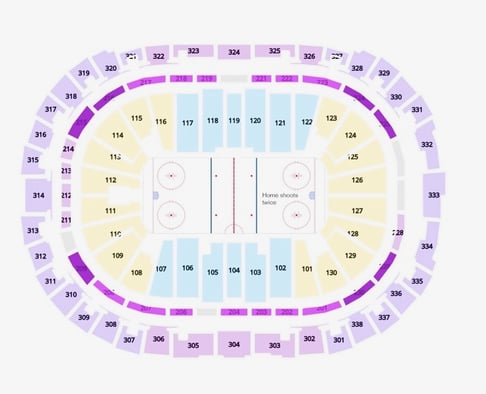 Elevate your game day experience with Club Seats at PNC Arena's 200 level. These seats come with special amenities, such as in-seat wait service, extra comfortable seating, and club access, making it a premium option for all Hurricanes games and select other events. In addition, the 200 level provides great views regardless of the event, with small sections of no more than six rows, creating a less congested and more comfortable atmosphere. If you want the best Club Seats, make sure you get near center ice with Sections 202 to 206 or 218 to 222, as they offer great views on both ends of the ice for Carolina Hurricanes games. These sections also include seats that are part of the exclusive Ledge Lounge. Club Seat holders also enjoy access to the Buffalo Brothers Zone and the Arena Club Restaurant. And we do have available Club Seat inventory on TicketIQ.
PNC Arena Seating Chart - Hockey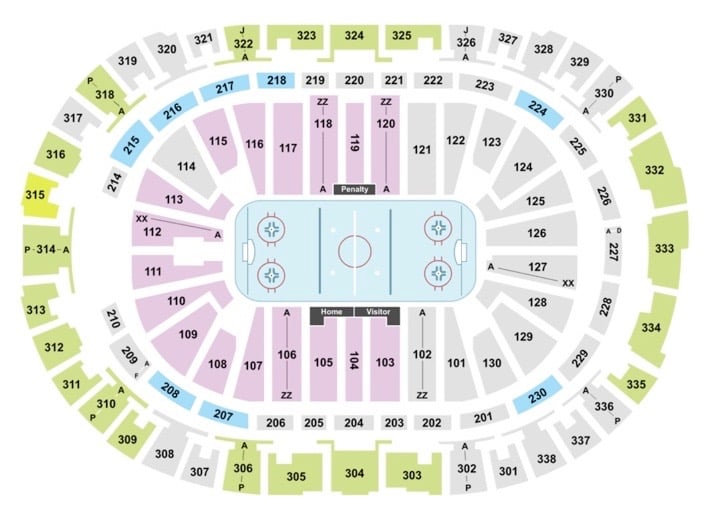 PNC Arena Seating Chart - Concerts