Where To Find Prudential Center Premium Seating and Club Options
On the secondary market, TicketIQ has Fee-Free tickets for all events at Prudential Center, which also include a Refund Guarantee. Our Refund Guarantee states that if an event is canceled or deemed unfit for fans to attend, TicketIQ will refund ticket buyers in as soon as 15 days. That means that you can buy from TicketIQ worry-free. Customers on TicketIQ save between 15%-25% compared to other secondary market ticketing sites. Prudential Center is the home of the New Jersey Devils.
We've also partnered with SuiteHop, which is an online marketplace curating suites and VIP seating options for venues across North America. These VIP tickets offer a luxury experience with premium amenities, upscale food & beverage options, and incredible sightlines you won't find with any other tickets. Visit SuiteHop to browse suites & premium tickets for your next event at Prudential Center.
Prudential Center PREMIUM SEATING + CLUB OPTIONS
Prudential Center Premium & Club Seating Locations
Club Seats (Sections 8 & 19, 7 & 9 Rows 1-5, and 18 & 20 Rows 1-8)
Glass Seats (Row GL1 in Most Lower Level Sections)
Luxury Suites (Split Into Two Levels Right Behind Each Sideline In The Lower Bowl)
Studio Suites (Various Points Around The Arena)
The Lofts (Directly Above The Lower Level Behind Sections 1-4)
Yuengling Grill Ledge Seats (Behind Sections 11-16)
Club Seats
Club seating at Prudential Center comes with plenty of perks. Most fans seated in the lower bowl on the sidelines will receive premium club access exclusive to their seating location. Fans sitting in sections 7-9 will have access to the Caesars Lounge, while those seated in 18-20 will have access to the Club Lounge East. Both clubs have similar amenities and are located directly above the lower seating bowl. Each lounge features full service bars, luxury furnishings, and plenty of seating for fans to kick back. There is also an all-inclusive buffet included in the price of the ticket for anybody sitting in these club seats. The menu switches up constantly and includes many local NJ offerings. We do have available club seat inventory on TicketIQ, but you may find more available tickets going directly through the team.
Glass Seats
Glass seats at Prudential Center are the most desirable seats in the venue. Labeled as Row GL1 for all sections in the Lower Bowl (except sections 8 & 19), these seats bring you within inches from the ice and give you the best views available. Additionally, Glass Seat tickets provide access to the newly renovated M Lounge by BMW, which is located below sections 18-20. Additionally, some general club seats provide access to this club, but that can be found on a ticket by ticket basis. Anyhow, the lounge itself is immaculate. There is a high end top-shelf bar within the lounge, which can provide you with anything you like when it comes to drinks. Further, there's all-inclusive gourmet food and tons of luxury seating available for your enjoyment. We do have available glass seat inventory on TicketIQ, but you may find more available tickets going directly through the team.
Luxury Suites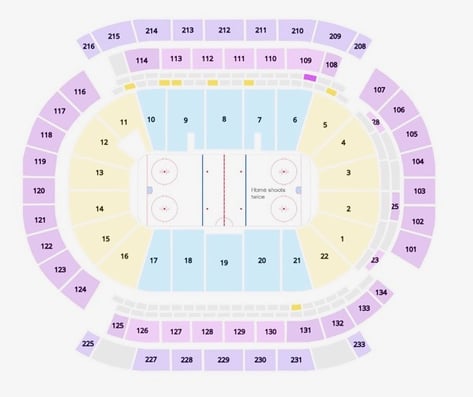 Luxury Suites at Prudential Center set the standard in comfort. These suites, which run along the sidelines behind the Lower Level, fit groups of 12-20 and include a private hangout space, custom dining options, & more. Each space has plenty of TV's, fridges, bar-stool seating with incredible views of the ice, and tables for food to be catered. In fact, many fans say these specific suites provide the best sight lines at the venue. And these suites are not too expensive, currently starting at $500 for certain packages. We have some available Suite inventory on TicketIQ that you can purchase on a single ticket basis, but if you're buying for a specific group and not yourself, we'd recommend going directly through the venue.
Studio Suites
Studio Suites at Prudential Center are one of a kind. Located at various points around the arena and directly above the Lower Bowl, you really cannot beat the views. Fit for groups of 6-8, this suite option is definitely more intimate and immersive. There's counter-top style seating at the front of each suite and then a lounge area in the back. In-Suite dining includes numerous catering options as well as a private bar area. These suites are not available on TicketIQ, so you must go directly through the venue to explore remaining package options.
The Lofts
The Lofts at Prudential Center provide one of the more unique experiences at the venue. Inspired by the speakeasy style of "Old New Jersey", the Lofts combine suite style seating and a high end lounge. You'll get to pick from three options within this space: Boxes, Tables, & Club Seating. Each one includes access to the private bar space (as seen above), all-inclusive dining, and a VIP entrance. The Boxes fit 8 people, Tables fit 4, and the Club Seating fits anywhere from 2-8. The bar is top-shelf and sets the standard in luxury. Reserve space now by going directly through the venue.
Yuengling Grill Ledge Seats
The Yuengling 1829 Grill at Prudential Center is located right behind and above Lower Level sections 11-16. Doubling as a high class restaurant and seating location, this space is about as luxurious as it gets at The Rock. Reservations here include: High-Top Ledge Seating with great views, restaurant access with views of the practice rink, and an all-inclusive buffet. There are zero lines and the ledge seats are some of the most comfortable you can find. Tickets are not available on TicketIQ, so you must go directly through the venue.
Prudential Center SEATING CHART - Hockey


Prudential Center SEATING CHART - Concerts