Where To Find Rogers Place Premium Seating and Club Options
On the secondary market, TicketIQ has Fee-Free tickets for all events at Rogers Place, which also include a Refund Guarantee. Our Refund Guarantee states that if an event is canceled or deemed unfit for fans to attend, TicketIQ will refund ticket buyers in as soon as 15 days. That means that you can buy from TicketIQ worry-free. Customers on TicketIQ save between 15%-25% compared to other secondary market ticketing sites. Rogers Place is the home of the Edmonton Oilers.
Rogers Place PREMIUM SEATING + CLUB OPTIONS
Rogers Place Premium & Club Seating Locations
Scotiabank Suites (Suite Level, Above Lower Bowl)
Sky Lounge Loft (Upper Level of the Sky Lounge)
PCL Loge Seating (2nd Level of Arena)
Summit Suite (Center Ice)
Club Seats (Sections 101-104, 118-121)
O-Zone Seats (Sections 107, 109, 113, 115 Rows 23-25 and Drink Rail)
Sky Lounge (Arena's Upper East End)
Sportsnet Club (Directly Below the Sky Lounge Seats)
Chairman's Club (Ice Level Beside Oilers Locker Room)
Theatre Boxes (Directly Above Lower Bowl)
Scotiabank Suites



If you are looking for great seats at Rogers Place, then you need to know about the Scotiabank Suites! These suites come in packages of both 12 and 13 seats, and are more than spacious. These elite premium spaces include gourmet catering, two parking passes, a private suite space, and the ability to add more seats (by request). If you'd like to look at plans, you must go directly through the team, as tickets are not available on TicketIQ.
Sky Lounge Loft
The Sky Lounge Loft is a great option for anyone looking to plan a group outing in the most social seating space at Rogers Place. There are 52 extra cushioned 22" seats in this private space, plus all-inclusive food and non-alcoholic drink options. Also, 2 free alcoholic drinks are included per person. Last but not least, in-seat wait service makes this option even more sweet! And being right in the middle of Sky Lounge, which turns into a night club after the game, isn't too bad either. We do not have any inventory on TicketIQ, so you must go directly through the team or venue to purchase.
PCL Loge Seating
The Loge Level at Rogers Place offers the best views in the entire arena. Wrapped around the 2nd level of the arena, the loge level includes sections with "4 seats at a semi-circular table with cushioned barstools or at a 10" ledge counter with cushioned swivel armchairs." There are three tiers of loge seating and you'll always feel as if you're on top of the action. There is in-seat wait service, top tier food & beverage options, and a private concourse included with tickets in this seating space. We currently do not have any inventory available on TicketIQ, so you must go directly through the team or venue.
Summit Suite
The Summit Suite at Rogers Place is the pinnacle in luxury and exclusivity. Propped directly above center ice, this spacious suite includes a lounge area, 16 barstool seats with great views of the ice, and a huge dining table. Here you can combine dinner, drinks, and game time in style. Plans include a private bartender, three course meal, and a jersey for each guest. The lounge space includes a wide Hi-Def TV, a wrap around couch, and much more! Go directly through the team or venue to inquire about booking the Summit Suite for your preferred game.
Club Seats
Club Seats at Rogers Place are the best option for anyone looking to go premium on a budget. Sections 101-104 and 118-121 at mid ice on the mezzanine level comprise the club seating space. All of these seats are within 25 seats of the ice and come with some of the best views possible. These ticket holders have access to 1 of 2 Mezzanine Clubs, depending on which side they're on. These club lounges have private restrooms as well as elite food/beverage options. Plus, all club ticket holders will receive the perk of in-seat beverage service. We do have available inventory on TicketIQ, and tickets for most games start anywhere from $200-300.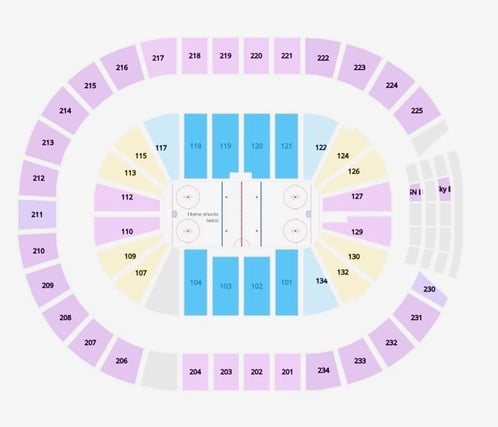 O-Zone Seats
The O-Zone Seats at Rogers Place act as an extension of the Club Seating on the Mezzanine Level, but only for the most committed Hockey fan. Located in the corner where the Oilers shoot twice, these seats are few in number and are often viewed as an unofficial fan zone. All ticket holders have access to the Mezzanine Clubs, as well as the private bar directly behind the O-Zone space. We have some inventory on TicketIQ for most games, but definitely shop around when looking at O-Zone seat tickets.
Sky Lounge
The Sky Lounge at Rogers Place offers the most exciting atmosphere in all of Hockey. Located on the arena's Upper East Corner, this premium space functions as a club space throughout the game and an upscale night club afterwards. Additionally, fans in this space will receive in-seat beverage service and all-inclusive food & drink. We do have some available inventory on TicketIQ, but you may find more supply by going directly through the team or venue.
Sportsnet Club
The Sportsnet Club at Rogers Place is located directly below the Sky Lounge seating space. Like the Sky Lounge, fans have great views of the Oilers on offense. Also, all-inclusive food and beverage is included, as well as in-seat beverage service. The SN Club, which all ticket holders in these sections have access to, includes a beautiful full service bar and lounge space. There is barstool seating within the club itself and tons of TV's to catch the action from around the NHL. We do have available inventory on TicketIQ, although you may find the best deals by going through the team or venue directly.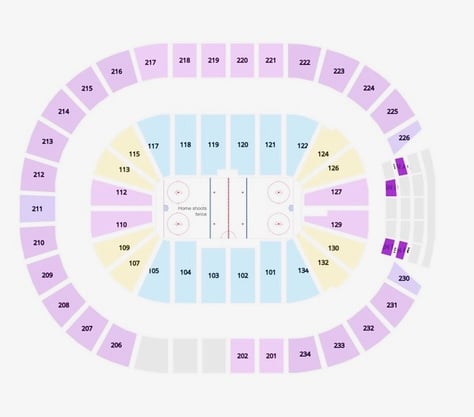 Chairman's Club
The Chairman's Club at Rogers Place is ultra exclusive. Only limited to around 30 memberships, this premium space is really for the most committed season ticket holders. Located at Ice Level directly outside the Oilers locker room, this club has a beautiful full-service bar, a private chef that cooks up gourmet cuisine, dining tables, and more. Fans have great views of players entering and exiting the ice, which is the coolest aspect of this club. Take a virtual tour HERE. And inquire with the team directly about the opportunity to become a member or rent a space for a single game.
Theatre Boxes
Theatre Boxes at Rogers Place are a great way to enjoy the game in private with a small group. Located directly above the lower bowl, these tiny premium spaces each contain arm chairs and super comfy barstools. Each box is curtained off and offers direct access to a private lounge for all theatre box ticket holders. This private lounge includes meal service and a full service bar. We do not have available inventory on TicketIQ so you must go directly through the team or venue.
Rogers Place Seating Chart - Hockey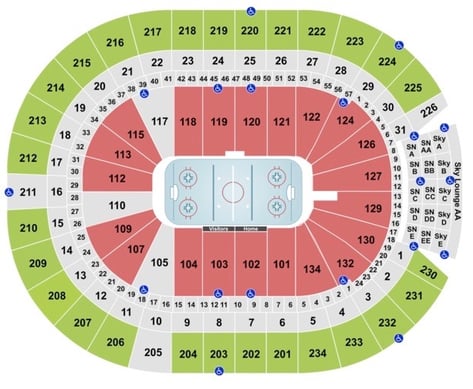 Rogers Place Seating Chart - Concerts