While one of the universal appeals of broadway musicals is live music performed by world class orchestras, the best original cast recordings can come close to the real thing. The latest high-profile original cast recording is Be More Chill, the pill-popping, video-game-addled Generation Z coming of age story that opened at the Lyceum theater in March. Based on the best selling book by the same name by Ned Vizzini, the show hasn't disappointed 'BMC' superfans. Non-fans will now have the chance to decide if the soundtrack stacks up to the long-list of binge-worthy broadway albums like Hamilton, Evan Hansen and Rent. Whether that exposure, along with multiple expected Tony nominations, will drive up ticket demand for the rest of 2019 remains to be seen.

According Broadway Journal, the shows songs have already been streamed some 250 million times, which may limit how high it climbs the charts when it becomes available for major-service download and streaming on Friday, May 3rd. The CD and vinyl releases are planned for later this year.
For the release date of May 3rd, the cheapest Be More Chill ticket available on TicketIQ is $150 for a balcony seat, while a pair in the orchestra are available for as low as $179. 4th row Orchestra seats in center are going for as much as $700 on the secondary market. There are also tickets available on Telecharge.com for many shows-- both in the Balcony and Orchestra. For most shows, Orchestra tickets are available for less via Telecharge, while Balcony seats tend be lower on the secondary market.
For many dates, the cheapest orchestra seats are close to the same price level as the May 3rd show. Balcony seats, however, fluctuate much more based on the date and time of the show. Interestingly, Saturday nights--which tend to have the most expensive prices for high-demand broadway shows---are the cheapest nights, with ticket under $75 and as low as $30 (See below screenshot from TicketIQ.com). Perhaps all the angst-ridden Generation Zers that the play is connecting with would prefer not to hanging with mom and dad on Saturday night.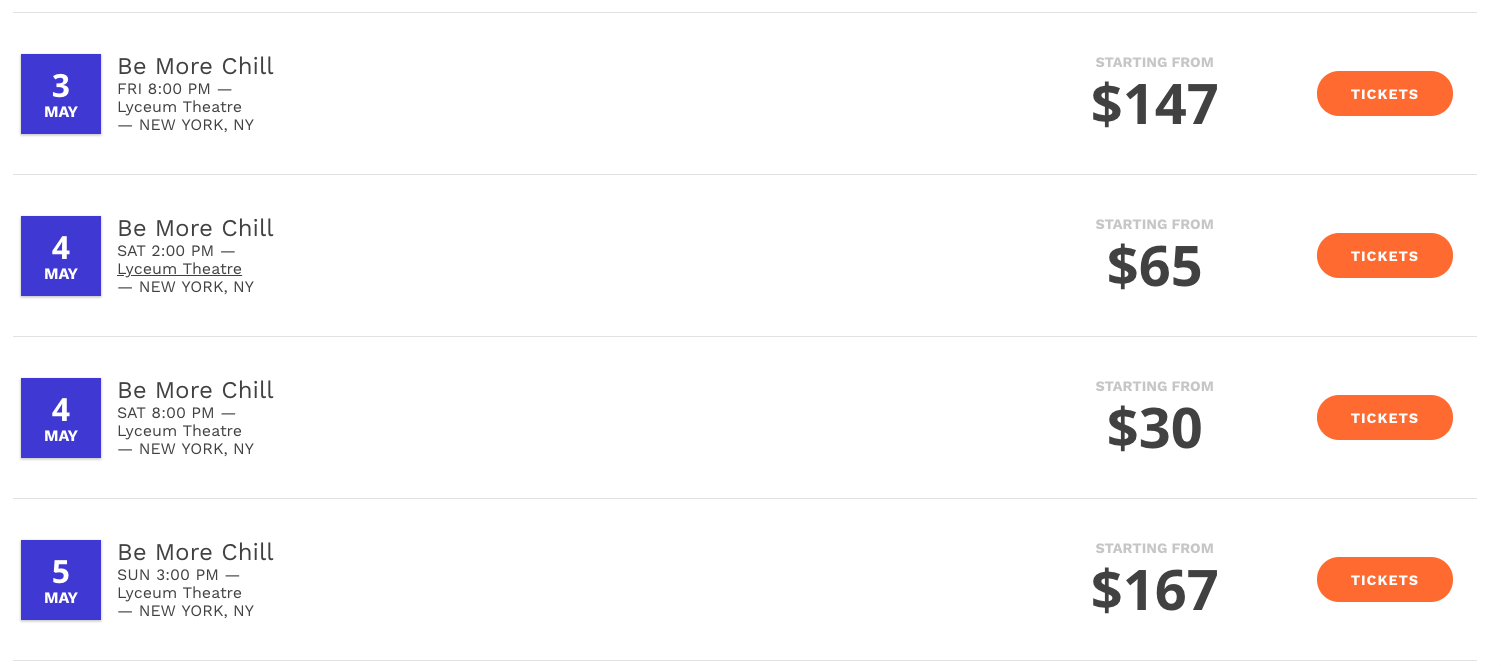 With only 922 seats at the Lyceum, if demand increases with the cast recording, prices on the secondary market could increase while the primary market gets closer to selling out. Depending on how high the Be More Chill original cast recording climbs the Billboard charts and creates national visibility, the demand picture could heat up the ticket market in a meaningful way.