For Sold Out Seats and Events, TicketIQ has Fee Free tickets for Chicago Cubs games and concerts at Wrigley Field. TicketIQ customers save up to 25% compared to other secondary sites. TicketIQ also provides access to unsold face value tickets for all events at Wrigley Field via Ticketmaster.
Wrigley Field Seating Chart - Baseball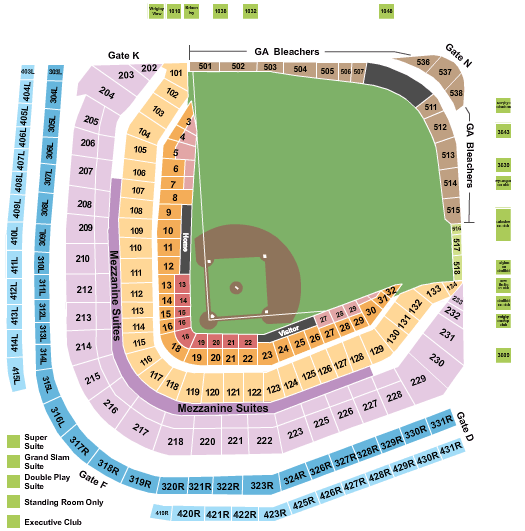 Field Level Sections, Rows and Seats

at

Wrigley Field
The Field Box seats consists of sections 101-142. Also, section 101 is considered the "Family Section" at Wrigley Field which means no alcohol is served and behavior is strictly monitored. There are two seating areas that are considered the Field Boxes; outfield field boxes (sections 101-110, 133-142) and infield field boxes (sections 110-133).
Budweiser Bleachers are located at the Far Outfield in sections 301-318.
The Chicago Cubs offer 6 parking lots regarding Red Lot, Irving Park Lot, Blue Lot, Purple Lot, Brown parking lot.
The upper deck box seats offer some of the best views of the playing field in the entire stadium in sections 409-431. The upper deck reserved seats consists of sections 503-538. Every upper deck reserved sections sits directly behind an upper deck box section. These are relatively small sections with only 9 rows of seats.
The lower sections have roWs A-D, 1-11. 100s sections consist of rows 1-15 while 200 sections have rows 1-23. 300 level rows are numbered from 1-12 and 1-9 for 400 sections.
Club, VIP, Box Seats and Suites at

Wrigley Field
The bullpen boxes are the smallest seating area at Wrigley Field with only five sections and three rows per section. They consist of sections 9-11 and 33-34. Sections 9-11 are adjacent to the Cubs dugout on the third base side. The club boxes consist of sections 4-38. The Budweiser Patio gives Chicago Cubs fans the Wrigley ville rooftop experience inside the ballpark. On the Budweiser Patio, there are three areas for three different private groups. Each area has 32 seats and 18 standing room only tickets – accommodating approximately 50 fans.
Wrigleyville Rooftop overlooks right field on Sheffield Ave, and can handle parties of up to 200 people. They have three rooftop venues, the Ivy League Baseball Club, Wrigley Field Rooftop Club, and the Sheffield Baseball Club. If you would like more information on Wrigley Field Rooftop Seating, contact our support line at 845-538-4567. The terrace box seating area consists of sections 205-237.
Cubs Dugout - The Cubs players sit in front of 9, 10, 11 and 12
Visitor Dugout - The visiting team sits in front of 23, 24, 25 and 26
Wrigley Field Seating Chart - Concerts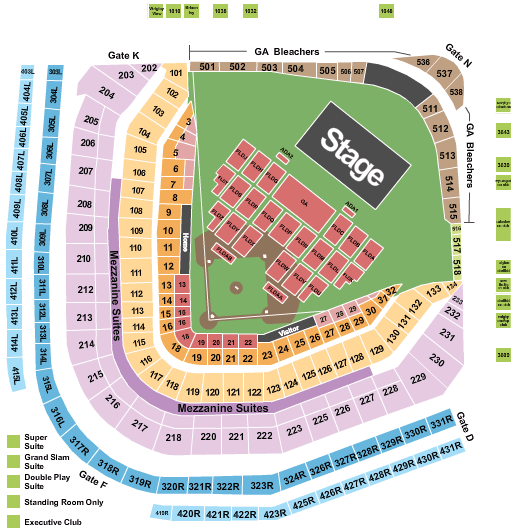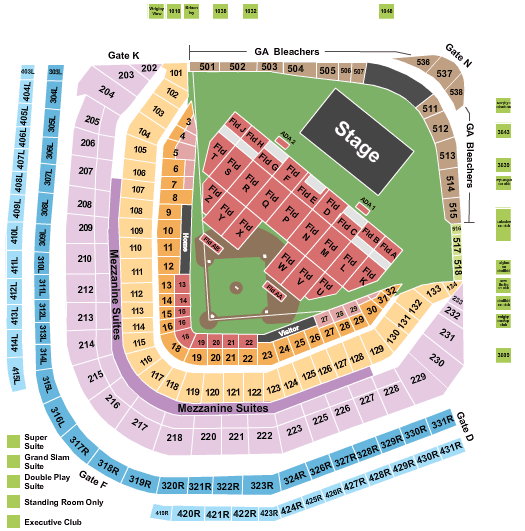 Sections Floor A, Floor AA, Floor AB and Floor B are a part of Floor Seating, which offers some of the closest views of the performers. For many concerts, floor sections are added or removed. The floor seating typically has Floors A to Floors Z. Behind the Stage sections include 501-507, 511-515.
Where Can I Find Cheapest Tickets For Wrigley Field
The Chicago Cubs have unsold face value tickets available for most games, which can be purchased directly through Ticketmaster. Prices may be above or below prices on the secondary ticket market. Many Concerts also have unsold tickets. For Sold Out Seats and Events, TicketIQ has Fee Free tickets for all events at Wrigley Field.
What Is Mobile Ticket Policy At Wrigley Field
Only mobile tickets generated from the MLB Ballpark app and StubHub app will accepted. Copies of barcodes presented through other third-party applications, screenshots or print outs will not be accepted at Wrigley Field.
Handicapped & Ada Seating At Wrigley Field
Capital One Arena offers other convenient services including wheelchair assistance, lost and found and wheelchair check in. Guests with mobility disabilities and up to three companions are encouraged to make their purchase in advance. Tickets are subject to availability and can be purchased at the Wrigley Field Ticket Office, by calling 800-THE-CUBS, emailing fanservices@cubs.com or by visiting Cubs.com/Tickets.