Where to Find Yankee Stadium Premium Seating and Club Options
On the secondary market, TicketIQ has Fee-Free tickets for all events at Yankee Stadium which also include a Refund Guarantee. Our Refund Guarantee states that if an event is canceled or deemed unfit for fans to attend, TicketIQ will refund ticket buyers in as soon as 15 days. That means that you can buy from TicketIQ worry-free. Customers on TicketIQ save between 15%-25% compared to other secondary market ticketing sites.
We've also partnered with
SuiteHop, which is an online marketplace curating suites and VIP seating options for venues across North America. These VIP tickets offer a luxury experience with premium amenities, upscale food & beverage options, and incredible sightlines you won't find with any other tickets. Visit SuiteHop to browse suites & premium tickets for your next event at Yankee Stadium.
YANKEE STADIUM PREMIUM SEATING + CLUB OPTIONS
Where Are Premium & Club Seating Locations at Yankee Stadium?
Audi Yankees Club (On the Suite Level between the 200's and 300's in Left Field)
Legends Suite (Sections 14A-27A)
Champions Suite (Sections 11-13, 27B-29)
Field MVP Seats (Sections 115-125)
Delta Sky360 Suite (Sections 218A-222)
Jim Beam Suite (Sections 317-321)
Audi Yankees Club
Over 4,500 square feet of indoor space that can fit up to 450 guests on a non-game day. Located between the 200's and 300's levels in left field on the SAP Suite Level, the Audi Yankees Club offers views of the playing field through floor-to-ceiling windows. Audi Club tickets are not available on TicketIQ, so you must go directly through the team to purchase. With that being said, individual game tickets can be found for as low as $125.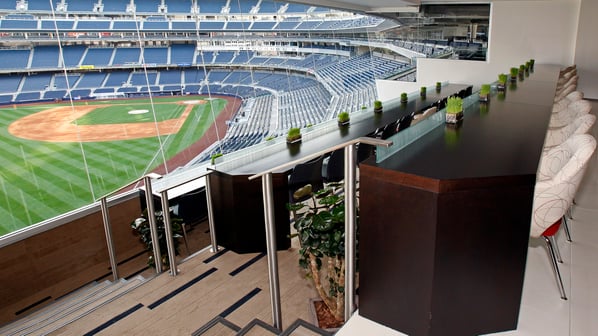 (Source: https://www.mlb.com/yankees/ballpark/events/spaces/audi-club)
Legends & Champions Suite Level
Legends seats at Yankees Stadium are behind the Yankees and visitor dugout. Legends sections run from 11 on the first-base side of the field to 29 on the 3rd base side of the field. Both sections 11,12 13, 28 and 29 are all Championship Suites. Legends section 19, 20 and 21a are directly behind home plate. Sections 15A, 15B, 16 and 17A are directly behind the Yankees dugout, while 23, 24a, 24b and 25 are directly behind the visitors dugout. Prices for Legends seats can start anywhere from $500-$1500 depending on the game, while Champions seats start anywhere from $300-$900. On TicketIQ inventory tends to vary for this Premium section, but you will be able to find Legends and Champions seats for most games.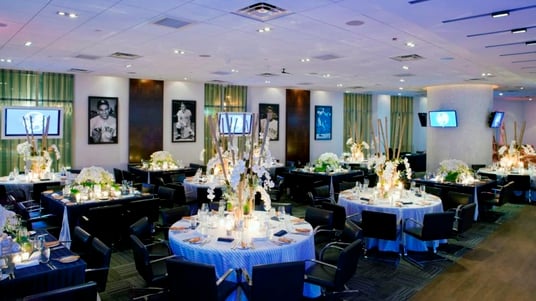 (Source: https://www.mlb.com/yankees/ballpark/events/spaces/legends-suite)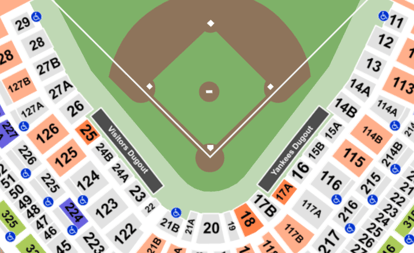 Field MVP Seats
Amenities include cushioned seats, personal side tables next to select seats, and in-seat wait service. Season ticket holders in these sections also get exclusive access to the Ford Field MVP Club, complimentary snacks/nonalcoholic beverages, and more. Field MVP seats on TicketIQ start anywhere from $150-$400 depending on the game.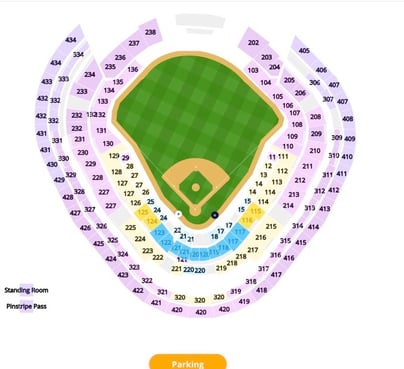 Delta Sky360 Suites
Combines private seating area with benefits offered by an indoor, full-service bar and upscale dining options. Located behind home plate and on the 200 level of the stadium
Behind Home plate, the Terrace Level seats are called On TicketIQ, prices start anywhere from $300-$600 depending on the game. Inventory is limited though, so check other options before purchasing.

(Source: https://www.mlb.com/yankees/tickets/premium/suites/delta-sky360)
Jim Beam Premium Seats
Located in sections 317 – 321, these seats offer an alternate entrance, exclusive food and restrooms, padded seats, and a great birds eye view of the stadium. Unless you are opting for a cheaper, lower seat, the Jim Beam Suite Seats are definitely one of your best bets. On TicketIQ, tickets usually begin at $75-$150 depending on the game.

(Source: https://www.mlb.com/yankees/tickets/premium/suites/jim-beam)
YANKEE STADIUM SEATING CHART - BASEBALL (New York Yankees)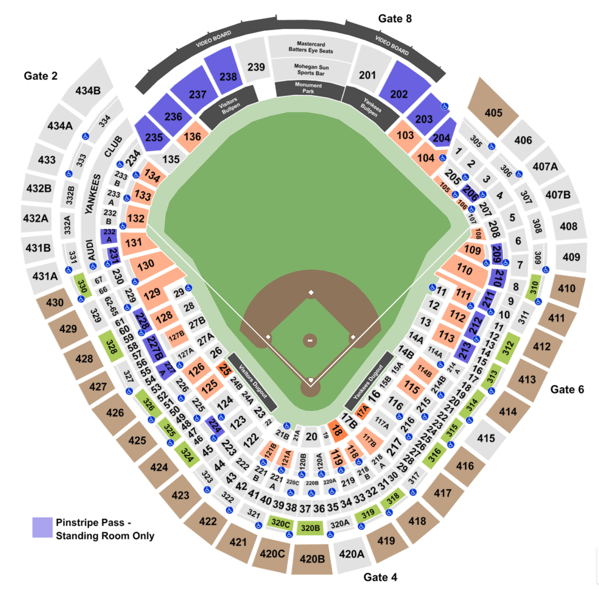 YANKEE STADIUM SEATING CHART - SOCCER (NYCFC)