Golden 1 Center Seating Chart + Rows, Seats and Club Seat Info
TicketIQ has Low Price Guarantees on Sold Out Tickets and Events at Golden 1 Center. That means that if you find a secondary market ticket for less on a site like StubHub or Vivid Seats, we'll give you 200% of the difference in ticket credit. TicketIQ customers save up to 25%. TicketIQ also provides access to unsold face value tickets for the Kings and concerts, via Ticketmaster.
The Golden 1 Center is a multi-purpose indoor arena in downtown Sacramento, and is the new home of the NBA's Sacramento Kings. It has a capacity of 17,500 tickets for basketball and 19,000 for concerts. Opened in October of 2016, Golden 1 Center features the latest in environmental and technological innovations, and received a LEED Gold certificate for its green initiatives.
KINGS GOLDEN 1 CENTER SEATING CHART
Court-side sections: Baseline courtside seats are in section 1, 2 and 6, while sideline seats are located in sections 3, 4, 5, 7, 8 and 9. Section 5 is behind the Kings bench, while section 3 is behind the Visitors bench. Rows in courtside sections run 1 to 3.
100-level sections, rows and seats
:
100-level center tickets include 106, 107, 108, 119, 120 and 121 . 100-level end seat include 102, 101, 126, 125, 112, 113, 114, and 115. with 100-level corners sections of 103, 104, 123, 124, 116, 117, 110 and 111.
100-level rows run from row AAA, BBB, AA to GG and A to T, V or W, depending on the section.
200-level sections, rows and seats:
200-level center tickets include 203, 204, 205, 206, 207, 215, 216, 217, 218 and 219. 200-level end seats run along just one end of the venue and include 210, 211, 212 and 213, with 200-level corners sections are 208, 209, 214, 215, 221, 222, 201 and 202.
200-level baseline section rows run from row A to row R.
Club Seats:
Club seating at Golden 1 Center are in the S and L sections. The L sections run from L 1 to L42 and are located above the 100-level, while the S sections run from S1 to S34 and are are above the L sections.
Where Is the Kings Bench:
The home team benches are in front of section 108 and section 5, while the visitors' bench is in front of section 106 and section 3.
GOLDEN 1 CENTER BASKETBALL CENTER SEATING CHART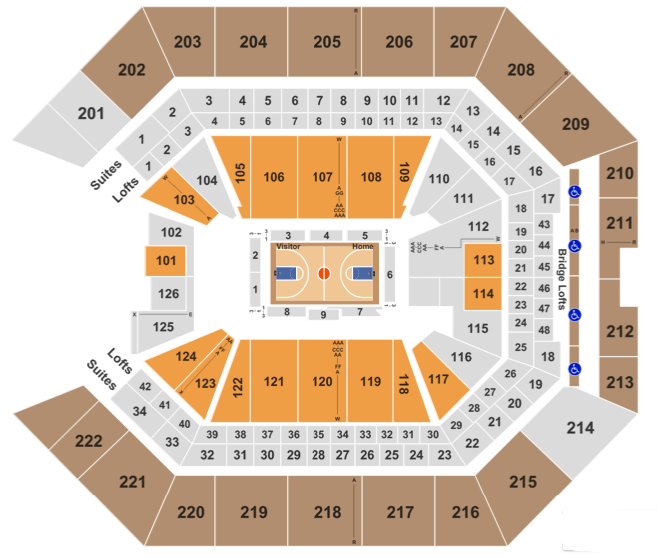 GOLDEN 1 CENTER CONCERT CENTER SEATING CHART
For Concerts, the Golden 1 Center has six floor seat sections running from section 1, 2 and 3 closest to the stage and 4, 5 and 6 farthest from the stage. For shows where there is a GA pit, the pit is located in front of sections 1, 2 and 3.
Behind the stage sections are 122, 123, 124, 125, 126, 101, 102, 103, 104 and 105.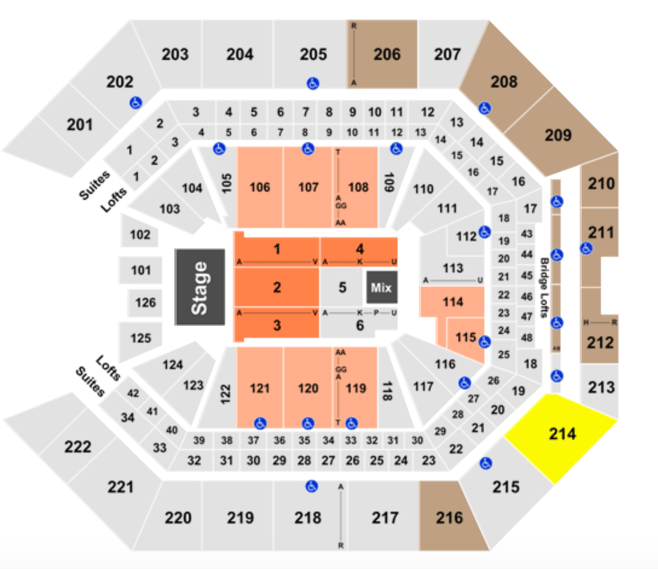 ---
TicketIQ is committed to the cheapest tickets possible, and we make much less on sold out tickets compared to other major marketplaces like StubHub and Vivid. That means ticket buyers save from up to 25% on TicketIQ on sports, music and theater. We're able to do this because we also work with teams, venues, and other ticket owners, to help them sell tickets at face price, directly to consumers like you, through Ticketmaster and AXS. Visit the TicketIQ blog for an overview of the `2019-20 NBA ticket prices and 2019-20 NHL ticket prices.