Where To Buy 2020 Music Festival Tickets
With fans headed back to venues, there's plenty of opportunity for fans to see live music festivals in 2021.
For music lovers trying to figure out where to buy tickets to the hottest upcoming Music Festivals and how much you should expect to pay, we've put together a comprehensive overview on the biggest tour of the summer and analyzed Ticketmaster, Frontgate, Evenbrite, AXS and other major ticket buying platforms, as well as TicketIQ for secondary market, or 'sold out' tickets.
TicketIQ has Fee-Free Music Festival tickets which also include a Refund Guarantee. Our Refund Guarantee states that if an event is canceled or deemed unfit for fans to attend, TicketIQ will refund ticket buyers in as soon as 15 days. That means that you can buy from TicketIQ worry-free. Customers on TicketIQ save between 15%-25% compared to other secondary market ticketing sites.
2021 Music Festivals: By The Numbers
2021 Music Festival Genres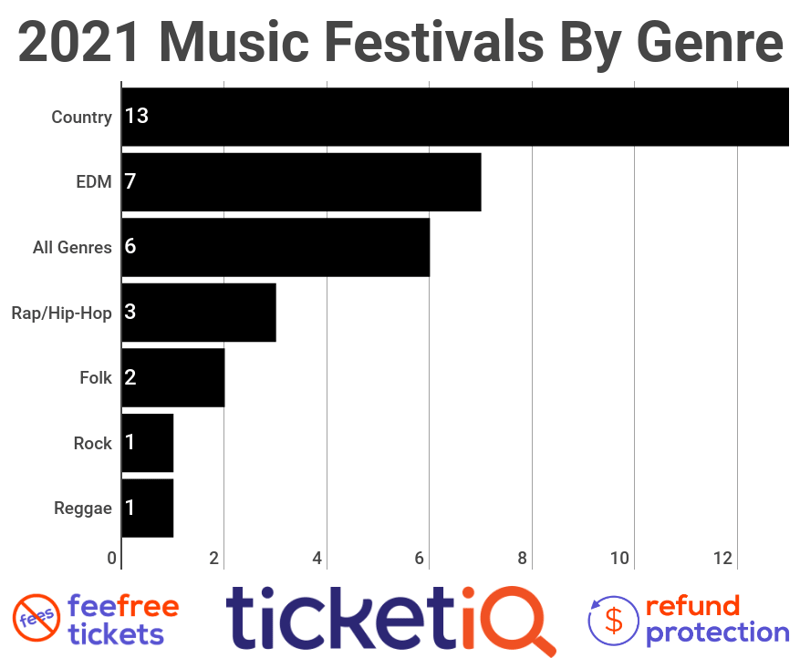 2021 Music Festival Locations
No matter where you are in the country, you should be pretty close to an upcoming festival or two. From now through June, music festivals are taking place in 20 US State. However, the most popular destinations for Music Festivals are California with 6 and Florida with 4. Below is a list of each state and the number of festivals taking place there on the 2020 calendar.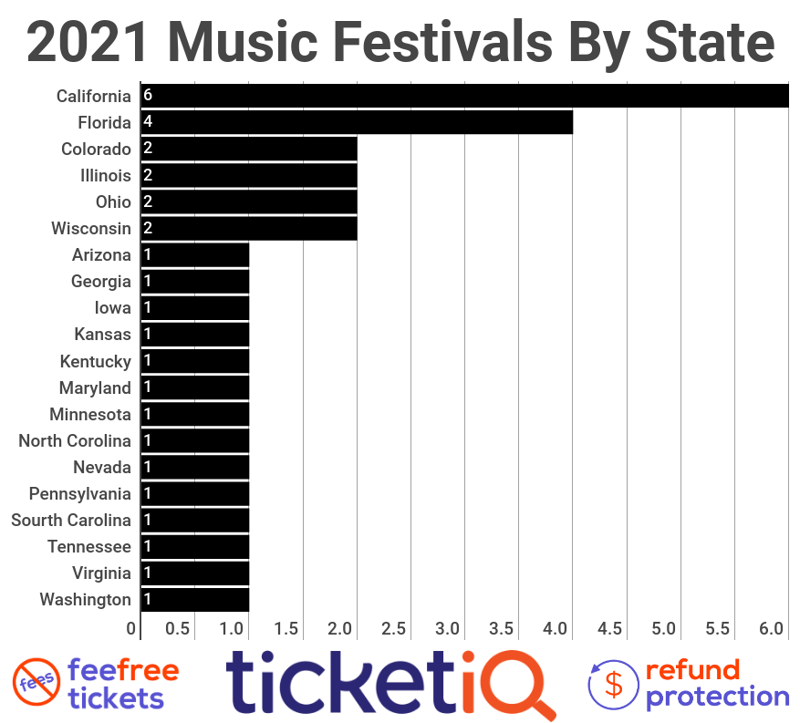 2021 MUSIC FESTIVAL CALENDAR
APRIL
Genre: Reggae

Where: Las Vegas, Nevada

When:

April 17, 2021 – April 18, 2021

2-Day Pass Price: TBD

Primary Market Partner: Eventbrite

Buying Guide: Read Now
High Tide Festival
Genre: All

Where: Tempe, Arizona

When:

April 25, 2021

Day Pass Price: $39

Primary Market Partner: Eventbrite



MAY
Genre: Rap

Where: Miami, Florida

When:

May 7, 2021 – May 9, 2021

3-Day Pass Price: $329

Primary Market Partner: Frontgate

Buying Guide: Read Now
Genre: Rap

Where:

Washington, DC

When:

May 8, 2021

Price: $99.50

Primary Market Partner: Frontgate
Genre: Rock

Where:

Irvine

, California

When:

May 29, 2021

Price: $59.50

Primary Market Partner: Livenation
Genre: EDM

Where:

Tampa

, Florida

When:

May 29, 2021

- May 30, 2021

2-Day Pass Price: $159.95

Primary Market Partner: SeeTickets
JUNE
Tailgate and Tall Boys
Genre: Country

Where:

Peoria

, Illinois

When:

June 3, 2021

- June 4, 2021

2-Day Pass Price: $129

Primary Market Partner: etix
Genre: Country

Where:

Panama City Beach

, Florida

When:

June 4, 2021

- June 6, 2021

2-Day Pass Price: $129

Primary Market Partner: SeeTickets
Untz Festival
Genre: EDM

Where:

Browns Valley

, California

When:

June 4, 2021

- June 6, 2021

2-Day Pass Price: $200

3-Day Pass Price: $250

Primary Market Partner: Tix.com
Genre: All

Where:

Newport Beach

, California

When:

June 4, 2021

- June 6, 2021

2-Day Pass Price: $135

Primary Market Partner: Tix.com
Genre: Hip-Hop

Where:

Philadelphia

, Pennsylvania

When:

June 5, 2021

2-Day Pass Price: $69.50

Primary Market Partner: Ticketmaster
Genre: Country

Where: Myrtle Beach

, South Carolina

When:

June 10, 2021

- June 13, 2021

3-Day Pass Price: $199

4-Day Pass Price: $229

Primary Market Partner: Eventbrite
Hog Farm Hideaway
Genre: Jam/Folk

Where: Laytonville

, California

When:

June 11, 2021

- June 13, 2021

3-Day Pass Price: $329

Primary Market Partner: Eventbrite
Genre: Country

Where: Forest City

, Iowa

When:

June 11, 2021

- June 13, 2021

3-Day Pass Price: $130

Primary Market Partner: Elevate Tickets

Buying Guide: Read Now
West Coast Weekender
Genre: All

Where: San Diego

,

California
When:

June 11, 2021

- June 13, 2021

Primary Market Partner: Eventbrite



Genre: EDM

Where: Boca Raton

, Florida

When:

June 11, 2021

- June 12, 2021

2-Day Pass Price: $129.99

Primary Market Partner: SeeTickets
Lost Art Music Festival
Genre: All

Where: Douglasville

, Georgia

When:

June 12, 2021

Price: $69.25

Primary Market Partner: FreshTix
Genre: Country

Where: North Lawrence

, Ohio

When:

June 16, 2021 - June 19, 2021

Primary Market Partner: ThunderTix
Sonic Bloom
Genre:

EDM/Jam

Where: Rye

, Colorado

When:

June 17, 2021 - June 20, 2021

4-Day Pass Price: $155

Primary Market Partner: Eventbrite
Genre:

Country

Where: Loma

, Colorado

When:

June 17, 2021 - June 20, 2021

4-Day Pass Price: TBA

Primary Market Partner: Frontgate
Earthdance
Genre:

EDM

Where: Darrington

, Washington

When:

June 17, 2021 - June 20, 2021

4-Day Pass Price: $165

Primary Market Partner: Eventbrite
Williamsburg Live
Genre:

Country

Where: Williamsburg

, Virginia

When:

June 18, 2021 - June 20, 2021
Genre:

Country

Where: Fresno

, California

When:

June 18, 2021

Price: $49

Primary Market Partner: Eventbrite
Genre:

Country

Where: Winsted

, Minnesota

When:

June 18, 2021 - June 19, 2021

2-Day Pass Price: $135
Genre:

Bluegrass

Where: Owensboro

, Kentucky

When:

June 24, 2021 - June 27, 2021

Primary Market Partner: Ticketleap
Genre:

Country

Where: Cadott

, Wisconsin

When:

June 24, 2021 - June 27, 2021

3-Day Pass Price: $149

Primary Market Partner: SeeTickets
Country Stampede
Genre:

Country

Where: Topeka

, Kansas

When:

June 24, 2021 - June 26, 2021

3-Day Pass Price: $160

Primary Market Partner: Elevate Tickets
Genre:

All

Where: Milwaukee

, Wisconsin

When:

June 24, 2021 - June 26, 2021; July 1, 2021 - July 2, 2021; July 8, 2021-July 10, 2021

Primary Market Partner: Ticketmaster
Beyond Wonderland
Genre:

EDM

Where: San Bernardino

, California

When:

June 25, 2021 - June 26, 2021

2-Day Pass Price: $139.99

Primary Market Partner: Frontgate
AsheJam
Genre:

Jam/Bluegrass

Where:

Asheville, North Carolina

When:

June 25, 2021 - June 27, 2021

3-Day Pass Price: $60.21
MayPop
Genre:

EDM/Jam

Where: Nashville

, Tennessee

When:

June 25, 2021 - June 27, 2021

3-Day Pass Price: $115

Primary Market Partner: events.com
SoCal Hoe Down
Genre:

Rock

Where: San Pedro

, California

When:

June 26, 2021

Price: $50.12

Primary Market Partner: SeeTickets