The Governor's Ball Music Festival combines music, art, food, unique experiences and plenty of surprises to make it a one-of-a-kind music festival. The event was designed by New Yorkers for New Yorkers. The 2021 show will be the 10th annual, and take place on September 24th - September 26th. In 2022 the festival will be returning to their normal June dates.
The 2021 lineup
has been announced. Headliners include Billie Eilish, A$AP Rocky, J. Balvin and Post Malone. Check out the full lineup iat the bottom of this post.
Where To Buy Governor's Ball 2021 Tickets
Primary market face-value tickets go on sale to the general public on Thursday, May 6th at noon ET via Frontgate. There is also a Citi card presale that is available now, also via Frontgate.
How Much Are Governor's Ball Music Festival 2021 Tickets And Passes
Tickets to the 2021 Governors Ball Music Festival are available via presale for Citi card holders. Presale prices and availability are below:
3-Day General Admission Regular passes are available for $319.00.
3-Day General Admission Advance passes are sold out.
3-Day General Admission Early Bird passes are sold out.
3-Day VIP Regular passes are available $709.
3-Day VIP Advance passes are sold out.
3-Day VIP Early Bird passes are sold out.
3-Day Platinum Regular Passes are sold out.
General Admission Single-Day Passes are available for $129.
VIP Single-Day Passes are sold out for Friday, but are available for Saturday and Sunday for $269.
Governors Ball Music Festival 2021 Lineup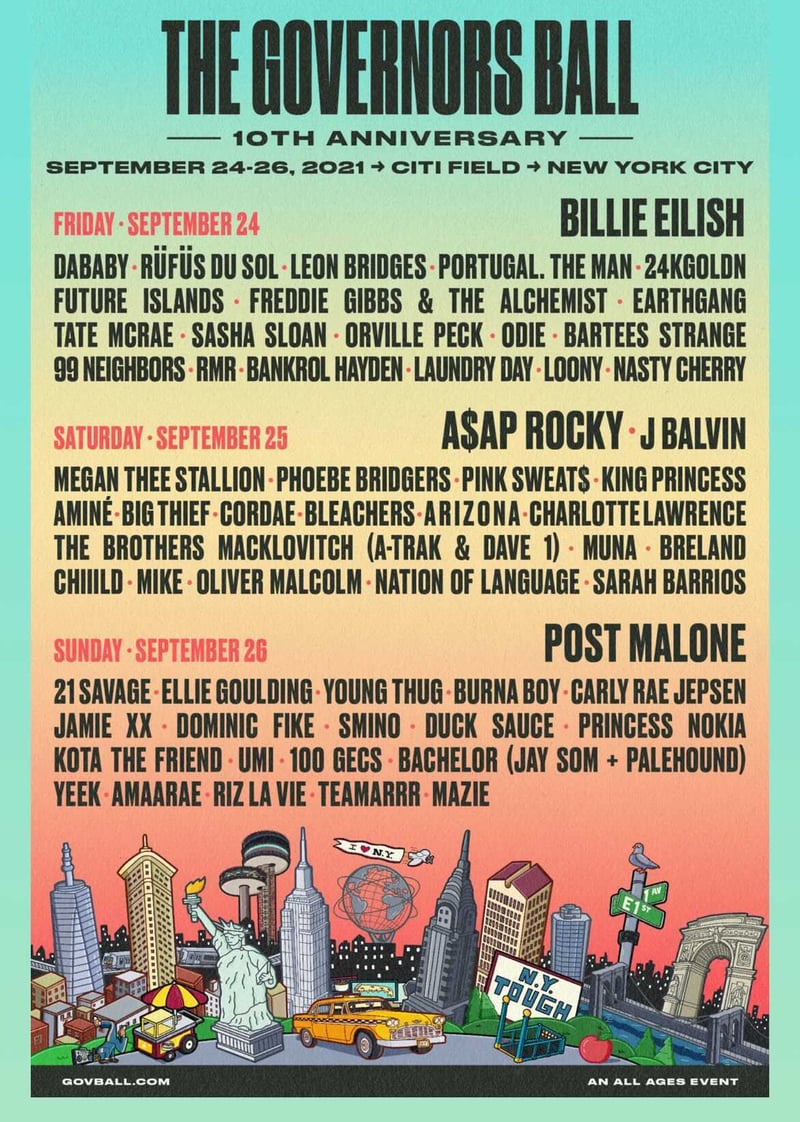 Governors's Ball 2021 COVID Health and Safety Protocol
Health guidelines will evolve over time (as more and more people are vaccinated). Currently, they don't know what may or may not be required when the festival takes place (e.g. proof of vaccination, proof of negative test, etc), but they are working closely with the City, and we will follow ALL state and federal health guidelines provided. Additional details will be released in the coming months, and everything is subject to final approval by the City of New York.
How to Get a Refund For 2020 Governor's Ball
Due to the COVID-19 crisis, the 2020 Governors Ball Music Festival was cancelled. Fans who purchased tickets to the 2020 edition had the opportunity to request a
refund or transfer
their deposit to the 2021 festival. The Governors Ball Music Festival automatically transfered all ticket orders and tickets on layway to the 2021 festival, and transportation and portable charger orders will automatically roll over to the 2021 festival.
The window for a refund request closed on April 10, 2020, and according to the Governors Ball website, all refunds will be processed in "as little as" 30 days.
Transfers and refund requests are only for primary market tickets.
TicketIQ is committed to Transparent Ticketing, and we make much less on 'sold out' tickets compared to other major marketplaces like StubHub and Vivid. That means ticket buyers save from as much as 15% on TicketIQ for sports, music and theater tickets. We're able to do this because we also work with festival directly to help them sell tickets at face price, directly to consumers like you, through Ticketmaster, Frontgate, Eventbrite and others ticketing platforms.Learn more by reading our Music Festival Buying Guide that we think is the most objective advice on where to find the best deals on concert tickets, whether they're 'sold out' on TicketIQ or 'unsold' on the primary ticket market.