Where to Buy Arkansas Football Tickets
For season tickets, Arkansas offers the Fayetteville Season Ticket, which includes seats to all home games at Razorback Stadium in Fayetteville. Prices for those plans range from $250 in the upper deck to $1500 behind the north end zone; most seats also require a minimum per seat donation. The school is also offering the Little Rock Ticket, which provides a seat to only the game against Missouri in Little Rock, with seats ranging from $40-$80 with a donation required for the majority of seats, other than the seats in the south endzone of War Memorial Stadium, which has about 25,000 less seats than Razorback Stadium.
For the 2019 season, Arkansas is also offering three mini plans. The most expensive option includes games against Auburn, Mississippi State, and one non-conference game of your choice; prices range from $123 to $720. There's also a plan that includes one SEC game and two non-conference games, which prices ranging from $99 to $678. The three non-conference game plan ranges from $78 to $636. Single game tickets are also available for all home games via primary market partner Paciolan. Group ticket rates are also available, for orders with a minimum of 50 tickets.
The neutral-site Southwest Classic against Texas A&M at AT&T Stadium has face value tickets available from both schools as well as on the secondary ticket market.
On the secondary market, TicketIQ has Low Price Guarantees on Arkansas football tickets for all sold out games on the 2019 schedule, in addition to Low Price Guarantees on all college football tickets, which means that if you find a secondary market ticket for less on a site like Stubhub or Vivid Seats, we'll give you 200% of the difference in ticket credit. TicketIQ customers save an average of 5%-20% compared to Stubhub and Vivid Seats.
Download the TicketIQ app for $20 off your first ticket purchase 📲🎟️
How Much Are Arkansas Razorbacks Football Tickets
Primary market single game tickets are broken down into three price tiers. For non-conference games, prices range from $35 in the upper deck to $250 for field level seats in the north end zone. The game against Mississippi State has higher prices, ranging from $55 to $300, and the game against Auburn is the priciest of all with seats going between $60 for upper level tickets and $300 for tickets in the North Outdoor Club premium. The cheapest club option for the Auburn game is the East Outdoor Club, with face value tickets there starting at $190. For fans looking to stay indoors, East Indoor Club seats start at $210.
For the 2019 Southwest Classic, fans looking to get tickets to the game have plenty of options. The cheapest tickets on the Arkansas side starting at $85 for seats in section 449. The most expensive tickets available directly from Arkansas are located in section 133 on the 40 yard line, with a face value of $125, and $100 donation, for a total of $225.
On the secondary market Arkansas tickets at Razorback Stadium are averaging $134 per ticket for the 2019 season, which is good for the 25th most expensive college football team in the nation. The most expensive game is against Auburn while the cheapest game is the final game of the season against Western Kentucky.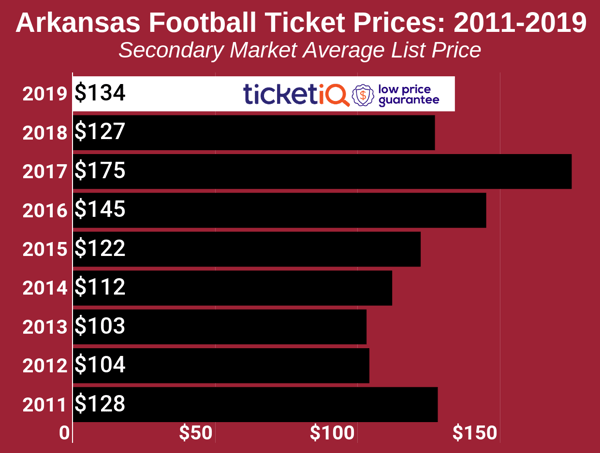 Prices for All Arkansas Home Games on the 2019 Schedule
Secondary Market Average Price: $95
Secondary Market Get-In Price: $20
With Portland State near the bottom of the Big Sky Conference, any chance of an update in this one is slim. It'll presumably just be a warm-up for the Razorbacks before they move on to bigger games.
Secondary Market Average Price: $98
Secondary Market Get-In Price: $30
After a visit to Ole Miss, the Razorbacks return home for a date with the Colorado State Rams. The Mountain West might be one of the best conferences outside of the Big Five, but don't bet on the visitors pulling off an upset in this one.
Secondary Market Average Price: $93
Secondary Market Get-In Price: $24
Another Mountain West opponent visits Arkansas the next weekend and the result should be the same. The Spartans finished last season 1-11, so they'll surely struggle in Razorback Stadium.
Secondary Market Average Price: $161
Secondary Market Get-In Price: $71
This game is unarguably the highlight of the Razorbacks' home schedule, but it's not a game that they're expected to win. Last year, the Tigers thumped them 3-34; expect Arkansas to make a better showing at home, but they probably won't have enough to make up the gap.
Secondary Market Average Price: $124
Secondary Market Get-In Price: $40
This game will be another challenge for Arkansas. Mississippi State might not be a national power, but they've got a strong program; they finished last season ranked in the Coaches Poll and beat the Razorbacks 6-52. This could easily be another loss for Arkansas unless they come out ready to make a statement at home.
Secondary Market Average Price: $85
Secondary Market Get-In Price: $19
After some tough SEC games, Arkansas get to wrap up their Fayetteville home schedule with a non-conference visit from Western Kentucky. The programs have never met before but, given the Hilltoppers performance last year, this is a prime chance for the Razorbacks to get back on track.
---
TicketIQ is committed to the cheapest tickets possible, and we make much less on sold out tickets compared to other major marketplaces like StubHub and Vivid. That means ticket buyers save from up to 25% on TicketIQ on sports, music and theater. We're able to do this because we also work with teams, venues, and other ticket owners, to help them sell tickets at face price, directly to consumers like you, through Ticketmaster and Paciolan. For an overview of the 2019 College Football Ticket Buying landscape, and details on the cheapest way to get tickets for every pre-season top 25 team, visit the TicketIQ Blog.