Where To Buy 2019 Iowa Football Tickets
Iowa football tickets are available on the primary market on the team website, though single-game tickets went on sale July 18 via primary market partner Paciolan and there are tickets available for every game except Penn State. If there are tickets available Penn State, they will go on sale August 1st. Season tickets are currently available for $415 throughout the stadium. The school is also offering three-game Mini Packs that include either Penn State or Minnesota as one of the games. The Fight for Iowa Mobile Pass is a mobile season ticket to all 7 home football games that costs $260.
On the secondary market TicketIQ has Low Price Guarantees on Iowa football tickets for all games on the 2019 schedule, in addition to Low Price Guarantees on all college football tickets, which means that if you find a secondary market ticket for less on a site like Stubhub or Seatgeek, we'll give you 200% of the difference in ticket credit. TicketIQ customers save an average of 5%-20% compared to Stubhub and Seatgeek.
Download the TicketIQ app for $20 off your first ticket purchase 📲 🎟️
How Much Are 2019 Iowa Football Tickets
Face value tickets are available as cheap as $50 for the Miami Ohio game, $65 for the Rutgers game, $50 for Middle Tennessee State, $65 for Purdue, $80 for Minnesota, $65 for Illinois. Youth tickets for fans 18 and under are available for $25 for all games.
For the Nittany Lions' visit to Iowa, demand is high and the $193 average asking price for the October 12 game is the highest for any home game. The cheapest is trending at $40 for the September 28 Middle Tennessee State game.
Coming off a 9-4 season — they best since 2015 — Iowa in 2018 also won its second consecutive postseason bowl game. The Hawkeyes' biggest weakness was on offense, and they've got to replace several key players, but with the return of quarterback Nathan Stanley, sights are once again set on the post-season.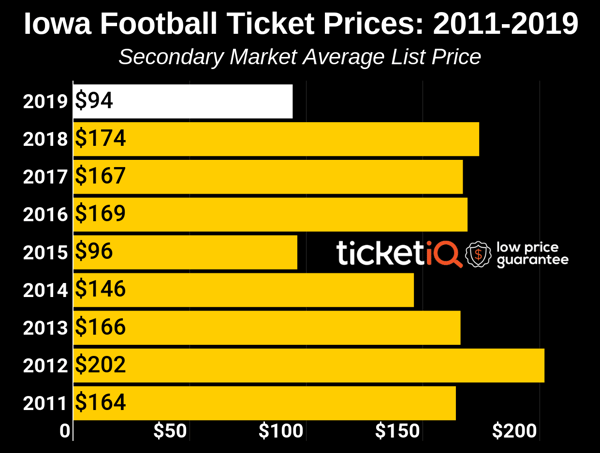 Ticket Prices For All Iowa Home Games On The 2019 Schedule
Secondary average asking price/cheapest ticket: $48/$38
There's little history between these two teams, and for Miami (Ohio), the game is really just a shot at a nice paycheck. The Hawkeyes have won all four meetings, including the last one in 2016, 45-21. This game is the second cheapest on the secondary market.
Secondary average asking price/cheapest ticket: $87/$30
This the first Big Ten home game of the season, and only the second time since Rutgers joined the conference five years ago that the teams have played. Rutgers is coming off a 1-11 season, and this should be a fairly easy win for Iowa. In their previous meeting in 2016, Iowa won, 14-7, at Rutgers.
Secondary average asking price/cheapest ticket: $40/$21
The cheapest game of the season at Iowa is a great opportunity for fans to get into Kinnick Stadium without breaking the bank. This game will mark the first time these teams have played.
Secondary average asking price/cheapest ticket: $193/$102
Always among the biggest draws at Iowa, this is the priciest game on the secondary market. Penn State enters the game on a five-game win streak dating to 2011, and also holds a 16-12 all-time series advantage.
Secondary average asking price/cheapest ticket: $119/$47
Right in the heart of the Big Ten schedule, this game is the third priciest at Kinnick Stadium ,and one of three with an average asking price of more than $100. These teams have a long and vibrant history dating to 1910, though Purdue holds a 48-38 all-time series advantage and has won the last two consecutive.
Secondary average asking price/cheapest ticket: $120/$41
The second priciest of the Iowa's home games, Iowa and Minnesota have been playing each other since 1891 and in 1935, began exchanging a trophy of a pig, "Floyd of Rosedale." Minnesota holds an all-time series advantage, but Iowa has won the last four straight.

Secondary average asking price/cheapest ticket: $78/$16
At $16, this is the cheapest game of the season in terms of getting into Kinnick Stadium. This series dates to 1899 and in the last two decades, Iowa has made up considerable ground — Illinois now leads the all-time series by only four games, 38-34. Iowa has won 10 of the last 12 dating to 2000.
---
TicketIQ is committed to the cheapest tickets possible, and we make much less on sold out tickets compared to other major marketplaces like StubHub and Vivid. That means ticket buyers save from up to 25% on TicketIQ on sports, music and theater. We're able to do this because we also work with teams, venues, and other ticket owners, to help them sell tickets at face price, directly to consumers like you, through Ticketmaster and Paciolan. For an overview of the 2019 College Football Ticket Buying landscape, and details on the cheapest way to get tickets for every pre-season top 25 team, visit the TicketIQ Blog.