Coming off a 10-3 season capped by a win at the Citrus Bowl, Kentucky football tickets are up on the secondary market for the 2019 season. Wildcats' tickets are averaging $116 on the secondary market for their home games at Kroger field, up 26% from last year's average of $92. In addition to the successful 2018 campaign, another reason that prices are higher on the secondary market is because a large percentage of upper level tickets are not available on the secondary market, and only available directly through Ticketmaster. Face value tickets for the 2019 home season range from $30 for the games against Toledo and Eastern Michigan to $45 for Arkansas and Missouri and $60 for Tennessee and Louisville. With the exception of the Florida game, which is sold out, there are upper level and lower level tickets available directly from the team. For fans looking to avoid the secondary market for Florida tickets, the school is offering a 4-game flex pack that includes the Florida game, that starts at $175.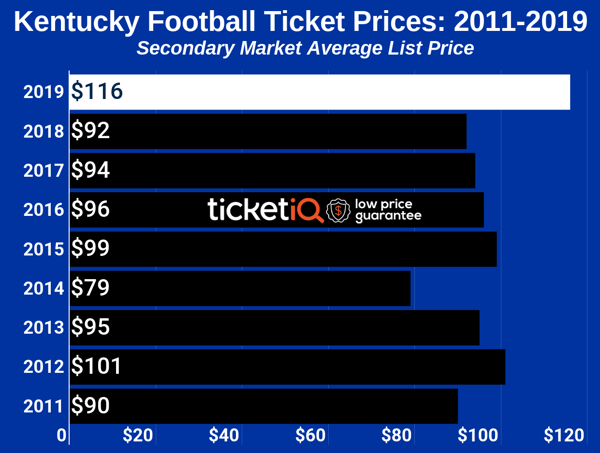 TicketIQ has Low Price Guarantees on Kentucky football tickets for all games on the 2019 schedule, in addition to Low Price Guarantees on all college football tickets, which means that if you find a secondary market ticket for less on a site like Stubhub or Seatgeek, we'll give you 200% of the difference in ticket credit. TicketIQ customers save an average of 5%-20% compared to Stubhub and Seatgeek.
🎟️Visit TicketIQ for Sold Out Kentucky Football Tickets
📲 Download the TicketIQ app for $20 off your first ticket purchase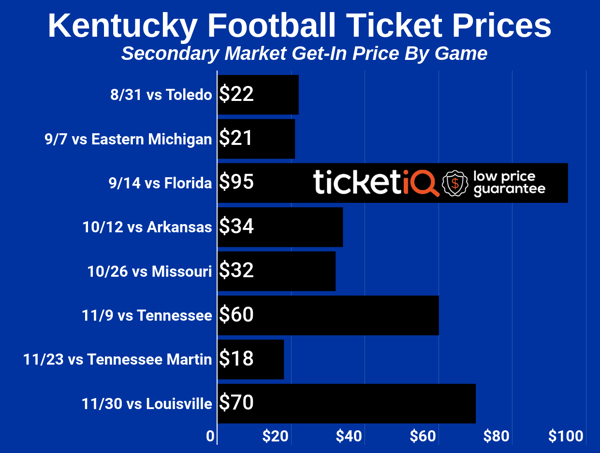 Fans will have a great opportunity for an inexpensive late-season game when the Wildcats play Tennessee-Martin on November 23 in a non-conference game. The average asking price for that game is $60. Comparatively, demand for tickets to see longtime rival Florida on September 14 are the priciest of the season at $209
This season will be Mark Stoops' seventh at Kentucky, and he's led the team to three consecutive bowl appearances after a five-year post-season drought. This season has the potential to be a bit of a reset, as Kentucky graduated National Defensive Player of the Year Josh Allen, and the school's all-time leading rusher Barry Snell.
Below is a look at Kentucky's eight home games.
🎟️Visit TicketIQ for Sold Out Kentucky Football Tickets
📲 Download the TicketIQ app for $20 off your first ticket purchase
Average asking price: $62
Cheapest ticket: $62/$22
One of three non-conference home games this season, Kentucky and Toledo will meet for the first time. The game will mark the fifth time Toledo has played an SEC team, and the Rockets are 1-3 against the conference, after upsetting ranked Arkansas last season.
September 7 vs. Eastern Michigan 🎟️
Average asking price: $61
Cheapest ticket: $21
The first of what was supposed to be a home-and-home series, Eastern Michigan will play at Kentucky in both 2019 and 2020 in exchange for $1.15 million payout. According to the Detroit News, Kentucky was interested in an additional home game this season. The teams have played only one other time, and Kentucky won that 2017 meeting, 24-20. This is the second cheapest home game of the season.
Average asking price: $209
Cheapest ticket: $95
Longtime SEC foes Florida and Kentucky have played 69 times dating to 1917, and Florida holds a 51-18 all-time series advantage. Kentucky won the last meeting, on September 8, 2018, at Gainesville, 27-16, snapping a 31-game Florida win streak that dated to 1987. This game is the priciest on the secondary market.
Average asking price: $118
Cheapest ticket: $34
Kentucky and Arkansas have met only seven times in history, and the all-time series is fairly even, with Kentucky holding a 4-3 advantage. The Wildcats have won two consecutive games twice (1999, 2002 and 2007, 2008), but Arkansas was the winner when the teams last met on October 13, 2012. This game is one of five that has an average asking price of more than $100 and is the fourth priciest on the secondary market.
Average asking price: $110
Cheapest ticket: $32
Kentucky and Missouri played twice in the 1960s — Kentucky won both of those matchups — and didn't meet again until 2012. Since then, they've played every year with Missouri winning three 2012-14, and Kentucky winning the last four. This game is the fifth most expensive of Kentucky's eight home games.
Average asking price: $169
Cheapest ticket: $60
The third priciest of Kentucky's home games, the Wildcats and Tennessee have a long and intense rivalry dating to 1893. Once known as the "Battle for the Barrel," the teams ended the painted beer-barrel tradition in 1998 after a fatal alcohol-induced car accident. The teams have played 114 times and Tennessee has a commanding, 80-25-9 all-time series lead, including winning the last meeting, 24-7 on November 10, 2018.
November 23 vs. Tennessee-Martin 🎟️
Average asking price: $60
Cheapest ticket: $18
The best deal for all of Kentucky's home games, this late-season non-conference game is the cheapest of the season, both in terms of average asking price and get-in price. The game is one of two against an SEC team for Tennessee-Martin this season, and marks the second time the Skyhawks have played Kentucky.
Average asking price: $196
Cheapest ticket: $70
Known as the Governor's Cup, this in-state rivalry is the second priciest home game of the season and Kentucky holds a slight 16-15 all-time series advantage. The Wildcats won the last meeting, 56-10, November 28, 2018. The rivalry dates to 1912, and the teams played regularly until 1924 before taking a 70-year break and rekindling the rivalry in 1994.
TicketIQ is committed to the cheapest tickets possible, and we make much less on sold out tickets compared to other major marketplaces like StubHub and Vivid. That means ticket buyers save from up to 25% on TicketIQ on sports, music and theater. We're able to do this because we also work with teams, venues, and other ticket owners, to help them sell tickets at face price, directly to consumers like you, through Ticketmaster and Paciolan. For an overview of the 2019 College Football Ticket Buying landscape, and details on the cheapest way to get tickets for every pre-season top 25 team, visit the TicketIQ Blog.