Where to Buy Oklahoma Football Tickets
Despite the Sooners' strong campaign last year, some season tickets are still available via Paciolan. Public lower level and public upper level seats both cost $455, so your selection will be guided by your preferred view rather than pricing. Your actual seat, however, will be assigned based on priority points meaning that, as a new season ticket holder, you'll likely end up with some of the worse seats in your respective level. Beyond the base cost, tickets also require per-seat donation to renew for each successive season. All season tickets also come with a print-at-home option for your convenience.
Those looking to splurge also have three different premium seating sections to choose from: the new South Club, which includes the only cushioned seat backs in the stadium, the MidFirst Bank Stadium Club, offering elevated sideline views, and the Santee Lounge, which has field level sideline views. All three areas include air conditioning, inclusive food, and non-alcoholic drinks.
Single game tickets will be released in August pending availability; if you want to get seats at a specific game, the only way to guarantee that you can get a primary market seat is with a season ticket. Mini plans were also offered in past seasons, but the school isn't offering any at the moment.
On the secondary market TicketIQ has Low Price Guarantees on Oklahoma football tickets for all sold out games on the 2019 schedule, in addition to Low Price Guarantees on all college football tickets, which means that if you find a secondary market ticket for less on a site like Stubhub or Seatgeek, we'll give you 200% of the difference in ticket credit. TicketIQ customers save an average of 5%-20% compared to Stubhub and Seatgeek.
Download the TicketIQ app for $20 off your first ticket purchase 📲🎟️
How Much Are Oklahoma Sooners Football Tickets
Sooners tickets currently sit in two price ranges on the secondary market. The games against South Dakota and Iowa State are cheaper options while the other four games sit together in a higher tier. There isn't much variance in the prices, though, with only $48 separating the cheapest get-in price ($44 against South Dakota) and the most expensive ($92 against Texas Tech).
Overall, Oklahoma tickets on the secondary market for games at Gaylord Family Memorial Stadium are averaging $173 for the 2019 season. That price is the 14th highest in the nation.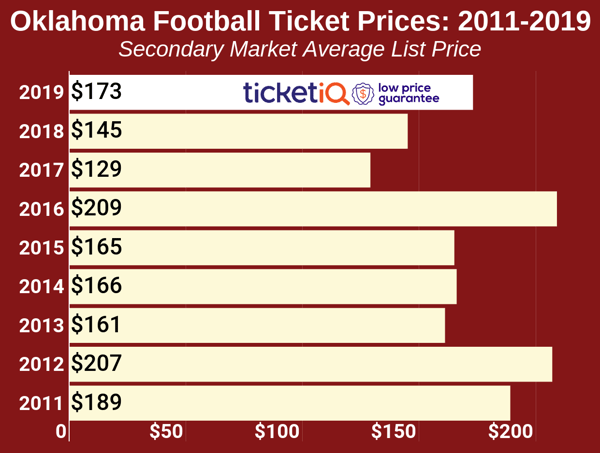 Prices for All Sooners Home Games on the Schedule
Secondary Market Average Price: $196
Secondary Market Cheapest Ticket: $91
Houston ended last season by giving up 70 points to Army in the Armed Forces Bowl. If that's what the Black Knights could do, the Sooners should have no trouble hanging a big number on their defense in the home opener.
Secondary Market Average Price: $133
Secondary Market Cheapest Ticket: $44
The Coyotes struggled in the Missouri Valley Football Conference, last year finishing with a 3-5 record (4-7 overall). Even without Kyler Murray, Marquise Brown, and the rest of their departures, Oklahoma should be able to handle them without too much of an issue.
Secondary Market Average Price: $195
Secondary Market Cheapest Ticket: $9
Texas Tech is coming into this game with a new head coach, offensive coordinator, and defensive coordinator. They'll be looking to boost the Red Raiders' fortunes, but Oklahoma is still the favorite in both the division and this game.
Secondary Market Average Price: $186
Secondary Market Cheapest Ticket: $72
You might not think of West Virginia as a college football power, but they've been putting together some solid seasons in Morgantown. Last year's meeting between these two teams was a shootout, with Oklahoma edging out the Mountaineers 59-56. Look for this game to be another good one.
Secondary Market Average Price: $144
Secondary Market Cheapest Ticket: $57
Iowa State finished in third place in the Big 12 last year, coming in behind Oklahoma and Texas. They should finish roughly in that same position this year; they'll probably give the Sooners a stiff test for at least half of this game, but won't have enough in the tank to pull off an upset.
Secondary Market Average Price: $186
Secondary Market Cheapest Ticket: $71
TCU are a middle of the road Big 12 team, so they're not going to blow anyone away. That definitely includes a team as explosive as Oklahoma; expect the Sooners to end the home schedule in style with a comfortable win.
---
TicketIQ is committed to the cheapest tickets possible, and we make much less on sold out tickets compared to other major marketplaces like StubHub and Vivid. That means ticket buyers save from up to 25% on TicketIQ on sports, music and theater. We're able to do this because we also work with teams, venues, and other ticket owners, to help them sell tickets at face price, directly to consumers like you, through Ticketmaster and Paciolan. For an overview of the 2019 College Football Ticket Buying landscape, and details on the cheapest way to get tickets for every pre-season top 25 team, visit the TicketIQ Blog.
---
Oklahoma Sooners 2018 Ticket Market Overview
With the regular season a couple of days away, below is look at how Oklahoma Sooners ticket prices stack up on the secondary market across the NCAA. As you can see, Sooners tickets are up about 22 percent from last year, the sixth biggest increase across the NCAA since last year.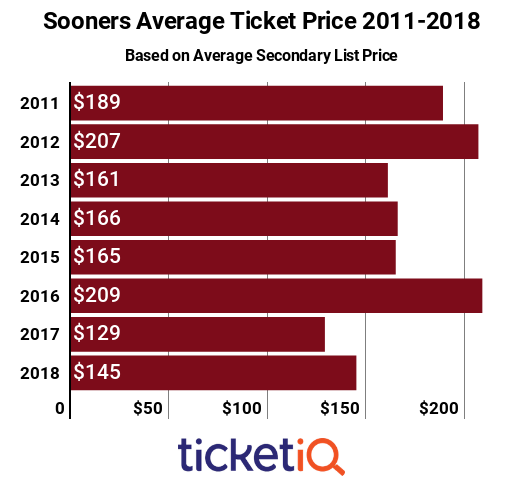 Where to Buy Tickets:
Sooners tickets are the 11th most expensive among the Top 60 NCAA teams, as compared to the 29th most expensive in 2017. For secondary market listings, TicketIQ offers a Low Price Guarantee for all games listed below. On the primary market, the Army and Oklahoma State games are sold out, and the next most expensive is the UCLA game on September 8. Tickets are available for $90 on the primary market, while the average asking price on the secondary market is $140.
Prices For Each Game on 2018 Oklahoma Sooners Schedule:
The most expensive game of the season is the "Bedlam Series" between Oklahoma and Oklahoma State. The in-state rivalry dates back to 1904 and Oklahoma is currently on a two-game win streak. There are no tickets available on the primary market for this game, but the average asking price for a secondary market ticket is $214 and the cheapest seat is $106. The game is set for November 10, and if either team is in the hunt in the Big 12, expect an already expensive ticket price to rise.