Where to Buy UNC Football Tickets
Unlike other most other schools, North Carolina football season tickets are completely sold out. If you're looking to catch a few games this fall, however, you're not out of luck yet; the school offers two mini plans, both of which still have availability, and single game tickets. All mini plans and single game tickets are available via primary partner Paciolan.
Your first option is the three game mini plan, which includes an upper level seat for the games against Clemson and Mercer and an unspecified seat for the Belk Kickoff Classic in Charlotte against South Carolina. For $149, you'll be assigned the best possible seat in the specified level for each game and receive physical tickets.
The other option is a four game mobile pass. $75 buys you a guaranteed seat to the games against Miami, Duke, Virginia, and Mercer; you'll receive a digital ticket 48 hours before the game and sit in a different location each time. It's a bit of a gamble, but you could potentially score great seats any time you show up to the stadium.
If you're looking for a smaller commitment, single game tickets are available for every home game except the visits from Appalachian State and Clemson. Those ticket break down into three pricing tiers. Seats for the game against Mercer range from $20-$50, while the Virginia game steps up slightly with prices between $25 and $55. Lastly, match-ups against Duke and Miami are the most expensive, with seats going for $25-$65 on the primary market.
No matter how many games you're attending at Kenan Stadium, there are some premium seating options to be aware of if you want a more comfortable experience. The Blue Zone offers seats in Touchdown Club, Concourse Club, or Suites; these are your traditional club level areas, with air conditioning, televisions, a buffet meal, and a cash bar. The Touchdown club is a premium area for 300 level ticket holders, while the Tar Heel Terraces and the Mezzanine Box are ideal for hosting a large group
On the secondary market TicketIQ has Low Price Guarantees on North Carolina football tickets for all sold out games on the 2019 schedule, in addition to Low Price Guarantees on all college football tickets, which means that if you find a secondary market ticket for less on a site like Stubhub or Seatgeek, we'll give you 200% of the difference in ticket credit. TicketIQ customers save an average of 5%-20% compared to Stubhub and Seatgeek.
Download the TicketIQ app for $20 off your first ticket purchase 📲🎟️
How Much Are UNC Football Tickets
As mentioned above, there's a decent primary market for Tar Heels tickets. While supplies might dwindle as opening day approaches, you currently have your choice of seats for four out of the six home games, ranging from the cheapest against non-conference Mercer, to the priciest rivalry games against Duke and Miami.
On the secondary market, however, things are a bit of a mixed bag. Get-in prices range all the way from $7 to $100, with Mercer and the Clemson's visits being outliers on the low and high side, respectively. As of now, Mercer is the only game with a get-in price cheaper than the cheapest retail priced ticket, but it's still worth checking both markets before buying; while the get-in price may be more expensive, you could find a good deal on pricier seats.
Overall, North Carolina football tickets are averaging $106 on the secondary market, which is the highest they've been since the 2013 season.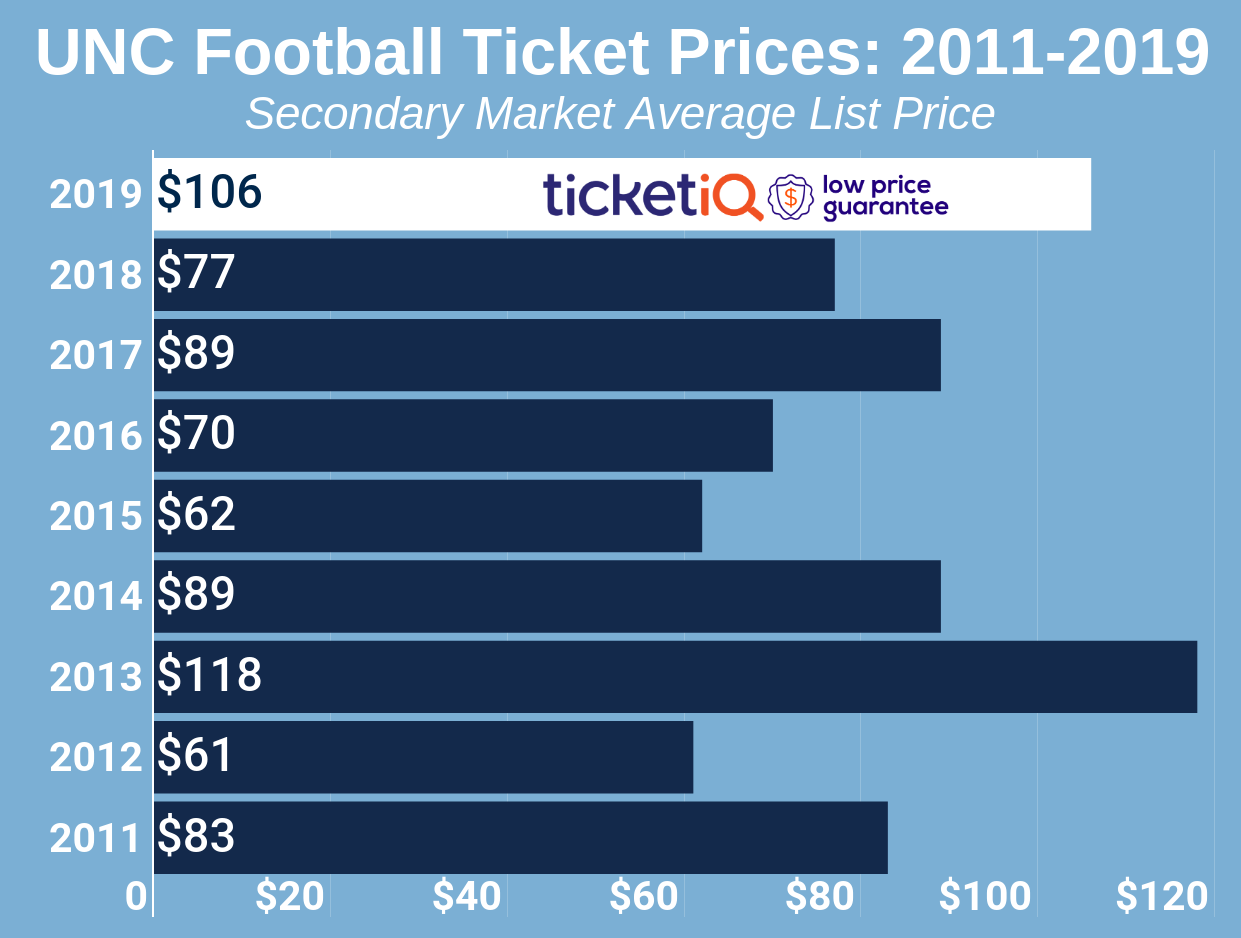 Prices for All UNC Home Games on the Schedule
Secondary Market Average Price: $154
Secondary Market Get-In Price: $57
Mack Brown gets thrown directly back into the fire by starting off the season with a rivalry kickoff game. Neither team is a world-beater, but the Gamecocks talent might give the Tar Heels some issues, especially this early in the season.
Secondary Market Average Price: $76
Secondary Market Get-In Price: $32
UNC gets a marquee match-up in their proper home opener, but it's unlikely that the home fans will go home happy. Miami is just too talented to bank on an upset in this one.
Secondary Market Average Price: $123
Secondary Market Get-In Price: $82
Another Mountain West opponent visits North Carolina the next weekend and the result should be the same. The Spartans finished last season 1-11, so they'll surely struggle in Chapel Hill.
Secondary Market Average Price: $140
Secondary Market Get-In Price: $89
Appalachian State might not play in a big time conference, but the program is growing by leaps and bounds. Last year they cracked into the AP Poll for a week midseason, finished 11-2 and won their bowl game. Expect them to give the Tar Heels a game; at this point, it could go either way.
Secondary Market Average Price: $73
Secondary Market Get-In Price: $34
While this game would be better on the hardwood than the gridiron, Duke and UNC always come to play in any sport. The Blue Devils have the edge on paper, but we'll have to see how they handle having a new QB under center. You know there will be at least one crazy moment in this one; the Tobacco Road rivalry couldn't be boring if it tried.
Secondary Market Average Price: $54
Secondary Market Get-In Price: $26
The Cavaliers might not be as dominant on the football field as they are on the basketball court, but they still have an edge over the Tar Heels. Expect UNC to bring it, however; they won't want to potentially lose two rivalry games in back-to-back weeks.
Secondary Market Average Price: $23
Secondary Market Get-In Price: $7
After what could be a tough season, UNC finishes their home schedule with a non-conference game against Mercer. If nothing else, this game will give Tar Heels fans a chance to go home happy.
---
TicketIQ is committed to the cheapest tickets possible, and we make much less on sold out tickets compared to other major marketplaces like StubHub and Vivid. That means ticket buyers save from up to 25% on TicketIQ on sports, music and theater. We're able to do this because we also work with teams, venues, and other ticket owners, to help them sell tickets at face price, directly to consumers like you, through Ticketmaster and Paciolan. For an overview of the 2019 College Football Ticket Buying landscape, and details on the cheapest way to get tickets for every pre-season top 25 team, visit the TicketIQ Blog.