LSU Football 2020 Attendance Policy
It was recently announced that the LSU Tigers would be hosting fans at Tiger Stadium for the 2020 season. Normally, capacity at Tiger Stadium is 102,321, but for this season it will be limited to 25,580 fans (approximately 25 percent capacity).
Fans attending games will be required to wear face masks on campus and in the Stadium. Tailgating on campus will not be permitted and fans must practice social distancing.
Ticketholders could opt out of their 2020 season tickets via a form that was be emailed from the LSU Ticket Office this week. The deadline to opt out was Friday, Sept. 11.
If they don't opt out, season ticketholders for 2020 should expect their total allotment of tickets to be reduced in order to ensure a maximum number of ticketholders can attend games.
Student tickets are were also made available.
Where To Buy 2020 LSU Football Tickets
Primary market single game tickets are currently unavailable.
When LSU Tigers tickets hit the secondary market, TicketIQ has Fee-Free tickets with a Low Price Guarantee and Refund Guarantee, which states that in the event an event is cancelled or deem unfit for fans to attend, TicketIQ will refund the ticket buyer. That means that you can buy from TicketIQ worry-free.
How Much Are 2020 LSU Football Tickets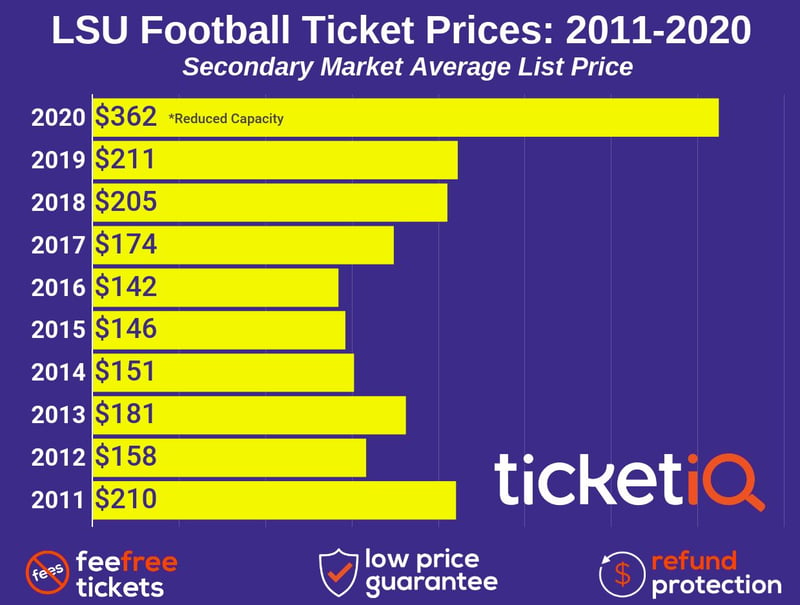 As shown above, at $362 per seat secondary market LSU football tickets are the most expensive they have been since we have been tracking the data. Prices are 72% higher than last year. Prices for the season opener are seeing an even higher premium.
With inventory limited to 25,580, the average secondary market listing for the opener is $243 per seat, which is 247% higher than last year's average price. The get-in price (cheapest ticket) is $90, and ticket prices go as high as $950 per seat. The get-in price for last year's opener against Georgia Souther was just $7, and there were only two games with a get-in price higher than $90 (10/12 vs Florida and 10/26 vs Auburn).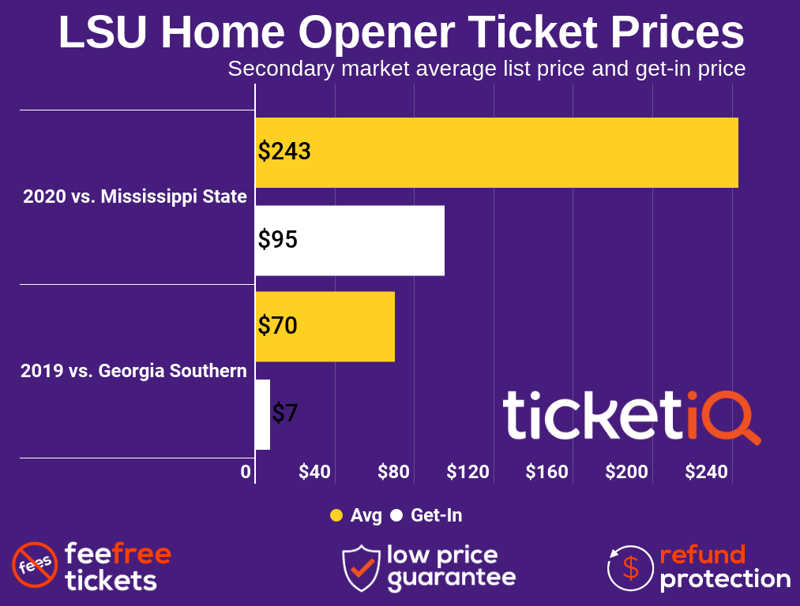 ---
2019 LSU Football Ticket Summary Below
Where to Buy 2019 LSU Football Tickets
For the 2019 season, a variety of ticket-buying options are available directly from LSU. For fans looking to make a commitment, the school is offering a Flex Pass for $360, which includes seven passes. Tickets will be delivered digitally to your iPhone or Android mobile device prior to each game and seating location will vary from game to game. There's also a four-game pack available for $180, which includes a choice of Florida or Auburn, a choice of Arkansas or Texas A&M and one of Georgia Southern, Northwestern State, or Utah State. The three-game mini-plan includes an option for Texas A&M and Arkansas, while the two-game pack includes only non-conference games. Single game tickets are available for all home games via Paciolan.
On the secondary market TicketIQ has Low Price Guarantees on LSU football tickets for all games on the 2019 schedule at home, as well as any LSU away games, including their very expensive game at Texas in Week 2. TicketIQ has Low Price Guarantees on all college football tickets, which means that if you find a secondary market ticket for less on a site like Stubhub or Vivid Seats, we'll give you 200% of the difference in ticket credit. TicketIQ customers save an average of 5%-20% compared to Stubhub and Vivid Seats
How Much Are 2019 LSU Tigers Football Tickets
Face value tickets in the sideline upper benches start at $20 for the first two games of the season against Georgia Southern and Northwestern State, with Utah State staring at $30. Those same tickets for Florida and Auburn $95. The cheapest face value for Arkansas is $60 while Texas A&M starts at $75. The most expensive face value tickets in the Stadium Club, Tiger Den Suites and West Sideline start at $70 for the early season games and go as high as $150 for Florida and Auburn.
Not surprisingly, the highest demand games on the secondary market are for Florida and Auburn. For those games, the cheapest tickets are $115 and $112, while the first three games of the season all have tickets available for under $10. The cheapest ticket for Arkansas is $40, while the Texas A&M game has tickets from $77.
Overall, LSU tickets on the secondary market are averaging $211 per seat for the 2019. It's the highest prices have been this decade.
Ticket Prices for All LSU Home Games On The 2019 Schedule
August 31st vs. Georgia Southern Eagles 🎟️
Secondary Market Average Price: $70
Secondary Market Cheapest ticket: $7
LSU opens the season with a non-conference date with Georgia Southern. While the Eagles have played respectable games against some big time opponents—they've beaten Florida and hung tough with Georgia and Clemson—an upset is probably too much to ask of them.
September 14th vs. Northwestern State Demons 🎟️
Secondary Market Average Price: $166
Secondary Market Cheapest ticket: $7
Northwestern State comes into Baton Rouge after a 5-6 campaign in head coach Brad Laird's first season. ESPN gives the Tigers a 99.8% chance of winning this one, so don't go in banking on an upset.
October 5th vs. Utah State Aggies 🎟️
Secondary Market Average Price: $99
Secondary Market Cheapest ticket: $35
Utah State put together a strong season in the Mountain West, but LSU represent another level of opponent. The Tigers hold a 2-0 lead in the all-time series; look for them to increase that this fall.
October 12th vs. Florida Gators 🎟️
Secondary Market Average Price: $113
Secondary Market Cheapest ticket: $35
There's a reason that LSU and Florida are permanent cross-division rivals. The Tigers have held the advantage in recent meetings but you can throw all that out once the whistle blows; these two teams never disappoint and that won't change in October.
October 26th vs. Auburn Tigers 🎟️
Secondary Market Average Price: $269
Secondary Market Cheapest ticket: $140
The Tiger Bowl is always a special occasion, so make sure to circle this one on your calendar. The past three meetings between these teams were decided by a total of 11 points, so you should be in for a good one if you score tickets.
November 23rd vs. Arkansas Razorbacks 🎟️
Secondary Market Average Price: $58
Secondary Market Cheapest ticket: $12
While Arkansas has been slumping in recent seasons, both schools take the Battle for the Golden Boot seriously. LSU will be favorites to take home a fourth straight win, but don't expect the Razorbacks to make it easy.
November 30th vs. Texas A&M Aggies 🎟️
Secondary Market Average Price: $416
Secondary Market Cheapest ticket: $222
Last time these teams met, they put up 139 points over seven overtimes. While we can't guarantee a similar showing this year, it's safe to assume there will be some fireworks to wrap up the regular season.
---
TicketIQ is committed to the cheapest tickets possible, and we make much less on sold out tickets compared to other major marketplaces like StubHub and Vivid. That means ticket buyers save from up to 25% on TicketIQ on sports, music and theater. We're able to do this because we also work with teams, venues, and other ticket owners, to help them sell tickets at face price, directly to consumers like you, through Ticketmaster and Paciolan. For an overview of the 2019 College Football Ticket Buying landscape, and details on the cheapest way to get tickets for every pre-season top 25 team, visit the TicketIQ Blog.