TicketIQ has Low Price Guarantees on sold out events and tickets at LSU Tiger Stadium. That means that if you find a secondary market ticket for less on a site like StubHub or Vivid Seats, we'll give you 200% of the difference in ticket credit. TicketIQ customers save up to 25%. TicketIQ also provides access to unsold face value tickets for all LSU games via Paciolan.
📲 Download the TicketIQ app for $20 off your first ticket purchase
LSU TIGER STADIUM SECTION AND ROWS
Tiger Stadium has 4 lower-level sections: The 100 level, which are located on the home sideline; 200 level, which has three tiers and are located on the north end of the stadium; 300-level, which are located on the visitor sideline; and the 400-level, which has two tiers, and are located at the South End of the Stadium. Upper level sections are located in the 500 and 600 level.
100-Level Rows: Rows in the 100 section run from 1 to 62. Chair back seats are available in sections 100 through 106.
200-Level Rows: Rows in the first-tier of the 200 run from 1 to 13, with the second tier running from 1 to 28 and the third tier running from row 1 to 20.
300-Level Rows: Rows in the 300 level run from 1 to 65. Chair back seats are available in sections 300 through 306.
400-Level Rows: The first tier of the 400-level run from 1 to 36, while the second-tier rows run from 1 to 41.
500-Level Rows: 500-Level Rows on the sideline are A, B and C. 500-Level sections in the South Endzone are in two tiers. The first tier rows run 1 to 5 while rows the second tier in the 500 level run from 1 to 8. Chair back seats are available in Sections 530 through 543 and Sections 550 through 568 AND sections 510 through 520.
600-Level Rows: 600-level rows on the sideline run D through Z and AA through FF. 600-Level section in the south-end of the stadium run from 1 to 6. Chair back seats are available in rows A through K in sections 640 through 643 and Rows 1 through 9 in sections 610 through 619.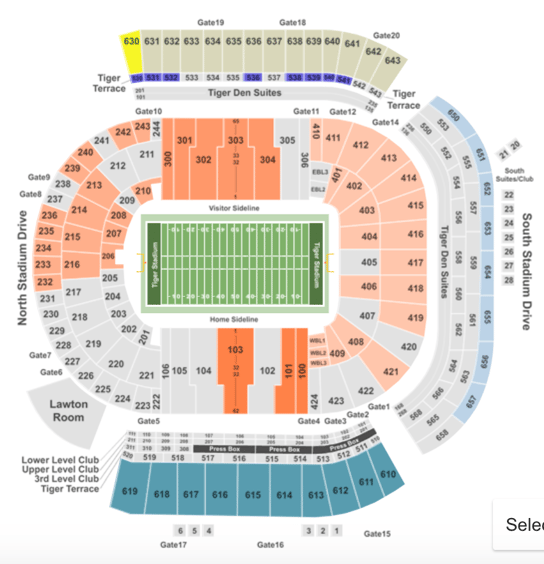 WHERE IS THE LSU SIDELINE?
The LSU sideline is located in front of sections 102 through 104 on the west side of the stadium, while the opponent's bench will be in front of sections 302 through 304 on the stadium's east side. 500 and 600-Level section on the LSU side run from 510 to 520 and 610 to 619.
LSU TIGERS STUDENT SECTION
The Tiger Stadium Student Section is located in sections 105 through 106, 202 through 205, and 218 through 236. If you're bringing children to the game, you may want to steer clear of sitting right next to these sections.
Student tickets sell out quickly since a limited amount are allotted to the student body. More importantly, you won't be able to purchase student section tickets on the secondary market as only currently-enrolled LSU students are eligible for these seats. Student tickets are also only transferable to other LSU students.
TIGER STADIUM CLUB SEATS
Club seating at Tiger Stadium is located all throughout the stadium and gives fans a few different options that we've noted below.
Stadium Club West
The Stadium Club West is is located on the west side of the stadium and is a massive area that offers both exterior seating as well as interior lounge area seating that takes up 75,000 square feet over three levels. All seats include chairbacks and the club features a complimentary buffet of apps, entrees, desserts and beverages, large, HD flat screen TVs, private restrooms.
Stadium Club South
The Stadium Club South is located on the stadium's south side and these seats include chairbacks, complementary buffets of appetizers and snacks, a private club concourse that has various televisions as well as private restrooms.
VISITING TEAM FAN SECTIONS
If you're a fan of the visiting team traveling to Baton Rouge to catch a game at Tiger Stadium, you'll want to be sure to look for seats in the visitor seating areas located in sections 402 through 404. If you're a Tigers fan, make sure you avoid these areas!
BEST SEATS AT TIGER STADIUM
The best seats are located in the sections closest to midfield such as sections 515-517 on the LSU side, or in sections 534-536 on the visitor's side. These seats would give you a raised enough view to where you can see the entire play develop, while still having a great view of the entire field, not to mention chairbacks.
---
TicketIQ is committed to the cheapest tickets possible, and we make much less on sold out tickets compared to other major marketplaces like StubHub and Vivid. That means ticket buyers save from up to 25% on TicketIQ on sports, music and theater. We're able to do this because we also work with teams, venues, and other ticket owners, to help them sell tickets at face price, directly to consumers like you, through Ticketmaster and Paciolan. For an overview of the 2019 College Football Ticket Buying landscape, and details on the cheapest way to get tickets for every pre-season top 25 team, visit the TicketIQ Blog.