2020 Notre Dame Football Ticket Update
It was announced on July 29th, that the ACC has decided to proceed with an 11-game schedule for the 2020 season, which is set to start the weekend of September 12th. That schedule will also include Notre Dame, who will play a full league schedule and be eligible to play in the ACC championship game.
The schedule includes 10 conference games and one non-conference game of each team's choosing. Games will take place over 13 weeks, with two bye-weeks. The ACC championship game is set to be played in Charlotte, North Carolina, on either Dec. 12 or Dec. 19. There won't be divisions this season so the championship game will feature the top two teams with the highest conference winning percentages.
Here is a look at how Notre Dame ticket prices have compared to other ACC teams over the last 5 seasons: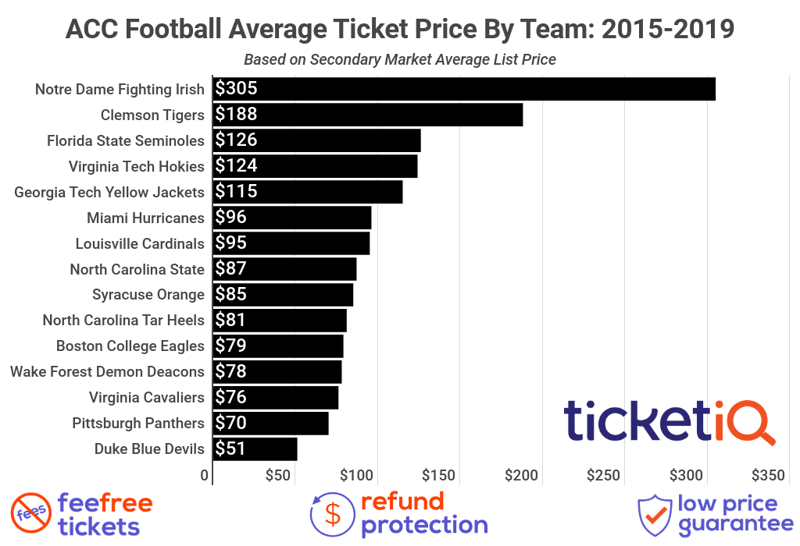 2020 Notre Dame Ticket & Attendance Policy
In May, Jack Swarbrick, Notre Dame's athletic director, was on "The Fight" and was asked if fans were going to be allowed to attend this year's home games. Here is his response via Fighting Irish Wire:
We're committed to having fans in the stands and we'll start with the other students. My view throughout has been, if we think it's safe for students to be on the field playing football, it should be safe for the students to be in the stands watching football. So, we'll build off that base of the other students, faculty and staff will be a priority for us to give them an opportunity, and then our fans. We haven't yet gotten to the question of how big that audience is. We won't be at capacity. We'll do something less than that. And we'll be very careful about maintaining social distance, how the facility works, how you enter it, how you exit it, all things to be determined. We're working hard on them."
Other teams around college football have already started announcing that attendance in their venues would be limited to 20% - 25% capacity. We expect Notre Dame will announce something similar in the coming weeks. Check back here for all future updates.
---
2019 Notre Dame Football Tickets
Notre Dame football fans will have a unique opportunity this season – more cheap seats, as the Fighting Irish increased the number of seats available for economy pricing, between $45-$95, depending on the opponent. For fans looking to catch the action at Notre Dam Stadium, there are more options than ever. Notre Dame single game tickets went onsale in July through Paciolan, and there are tickets available for every game except USC and UVA. Tickets for New Mexico and Bowling Green start at $75. The cheapest face value ticket for Virginia Tech is $65, while the Navy game has tickets as low as $45. The final game of the season against BC has face value tickets starting at $45. The school is also selling tickets in the Victory Loft at Club Naimoli for four of the games starting at $175 and features all-inclusive food, beer, wine and liquor during the game as well as 3 hours prior to kick off.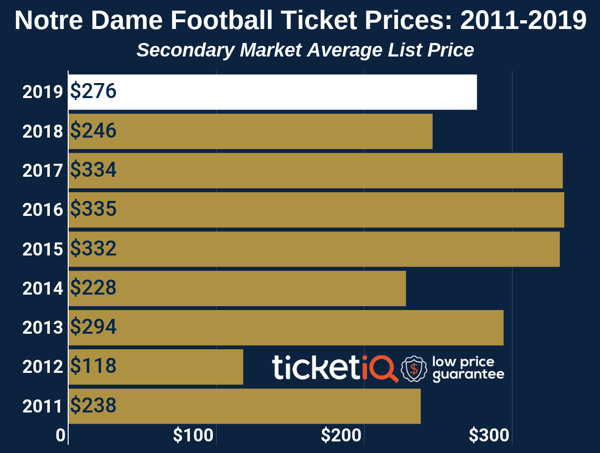 TicketIQ has Low Price Guarantees on Notre Dame football tickets for all games on the 2019 schedule, in addition to Low Price Guarantees on all college football tickets, which means that if you find a secondary market ticket for less on a site like Stubhub or Seatgeek, we'll give you 200% of the difference in ticket credit. TicketIQ customers save an average of 5%-20% compared to Stubhub and Seatgeek. Download the TicketIQ app for $20 off your first ticket purchase 📲 🎟️
The Fighting Irish remain the most well-known Independent in college football. This year, their biggest home game in terms of interest and secondary ticket market average asking price will be against USC. Notre Dame is currently ranked No. 11 in USA Today's preseason poll, but none of their seven home opponents are in the Top 25.
Other than the expanded cheap seats, primary market pricing remains the same as last season. In addition to regular seats, there are club seats available directly from the school in the Seven on 9 Club section. According to the UND.com, these seats "provide a premium hospitality experience on a game-by-game basis and includes exclusive access to amenities and services for the patrons within. Located on the ninth floor of Corbett Family Hall, this club space allows its 130 guests the opportunity to socialize throughout the game and enjoy an climate-controlled seat with a great view of the field and campus."
For fans looking to get in on the cheap, sections 101-104 & sections 134-136 are great deals with the jumbotron right across the stadium on the south side.
Below is a look at ticket prices and details for Notre Dame's 2019 home schedule.
September 14 vs. New Mexico 🎟️
Secondary Market average asking price: $234
Secondary Market Cheapest ticket: $109
Primary Cheapest ticket: $45
This game is a great value and is currently the third cheapest Notre Dame home game on the secondary market. New Mexico and Notre Dame have never played, though Lobos head coach Bob Davie is pretty familiar around South Bend – he was the head coach from 1997-2001, and took Notre Dame to its first BCS bowl, the Fiesta Bowl in 2001.
Secondary Market average asking price: $283
Secondary Market Cheapest ticket: $127
Primary Cheapest ticket: $65
This is the second priciest of Notre Dame's home games, though it still pales in comparison to the $475 that the USC game is trending at. Notre Dame and Virginia have played only twice, but this will be the Cavaliers first visit to South Bend. The Fighting Irish beat Virginia at East Rutherford, New Jersey in 1989 and against at Charlottesville in 2015.
October 5 vs. Bowling Green 🎟️
Secondary Market average asking price: $226
Secondary Market Cheapest ticket: $108
Primary Cheapest ticket: $45
A great value and opportunity for fans to get inside Notre Dame Stadium, this is the cheapest game of the season. Bowling Green and Notre Dame have never played, and the game will be just Notre Dame's fifth against a Mid-American Conference team, according to Bowling Green's website.
Secondary Market average asking price: $475
Secondary Market Cheapest ticket: $277
Primary Cheapest ticket: $95
These teams have played 90 times and since 1952, the winner has taken home the jeweled shillelagh. The priciest game at Notre Dame Stadium this season, the Fighting Irish will be looking for a third consecutive victory. Notre Dame holds a 46-36-5 all-time series advantage (three games were vacated by Notre Dame).
November 2 vs. Virginia Tech 🎟️
Secondary Market average asking price: $265
Secondary Market Cheapest ticket: $127
Primary Cheapest ticket: $65
The third priciest game of the season, Notre Dame and Virginia Tech have played only twice, and each team has won once. The Hokies won at South Bend in 2016 and the Fighting Irish returned the favor in 2018, winning 45-23 at Blacksburg.
Secondary Market average asking price: $254
Secondary Market Cheapest ticket: $117
Primary Cheapest ticket: $45
Considered the longest intersectional rivalry in history, these teams have met 92 times dating to 1927. Not surprisingly, Notre Dame holds a commanding 76-13-1 all-time series advantage, and have won the last two. Notre Dame had two vacate two victories, in 2012 and 2013, but including those, have won seven of the last eight. This game has the fourth highest average asking price of the season. Prior to Navy's 2007 victory, Notre Dame won 43 consecutive.
November 23 vs. Boston College 🎟️
Secondary Market average asking price: $233
Secondary Market Cheapest ticket: $111
Primary Cheapest ticket: $65
Often called the "Holy War" because both schools are Catholic, Boston College and Notre Dame are the last two Catholic schools left playing in the FBS. Despite the history, the game the second cheapest of the season at Notre Dame Stadium, so it's a good value for fans. The rivalry dates to 1975 and Notre Dame has an all-time series advantage of 14-9, not including the 2012 game it won, but had to vacate.
---
Despite Dropping 26% On The Secondary Market Notre Dame Football Tickets Are Still Some Of The Most Expensive In The Nation
Notre

Dame

Fighting Irish 2018 Ticket Market Overview:
Notre Dame won't start this season with a cream puff. Nope, the season opener is against Michigan on Saturday. Below is how Notre Dame ticket prices stack up on the secondary market across the league. As you can see below, ticket prices are down 26%, making them the fifth cheapest in South Bend in nearly a decade. The cheapest seats were in 2012, which, paradoxically, is the last time Notre Dame played for a national championship. Also, while tickets are down over the last two seasons, the Irish still enter the 2018 campaign with the second highest average home ticket price in the nation.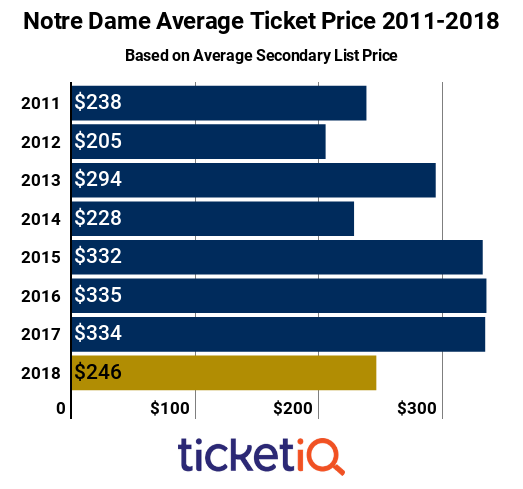 Where to Buy Tickets:
While tickets are cheap compared to seasons past, Notre Dame tickets are still the third most expensive across the Top 60 NCAA teams. The Michigan game is sold out on the primary market, and there is only single-seat availability on the primary market for other big games, including those against Stanford and Pitt. For secondary market listings, TicketIQ offers a Low Price Guarantee for all of the games listed below. The get-in price for the Michigan game on the secondary market is $399 – the average asking price is $873 – while the cheapest seats on the secondary market for all other games range between $73-$138.
Prices For Each Game on 2018

Notre

Dame

Fighting Irish Schedule:
That opening game against Michigan is the marquee matchup of the first full weekend of college football action and is, not surprisingly, the most expensive of the season by a long shot. Both Michigan and Notre Dame are ranked in the Top 25 entering the season, and prices could move up later this week as enthusiasm grows and game day approaches.

---
Notre Dame Still Tops 25 Most Expensive College Football Tickets For 2015
There have been a few crazy things to happen during the 2015 college football regular season. The Michigan Wolverines, despite a recent loss to the Michigan State Spartans, have improved to a Top 25 team in the first year under Jim Harbaugh. Three American Athletic Conference teams are currently in the AP Top 25, Memphis, Houston and Temple.
Some of these shakeups have shifted the TicketIQ Top 25, which tracks the home secondary market average price across college football tickets. Despite a loss to Clemson, Notre Dame tickets still sit atop the list and surprising seasons from Michigan and Texas A&M have brought those tickets into the second and third spots. Ohio State tickets, which topped the list for most of last year have dropped to No. 4 due to a weak home schedule and underwhelming play, though the Buckeyes are still the No. 1 team in the AP Poll.
The SEC, like the AP Poll, dominates the TicketIQ Top 25 with 10 schools on the list. A&M leads the pack followed by Auburn, Georgia, LSU and Florida in the top-10. The most surprising SEC school to make the list may be Kentucky, which slides in at No. 22. The Wildcats have two big upcoming games against Tennessee and Louisville which help boost prices at Commonwealth Stadium.
---
Previewing The 2015 Notre Dame Football Schedule

The 2014 Notre Dame Fighting Irish started their season with six straight victories, but a controversial road loss to the Florida State Seminoles derailed their season. Notre Dame dropped five of its last seven games to finish with a disappointing 8-5 record. Despite their late season slide, Notre Dame picked up an impressive win over the LSU Tigers in the Music City Bowl. Sophomore quarterback Malik Zaire earned his first start against LSU—and impressed the coaching staff. Zaire completed 12-of-15 passes for 96 yards and one touchdown. Zaire rushed for 96 yards and one touchdown as LSU's defense was unable to stop him. Quarterback Everett Golson had a rocky season and will likely compete with Zaire during spring practice. Regardless of who is under center, the presence of wide receiver, William Fuller, will make his life a little easier. Fuller was dominant last season as he caught 76 passes for 1,094 yards and 15 touchdowns. Running back Tarean Folston, who rushed for a team-high 889 yards and six touchdowns, will also return.

Entering the 2015 season, expectations are high for Notre Dame. The presence of Golson, Fuller, and Folston will present match-up issues for opposing defenses. Notre Dame is also armed with a strong recruiting class. Some publications rank Notre Dame's class as the 13th best class. Notre Dame secured letters of intent from the top-ranked tight end prospect, Alize Jones and the fourth highest rank quarterback, Brandon Wimbush. Running back Dexter Williams, who is a Top-5 running back recruit, also committed to South Bend. Since Notre Dame is not affiliated with any conference, its schedule is normally a little unorthodox. Notre Dame will play a bevy of opponents from the ACC while fitting in annual games against USC and Stanford.
The current average price for 2015 Notre Dame football tickets is $371.01 on the secondary market. The most expensive home game on the schedule will come October 17 against the USC Trojans. Notre Dame vs USC tickets currently have an average price of $507.74 with a get-in price of $314.
---
Notre Dame Has Highest Ticket Prices in 2013 TicketIQ College Football Top 25
BCS Excitement and USC Game Drive Prices to Highest in Three Years
NEW YORK, NY --- August 22nd, 2012 – TicketIQ, Inc., the nation's leading even ticket search engine and ticket market data provider, released it's third annual TicketIQ top 25, a poll of secondary ticket market prices for the country's top Division I NCAA Football programs.
After finishing last year with the third most expensive average ticket price in the country, Notre Dame football tickets have an average price of $293 for their eight home games. Last year's end-of-season leader, Texas A&M starts this year in 5th place with an average ticket price of $207. The average price for Texas A&M football tickets has risen 50% since they joined the SEC. In the 2011 Pre-Season TicketIQ top 25, A&M ranked 21st in the country with an average price of $136.
Pre-season AP number one, Alabama, has an average price of $178, the lowest pre-season price for Alabama football tickets in three years. Ohio State is the only team in both the TicketIQ Top 5 as well as the AP top 5. With an average price of $246, Ohio State football Tickets are 8% more expensive than last year's pre-season, when they were bowl ineligible. Despite a 17th ranking in the AP top 25, Michigan football tickets are the third most expensive in the nation.
The biggest position mover in this years TicketIQ top 25 is Tennessee. Tennessee Volunteer tickets were not ranked in the top 25 all last year, and begin this season as the 17th most expensive average ticket in the country. Last season's pre-season number one Nebraska opened the 2013 season with an average price of $209, down 20%. Despite being the 5th most expensive ticket in this year's poll, Nebraska Cornhuskers football tickets have the largest decline of any team in the top 10. The highest price increase in 2013 belongs to Syracuse. Syracuse Orange tickets have an average of $115.27, which is 78.93% increase from last year.
The full 2013 TicketIQ Top 25 is listed below:
| | | | | | | | |
| --- | --- | --- | --- | --- | --- | --- | --- |
| | 2012 | | | 2013 | | | |
| | Team | Avg. Price | | Team | Avg. Price | 1 Year Change | AP Rank |
| 1 | Nebraska | $262.34 | | Notre Dame | $293.90 | 43.10% | 14 |
| 2 | Ohio St. | $227.03 | | Ohio St. | $246.16 | 8.43% | 2 |
| 3 | Oklahoma | $206.60 | | Michigan | $230.40 | 24.41% | 17 |
| 4 | Notre Dame | $205.38 | | Nebraska | $209.78 | -20.04% | 18 |
| 5 | Alabama | $205.05 | | Texas A&M | $204.11 | 7.97% | 7 |
| 6 | Iowa | $202.11 | | Georgia | $188.01 | 35.02% | 5 |
| 7 | Texas A&M | $189.04 | | LSU | $180.70 | 14.54% | 12 |
| 8 | Michigan | $185.20 | | Alabama | $178.88 | -12.76% | 1 |
| 9 | West Virginia | $171.81 | | Iowa | $166.11 | -17.81% | NR |
| 10 | LSU | $157.76 | | Oklahoma | $161.31 | -21.92% | 16 |
| 11 | Oklahoma State | $150.56 | | Oregon | $159.64 | 26.47% | 3 |
| 12 | Penn St. | $149.45 | | Florida | $159.39 | 24.93% | 10 |
| 13 | Boise State | $148.96 | | Washington | $151.27 | 31.56% | NR |
| 14 | USC | $147.59 | | Texas | $150.39 | 6.23% | 15 |
| 15 | Missouri | $146.25 | | Mississippi State | $146.52 | 49.63% | NR |
| 16 | South Carolina | $143.11 | | South Carolina | $146.50 | 2.37% | 6 |
| 17 | UCLA | $142.73 | | Tennessee | $134.06 | 13.65% | NR |
| 18 | Wisconsin | $141.77 | | Penn St. | $133.19 | -10.88% | NR |
| 19 | Texas | $141.57 | | USC | $130.23 | -12.86% | NR |
| 20 | Georgia | $139.25 | | Boise State | $125.25 | -15.92% | 19 |
| 21 | Auburn | $131.95 | | Oklahoma State | $121.85 | -19.07% | 13 |
| 22 | Florida | $127.58 | | North Carolina State | $117.74 | -0.17% | NR |
| 23 | Oregon | $126.23 | | West Virginia | $116.31 | -32.30% | NR |
| 24 | Virginia Tech | $125.61 | | Syracuse | $114.37 | 78.93% | NR |
| 25 | Washington St. | $123.00 | | Kansas State | $114.00 | 18.29% | NR |
About TicketIQ:
TicketIQ aggregates event tickets from leading ticket sellers across the Web to help consumers find the best deals for live sports, music and theater. Through their proprietary technology platform, TicketIQ provides real-time price trends for every section of a stadium, enabling consumers and ticket professionals to track prices, identify when to buy and how best to price their inventory in the dynamically-changing event ticket market. TicketIQ licenses its data analytics platform to teams in MLB, NCAA, NHL, and NBA. TicketIQ is also a leading source of ticket-related data and regularly contributes data and ticket market coverage to Forbes, Bloomberg, CNBC and many other sources.
Contact For Further Information:
Name: Jesse Lawrence
Email: JesseLawrence@ticketiq.com