Where To Buy 2021 Penn State Football Tickets & When Do Tickets Go On Sale
Primary market face-value tickets are not yet available, but public single-game and student ticket sales information will be released in the coming weeks.
On the secondary market, TicketIQ has Fee-Free Penn State Football tickets which also include a Refund Guarantee. Our Refund Guarantee states that if an event is canceled or deemed unfit for fans to attend, TicketIQ will refund ticket buyers in as soon as 15 days. That means that you can buy from TicketIQ worry-free. Customers on TicketIQ save between 15%-25% compared to other secondary market ticketing sites.
How Much Are 2021 Penn State Football Tickets
On the secondary market, get-in prices range from $86-$131 for most games on the 2021 schedule. One outlier is their September 18th match-up against Auburn, which has very limited inventory and a get-in price of $691.
Penn State Football 2021 Attendance Policy
Penn State Athletics recently announced that they will return to full capacity in Beaver Stadium for the 2021 season. Masks will still be required for all unvaccinated fans in attendance, and the team is going to mobile ticketing only.
Penn State Football 2021 Season Tickets
Season ticket holders will be notified via email beginning Tuesday, June 8th that their 2021 football season ticket and non-refundable seat contribution invoices are available via the Account Manager.
If you're not already a season ticket holder, you can join the season ticket interest list by filling out the form on this page or the 2021 Football Club Seats interest list here.
Penn State Football Mobile Ticketing
Penn State Football will be switching ticketing to fully mobile tickets for all fans. Mobile tickets can be managed and accessed via the official Penn State Athletics app, which you can download on the App Store and Google Play. You can get more information by visiting the Penn State mobile ticketing page.
2021 Penn State Football Schedule
Sept. 4: at Wisconsin Badgers (Madison, WI)
Sept. 11: vs. Ball State Cardinals (University Park, PA)
Sept. 18: vs. Auburn Tigers (University Park, PA.)
Sept. 25: vs. Villanova Wildcats (University Park, PA)
Oct. 2: vs. Indiana Hoosiers (University Park, PA)
Oct. 9: at Iowa Hawkeyes (Iowa City, IA)
Oct. 23: vs. Illinois Fighting Illini (University Park, PA)
Oct. 30: at Ohio State Buckeyes (Columbus, OH)
Nov. 6: at Maryland Terrapins (College Park, MD)
Nov. 13: vs. Michigan Wolverines (University Park, PA)
Nov. 20: vs. Rutgers Scarlet Knights (University Park, PA)
Nov. 27: at Michigan State Spartans (East Lansing, MI)

It's been 14 years since Penn State had a losing football season, but fans are clearly missing the dominant 1980s when the Nittany Lions won two national championships.
The average asking price for Penn State football tickets fell from $190 last year to $157 for the 2019 season. While there are secondary market tickets currently available, single-game tickets went on sale July 2nd to the general public, via Ticketmaster. Nittany Lion Club members have been able to buy single-game ticket tickets since June 18th, and membership is available for as low as $100. Upper-level tickets are available for some of the lower-demand games, like Buffalo and the opening game against Idaho. Face price tickets for those games start at $40. Face price tickets for the Purdue game start at $80 with tickets available for Rutgers starting at $55. Tickets for the Pitt and Michigan games are completely sold out.
On the secondary ticket market, of their seven home games, only three will cost fans $150 or more, including the biggest game of the season, the October 19 matchup with Big 10 rival Michigan, which is averaging $363 on the secondary market and with the cheapest ticket at $201.
Below is a look at the cheapest tickets for all of Penn State's 2019 home games at Beaver Stadium.
August 31 vs. Idaho Average asking price: $88; Get-in price: $25
Tied with the September 7 game against Buffalo as the cheapest in terms of the average asking price, these teams have never played before. Five months before the game, Idaho starts at an even bigger disadvantage — two players, including defender Christian Elliss, won't be playing after getting suspended following an arrest for theft. The game marks the third consecutive season that Penn State will open against a Sun Belt team.
September 7 vs. Buffalo: Average asking price: $83; Get-in price: $25
One of the two cheapest games of the season, there is little history between Penn State and Buffalo — the teams have played three times, and Penn State has won the last two, including a 27-14 defeat of Buffalo on September 12, 2015. The teams first played on November 29, 1900, and Buffalo won that game, 10-0. It was then 107 years before they played again.
September 14 vs. Pittsburgh: Average asking price: $259: Get-in price: $128
This in-state rivalry is the second priciest game of the season at State College, and this year's game marks the 100th meeting. Penn State has not played any other team as often as it has played Pitt, and holds a 52-43-4 all-time series advantage. Branded the "Keystone Classic" in 2016, Penn State has won the last two, including a 51-6 victory at Pitt on September 8, 2018.
October 5 vs. Purdue: Average asking price: $154; Get-in price: $60
In the first Big Ten game of the season, Penn State and Purdue are familiar opponents since they began playing somewhat regularly in 1995. Following a two-game series in 1951-52, the teams took a 43-year hiatus before playing that 1995 meeting, which Penn State won. The Nittany Lions hold a commanding all-time series advantage, 14-3-1, and have won the last eight consecutive, including the last meeting on October 29, 2016.
October 19 vs. Michigan: Average asking price: $363; Get-in price: $201
The priciest game of the season by far, Penn State and Michigan have played 22 times, and Michigan has dominated the series of late, winning four of the last five, including last year's meeting on November 3. In that game, the Wolverines won 42-7, payback for the Nittany Lions' 42-13 victory in 2017. The teams first met in 1993, when Penn State joined the Big Ten.
November 16 vs. Indiana: Average asking price: $99; Get-in price: $30
Despite playing 22 times since 1993 when Indiana joined the Big Ten, not much of a rivalry has developed between these teams. Penn State dominates the rivalry and has won 21 times. Indiana's only victory was on October 5, 2013, when it won, 44-24, at Bloomington.
November 30 vs. Rutgers: Average asking price: $87; Get-in price: $18
The third cheapest game of the season, this game marks the final Big Ten home game of the season at State College. The teams have played 29 times, including a stretch of 14 years between 1982-95, during which Rutgers won only once. Since the Scarlett Knights joined the Big Ten in 2014, Penn State has won five consecutive games. The get-in price for this game is the cheapest of the season.
TicketIQ is committed to the cheapest tickets possible, and we make much less on sold-out tickets compared to other major marketplaces like StubHub and Vivid. That means ticket buyers save up to 25% on TicketIQ on sports, music, and theater. We're able to do this because we also work with teams, venues, and other ticket owners, to help them sell tickets at face price, directly to consumers like you, through Ticketmaster and Paciolan. For an overview of the 2019 College Football Ticket Buying landscape, and details on the cheapest way to get sold out and face price tickets for every pre-season top 25 team, visit the TicketIQ Blog.

For more content on Penn State football tickets over the years, have a look at the content we've created on regular season Penn State football tickets dating all the way back to 2011.
Penn

State

Nittany Lions 2018 Ticket Market Overview:
With the season opener against Appalachian State less than a week away, below is how Penn State ticket prices stack up on the secondary market against the Top 60 NCAA football teams. As you can see below, ticket prices are up 15% over last year and are the most expensive since 2011, Joe Paterno's last season, and the year the Penn State sex scandal broke. Penn State went 9-4 that season. Penn State also enters the 2018 season with the 8th highest home average ticket price on the secondary market in the nation.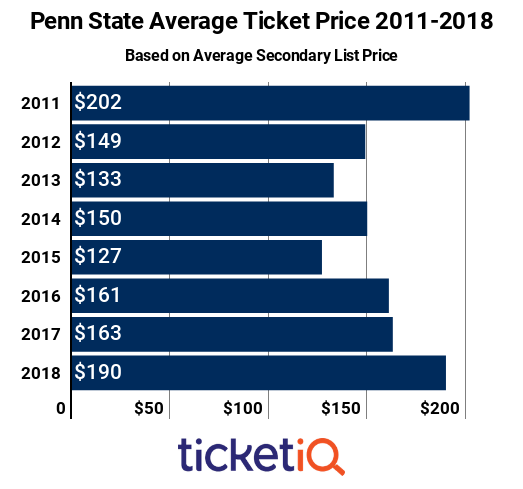 Prices For Each Game on 2018

Penn

State

Nittany Lions Schedule:
The most expensive game on the schedule is September 29 against Big Ten rival, Ohio State. The teams first met in 1912, and Ohio State has an 18-14 series advantage. Both teams should be among the best in the Big Ten this season, and if either or both stack up early wins, prices are likely to go up.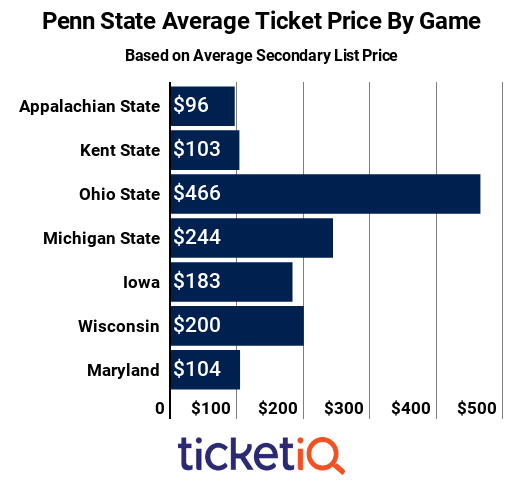 May 12, 2015
The students have spoken. Penn State football's White Out game will come in the final home game of the season against the Michigan Wolverines. The decision came with an assist from a fan vote to decide which game would behold the White Out. The game will be held on November 21, though the time of the game has yet to be determined. This will be the third time Michigan has been the opponent during the Nittany Lions' White Out game at Beaver Stadium. Penn State last hosted Michigan in 2013 for a game that eventually ended with a 43-40 Penn State win in four overtimes.
This year's game against the Wolverines was already expected to be the biggest home game of the season for the Nittany Lions. On the secondary market, Penn State vs Michigan tickets has an average price of $218.07, easily the most expensive home game of the year in Happy Valley. The game is 55.9% above the overall season average for Penn State football tickets on the secondary market. No other game at Beaver Stadium this season has an average price above $200. The get-in price for the game is currently $102.
Penn State's second most expensive game of the season will come on September 19 against the Rutgers Scarlet Knights. The $167.26 average price and $71 get-in price trails only the Michigan game to end the season.
The home finale against Michigan, along with being the White Out game, will also serve as Senior Day. The Nittany Lions will end the season the following week by traveling to Michigan and taking on the Michigan State Spartans in East Lansing. The current average price of that game is currently $233.54 with a get-in price of $28. Penn State will open the season on September 5 at Lincoln Financial Field to take on the Temple Owls.
February 26, 2015
Penn State has announced ticket prices for the 2015 football season. The Nittany Lions will be using dynamic pricing for the second season. Under the dynamic pricing model, two games against Big Ten opponents will be the most expensive of the season.
There are six different tiers of pricing at Beaver Stadium, depending on where the seats are in the stadium. Games against Rutgers on September 19 and Michigan on November 21 are the two games priced higher than the others. Both games will start at $100 at face value, while other games start as low as $40.
Not all Big Ten opponents are the same, though as an October 31 game against Illinois will have tickets starting at just $60. Overall, the home opener against Buffalo is tied with a September 26 game against San Diego State as the cheapest game of the season.
On the secondary market, Penn State football tickets have an average price of $120.86. The home finale against Michigan is the most expensive with an average price of $221.13 and a get-in price of $105. An October 10 game against Indiana is the second most expensive home game of the season with an average price of $119.83. San Diego State will be the least expensive opponent with an average price of $85.50 and a get-in price of $38.
February 10, 2015
James Franklin's first season as the head coach of the Penn State Nittany Lions was filled with highs-and-lows as Penn State finished its regular season with a 6-6 record. Penn State also appeared in its first bowl game since 2011 and defeated the Boston College Eagles, 31-30 in overtime of the Pinstripe Bowl. Penn State started its season with a dazzling 4-0 record before taking a beating in Big-10 play. Late-season wins over Indiana and Temple helped Penn State become bowl-eligible. Penn State's offense averaged just 300 total yards per game, which was the lowest mark in the Big-10. Quarterback Christian Hackenberg, who many believe has NFL potential due to his large frame and throwing ability, did not have many playmakers on offense. Hackenberg finished with a dismal 12:15 TD/INT ratio and fans can only hope Penn State recruits more playmakers. Penn State's defense was the reason why this team won six games. Senior linebacker Mike Hull, who earned first-team All-Big 10 honors, was the heart and soul of the defense. Hull led the Big-10 in tackles (134) as he led the nation's top run-defense (84.8 rushing yards per game allowed).
September 9, 2014
With an average price on the secondary market of $150, Penn State football tickets at Beaver Stadium hold the 10th spot in TicketIQ's annual ranking of the 25 most college football programs in the country after week one. That's a position amongst the most in-demand college football tickets in the nation. In 2011, before the program was engulfed in controversy, the average price for a ticket to see the Nittany Lions at Beaver stadium was $187, which was good for 7th in the nation. That year, the Nebraska Football Schedule was the most expensive in the nation, with an average price of $251. The LSU football schedule was next closest to Penn State with an average price of $190. While LSU remains a perennial threat in the SEC, along with UGA, Nebraska isn't likely to make a run in the inaugural college football playoffs. Like Penn State, Nebraska remains amongst the most expensive tickets in the nation, with an average price that is $1 more expensive than Penn State. With title aspiration, UGA Football tickets are just one of three teams with an average price above $200.
While the secondary market is more active this year than any of the last three, the primary market also has availability. For those willing to commit to an entire season, they'll be rewarded with an average ticket price of only $40 for each game. That ends up being about $15 cheaper than getting tickets to all the games through the secondary market. It's also the only way you can get Ohio State Football tickets for the game in October. More than saving money, though, those fans are committing to the future of a program that seems to be rebounding much quicker than anyone could have expected.
While Rutgers and Penn State have been geographical neighbors since their inception, on the college football map, they have resided on opposite coasts. Over its history, Penn State has appeared in 44 post-season bowl games, while Rutgers has only been to nine. While Rutgers does claim one national title, it came in 1869: the year many consider the inaugural college football season. Penn State's two championships are a bit more contemporary, having come in in 1982 and 1986. For the game Saturday night, the average price on the secondary market is currently $209, which makes it the second-most expensive game this season at Highpoint Energy Solutions Stadium. While it is currently about $10 less expensive than the most expensive game of the season, which is Rutgers vs. Michigan on October 4th, it is almost $100 more expensive than the most expensive game prior to this season. That game against Louisville in 2012 has an average price of $99. At $112, the average price across Rutgers home games this season is up considerably from years past. Based on the TiqIQ top 25, the company's ranking of the most expensive college football tickets, Rutgers sits just outside the top 25, at number 26. Even with their increase from previous seasons, they still have a long way to go to catch up to Notre Dame Football tickets or UGA Football tickets, currently the second and third-highest priced tickets in the nation.
Over the last week, smack talk between the two schools has been escalating. Most notable was a comment made by Penn State tailback and New Jersey-native Bill Belton. Belton stated that he wanted to attend Penn State to play 'big-time college football' and those comments have made their way around the Rutgers locker room and provided some extra motivation for players and fans alike. While the two schools have met 25 times over their history, the meeting Saturday night will be their first since 1995. It will also be the first time that Rutgers has hosted Penn State since 1955. Las Vegas has made Penn State a 3.5-point favorite, and based on history the spread seems justified. Penn State is 22-2 all-time against the Scarlet Knights with Rutgers' only wins coming in 1918 and 1988. With their post-season sanctions lifted yesterday, Penn State is now playing for a post-season berth, as is Rutgers. With both teams at 2-0, they are surprise leaders in the Big 10. While it's only week three, the game could go a long way toward deciding who finishes atop the new Big 10 come September and whether one of these two schools will be vying for a spot in the inaugural College Football Playoff.