Oklahoma Sooners 2018 Ticket Market Overview:
With the regular season a couple of days away, below is look at how Oklahoma Sooners ticket prices stack up on the secondary market across the NCAA. As you can see,
Sooners tickets are up about 22 percent
from last year, the sixth biggest increase across the NCAA since last year.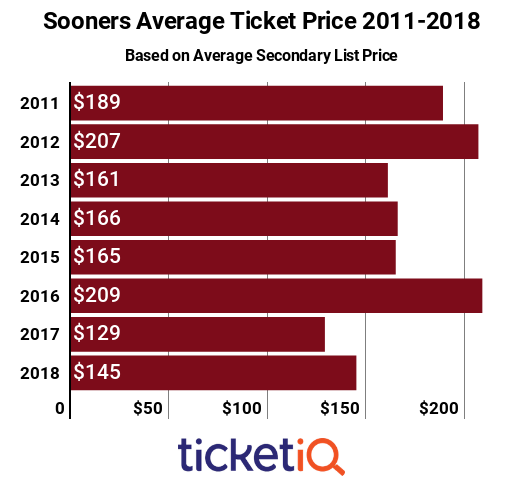 Where to Buy Tickets:
Sooners tickets are the 11th most expensive among the Top 60 NCAA teams, as compared to the 29th most expensive in 2017. For secondary market listings, TicketIQ offers a Low Price Guarantee for all games listed below. On the primary market, the Army and Oklahoma State games are sold out, and the next most expensive is the UCLA game on September 8. Tickets are available for
$90 on the primary market,
while the average asking price on the
secondary market is $140.
Prices For Each Game on 2018 Oklahoma Sooners Schedule:
The most expensive game of the season is the "Bedlam Series" between Oklahoma and Oklahoma State. The in-state rivalry dates back to 1904 and Oklahoma is currently on a two-game win streak. There are no tickets available on the primary market for this game, but the average asking price for a secondary market ticket is $214 and the cheapest seat is $106. The game is set for November 10, and if either team is in the hunt in the Big 12, expect an already expensive ticket price to rise.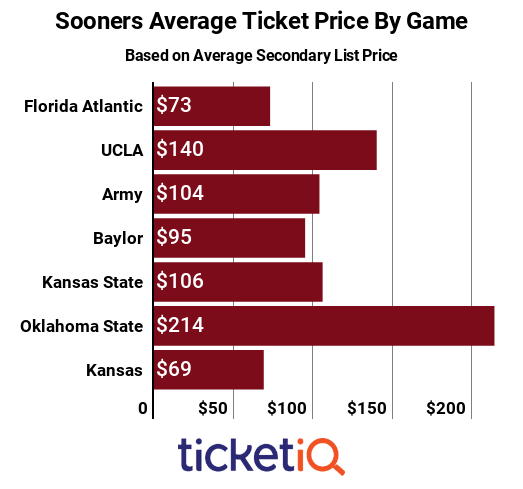 Real-Time Ticket Data And Listings