United Center Seating Chart + Rows, Seats and Club Seats
TicketIQ has Fee Free tickets for all sold out events at the United Center. That means that if you find a secondary market ticket for less on a site like StubHub or Vivid Seats, we'll give you 200% of the difference in ticket credit. TicketIQ customers save up to 25%. TicketIQ also provides access to unsold face value tickets for all events at United Center via Ticketmaster.
BULLS UNITED CENTER SEATING CHART
Floor-level sections, rows and seats at United Center
The lowest level at United Center for basketball is 105,106,107,116,117, 118
100-level sections, rows and seats at United Center
100-level center tickets include 120, 121, 122, 101, 102, 103 and 109,110,111,112,113,114. 100-level end seat include 116,117,118,105,106,107, with 100-level corners sections of 104,108, 115, and 119
200-level sections, rows and seats at United Center
200-level center tickets include 217, 218, 219, 233, 234, 201 at dead center with other center/corner sections including, 232, 231, 230, 223, 222, 221, 214, 213, 212, 205, 206, 207. 200-level end seat include 224, 225, 226, 227, 228, 206,207,208,209,210,211, 212.
Sections 201, 202, 233, 234 and 216 to 219 is considered the center 200 level and these make up the Lexus Club and thus you are offered in seat wait service. These are considered some of the best seats to watch a Chicago Bulls game!
300-level sections, rows and seats at United Center
300-level center tickets include 334, 333, 301, 317,318, and 319. Center/corner sections including, 332, 331, 330, 321, 322, 323, 313, 312, 311, 307, 306, 305
What is SRO: Standing Room Only (SRO) Means that you don't get a seat are able to watch the game from behind any of the 300 level sections. Here's a good YouTube video of what the view from SRO tickets at United look like.
Where Are Home Team and Away Team Benches: The Bulls bench is right in front of section 102, while the guest's bench is in front of section 121. The Bulls cheerleaders are in front of section 107.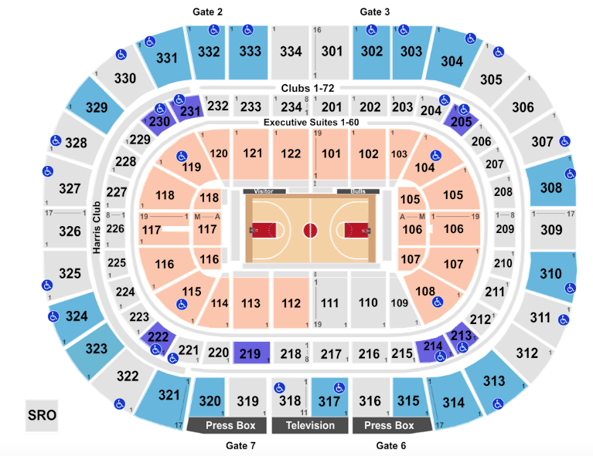 BLACKHAWKS UNITED CENTER SEATING CHART
With the exception of floor-level sections, the Blackhawks seating chart at United Center is the same as the Bulls. Some other Blackhawks questions:
Where Are The Benches – The Blackhawks bench is in front of section 101 and the visitors bench is next to it right in front of section 122.
Where Are Penalty boxes – The penalty boxes are practically part of section 111 & 112. The boxes take up two rows and if you are in rows 1 or 2 of section 111, you probably want to get as close to seat 10 as possible, as this will be next to the penalty box.
Where Do Blackhawks shoot twice – On the side where sections 113 to 121 are.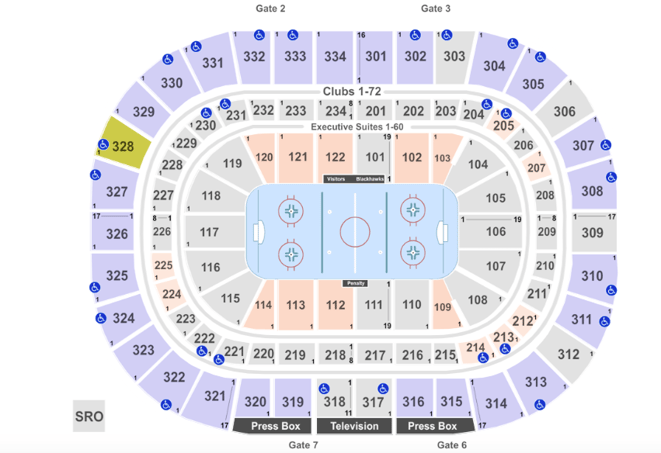 UNITED CENTER SEATING CHART FOR

CONCERTS
Concert floor tickets are located in six sections, with 1,2 and 3 closest to the stage and 4, 5 and 6 farther from the stage. All the grayed out sections below are also located behind the stage in a traditional concert floor configuration.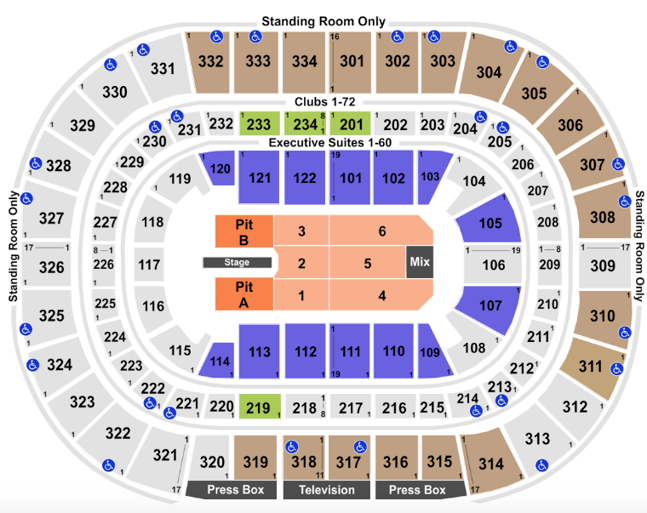 WHERE TO BUY TICKETS FOR EVENTS AT UNITED CENTER IN CHICAGO, IL
Tickets are available directly from the Bulls and Blackhawks as as well from the venue directly for most events. Depending on the section, however, there's limited availability, which means you have to shop around, especially if there's a specific row you're looking for. For $27, Standing Room Only Tickets are also available through Ticketmaster. Concert tickets are available for many shows directly from the United Center, while other shows are completely sold out, which means that it's important to shop around before you buy.
WHEN DO DOORS OPEN FOR EVENTS AT UNITED CENTER
For Bulls and Blackhawks games, the gates usually open 90 minutes before the game begins.
HANDICAPPED & ADA SEATING AT UNITED CENTER
Information about Handicap seating and options is available via the United Center's accessibility Guide.
CLUB SECTIONS AND SEATS FOR UNITED CENTER
Lower level suites, Club suites and Penthouse Suites. Prices typically range from $4,500 - $8,500 for Chicago Blackhawks suites. Suite prices will vary based on day of game, opponent, and the location of the suite. Blackhawks suites are more expensive than suites for the Chicago Bulls. Prices for concerts and other events at the United Center can vary widely based on the type of event.
---
TicketIQ is committed to the cheapest tickets possible, and we make much less on sold out tickets compared to other major marketplaces like StubHub and Vivid. That means ticket buyers save from up to 25% on TicketIQ on sports, music and theater. We're able to do this because we also work with teams, venues, and other ticket owners, to help them sell tickets at face price, directly to consumers like you, through Ticketmaster and AXS. Visit the TicketIQ blog for an overview of the `2019-20 NBA ticket prices and 2019-20 NHL ticket prices.