Where To Find The Cheapest 2023 SEC Championship Game Tickets
The 2023 SEC Championship game match-up is set for Saturday, December 2nd at Mercedes-Benz Stadium in Atlanta.
Where To Buy 2023 SEC Championship Game Tickets
Primary market SEC Championship game tickets are sold out.
On the secondary market, TicketIQ has Fee-Free SEC Championship Game tickets with and Refund Guarantee, which states that in the event an event is canceled or deem unfit for fans to attend, TicketIQ will refund ticket buyers in as soon as 15 days. That means that you can buy from TicketIQ worry-free.
👌Buy now and pay later with Zip ☝️
Last Minute Buying Tips For The 2023 SEC Championship Game
Ticket prices are at their lowest of the week, so that is the best time to buy. As inventory drops over the final 24 hours leading up to the game, prices could tick back up, so if you find something you like that is in your price range, we suggest you act fast.
Fans looking for the cheapest tickets can find them in Standing Room Only Sections and 300-level sections in the end zones and corners.
If you don't care what side of the field you're sitting on, look for tickets on the LSU side of the stadium, where prices are 10%-20% cheaper than the Georgia side.
Considering the prices and the views, the best overall deals can be found in the 300 level on the sideline, especially on the LSU side of the field. Great deals can also be found in 200-level corner sections.
How Much Are 2023 SEC Championship Game Tickets
The average price for this year's SEC Championship game is $1,442, the second-highest since at least 2011. The only more expensive game was 2021's Alabama vs Georgia match-up.
The most expensive tickets are $5,459 for seats in section C110, which is on the 50-yard line.

The cheapest pair of tickets available for the SEC Championship is $453.

300-level tickets in the corners start at $633, which provides a great vantage point.

200-level end zone seats start at $1,152.

100-level end zone seats start at $836, 100-level corners start at $1,439, and 100-level sideline seats start at $3,317.
👌

Buy now and pay later with Zip

☝️
If you would like more detailed information on the Mercedes-Benz Stadium Seating Chart, including VIP and Premium options at the stadium, you can visit our Seating Chart overview.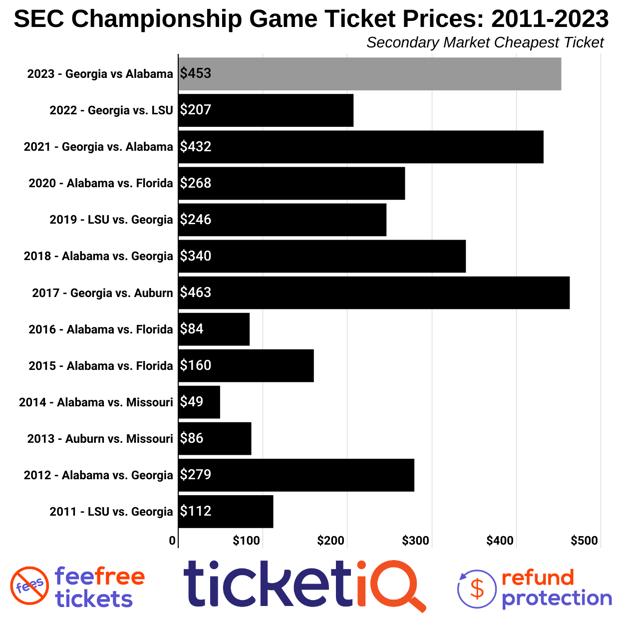 Traveling To The SEC Championship Game?