Thank you for visiting TicketIQ's Winter Garden Theater seating chart blog post. Our goal is to provide the most updated Winter Garden Theater seat chart, with details on row and seat numbers, and how to find discounted or last-minute tickets. The Winter Garden is a Broadway theater located at 1634 Broadway, New York, New York. The building was the former second American Horse Exchange, which was built by William K. Vanderbilt in 1896. It was converted into a theater in 1911. The Winter Garden seats 1,526. Beetlejuice opened at the Winter Garden in April 2019.
🎟 VISIT TICKETIQ FOR LOW PRICE GUARANTEES ON WINTER GARDEN THEATER TICKETS 🎟
WINTER GARDEN THEATER SEATING SECTIONS
Orchestra: There are three Orchestra Sections: Right: Center and Left.
Mezzanine: There are four Mezzanine Sections: Right, Right Center, Left Center and Left.
Boxes: There are four Box Sections: Right Lower, Right Upper, Left Lower and Left Upper
WINTER GARDEN THEATER ROW NUMBERS
Orchestra rows start with 'A' closest to the stage and 'V' is the last row in the Orchestra. In the Mezzanine, rows are lettered A-G. There also two sets of Box Seats, with five rows each. The Right Boxes are lettered Rows C, D, H, J, K (C-D are lower) and the Left Boxes are lettered Rows A, B, D, E, F (A-B are lower).
WINTER GARDEN THEATER SEAT NUMBERS
Orchestra: Seats are divided by odd and even, with odd-numbered seats 1-39 in the Right Orchestra, even-numbered 2-40 in the Left Orchestra, and seats numbered 101-120 in the Center Orchestra.
Mezzanine: Seats are divided between odd and even, with even-numbered seats 2-46 in the Right Mezzanine, odd-numbered seats 1-23 in the Left Mezzanine, even-numbered seats 102-144 in the Center Right Mezzanine, and odd-numbered seats 101-139 in the Center Left Mezzanine.
WINTER GARDEN THEATER SEATING CHART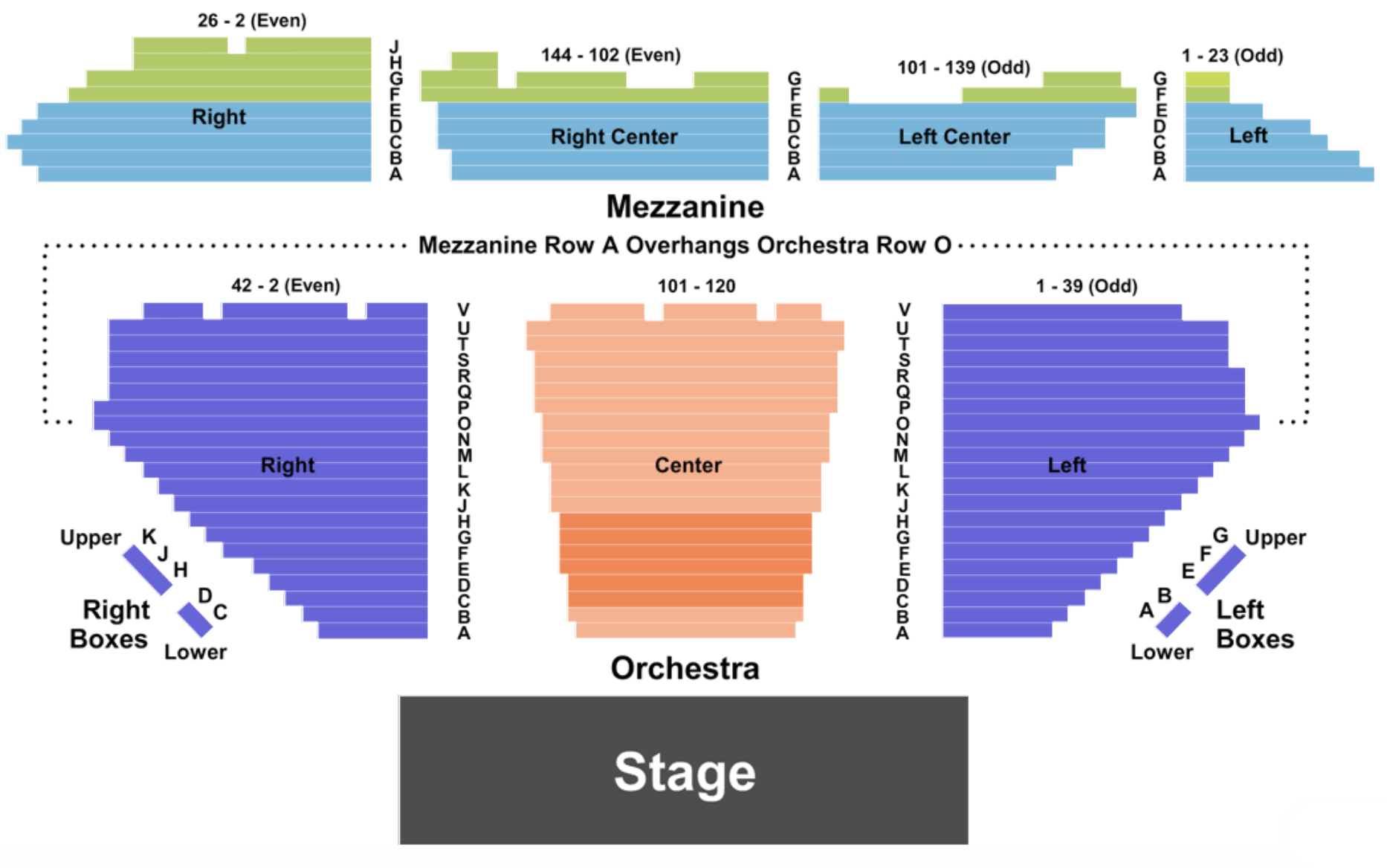 Winter Garden Handicap ADA SEATING
Wheelchair and companion seating is available throughout the Orchestra section of the Winter Garden, and there are no steps in the designated wheelchair seating area. There is no elevator or escalator in the building. There are handrails available to access seating. There are 34 steps up to the Mezzanine.
Wheelchair and companion seating are available in the following sections: Orchestra: N101, N102-104, R119, R116-118, V102, V101, U101-102, V104, V105, U103-104, V116, V117, U117-118, V14, V12, U14-16, V13, V15, U13-15, V3, V1, U5-7, V6, V4, U6-8, V7, V9, U9-11, V20, V18, U18-20, V24, V26, U24-26, V34, V30, U34-36, D19, D13-17, G19-23, L33, L27-31; D20, D14-18, K32, K26-30, P44, P38-42, U42, U40; T40-42
Other assistive devices available at the Winter Garden
The theater offers infrared assisted listening devices for all performances and hand-held captioning devices are available.
What's playing at Winter Garden?
Beetlejuice is based on the 1998 film of the same name and shares the story of a dead couple who return to haunt a new couple living in their former home. The film was directed by Tim Burton.
🎟 VISIT TICKETIQ FOR LOW PRICE GUARANTEES ON BEETLEJUICE - THE MUSICAL TICKETS 🎟
Eddie Perfect wrote the music and lyrics, and the book is by Scott Brown and Anthony King. Beetlejuice opened to mixed reviews, though the cast, led by Alex Brightman (Beetlejuice) and Sophia Anne Caruso (Lydia Deetz) got rave reviews. Variety's Frank Rizzo wrote: "Brightman is matched in star presence and musical chops by Caruso, as she travels to hell and back without losing her way. McLure and Butler find big laughs, too, as the sweet — but not too sweet — couple who finally find a reason to live after they've died. Dannheiser, as Lydia'a dad, grounds the role with sincerity without forgoing the loopy side, too."
The show was nominated for eight Tony Awards.
After debuting at Washington's National Theater in October 2018, Beetlejuice opened at Broadway's Winter Garden Theater on April 25, 2019. The show plays at 7 p.m. on Tuesdays and Thursdays, 8 p.m. on Wednesdays, Fridays and Saturdays, and there are matinees at 2 p.m. on Wednesdays and Saturdays and 3 p.m. on Sundays. The theater is dark on Mondays.
How long is Beetlejuice and are there any age restrictions?
Beetlejuice runs approximately 2 hours and 30 minutes and has one 15-minute intermission. The show is recommended for children ages 10 and up, and children under four years of age are not allowed in the theater.
What facilities are available at the Winter Garden?
The theater has rest rooms, and a water fountain and pay phone located in the lobby.
How to get lower-priced, last-minute tickets at the Winter Garden
Standing-Room Only: There are 40 standing-room only tickets available for each show. Tickets are available at the Winter Garden Theater box office, which opens daily at 10 a.m. and at noon on Sundays.
General Rush: Daily Rush tickets to Beetlejuice are available for $43 on a first come, first served basis at the Winter Garden Theater box office. The box office opens at 10 a.m. Monday-Saturday and at noon on Sunday. Fans should arrive at the box office a few hours before it opens, and target weekdays or summer dates for the best chance of securing Rush tickets. Rush tickets are limited to two per customer, and the box office takes cash or credit cards.
Digital Lottery: Theater goers can secure day-of-the-show Beetlejuice tickets via Digital Lottery for $43, beginning at 12 a.m. the day of the show. Matinee lottery winners will be drawn at 9 a.m. and evening performance winners will be drawn at 2 p.m. Customers are limited to two tickets per person and must pay using a credit card online. Winners will be notified via text or e-mail.
Discounted Tickets: For theatergoers with flexibility, TKTS Discount Booths are a great way to see theater in New York City at affordable prices. Known for their iconic booth located around Manhattan, they offer discounts of 20% to 50% off face value tickets, and have limited availability of unsold tickets for purchase on the day of the event. TKTS Discount Booths in New York City, including the flagship location in the heart of Times Square, with booths at South Street Seaport and Lincoln Center. One extra benefit to using TKTS is that your ticket purchase does toward supporting the Theatre Development organization, which is dedicated to sustaining and sharing the arts and building audiences of the future.